Shopping Cart
Your Cart is Empty
There was an error with PayPal
Click here to try again
Thank you for your business!
You should be receiving an order confirmation from Paypal shortly.
Exit Shopping Cart
Genealogy of the Woodcock Valley
Huntingdon County, Pennsylvania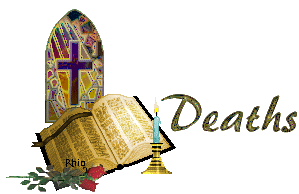 Death Records and Obituaries
In addition to the obituaries that I have scanned and placed with the photos, I also have obituaries that I transcribed for my own use or for other people. I will share them here. Please be sure to look at all of the obituaries in the photo section too.
These are records that I made note of from many different sources. They may include partial or full obituaries or death records. In most cases, I transcribed just the essential information, so there could be more information in the actual document if you visit the source. I have separated the library holdings, so you will know where to find the documents if you want to visit in person. I have typed all of these records, and I try to be as accurate as possible, but I am not perfect. If you find errors, please let me know and I will make corrections as needed. You can choose from the different choices in the black strip above by holding your cursor over records, or you can choose from the options below:
More Obituaries
I have a binder of obituaries that I have collected over the years. The partial index is included below. I will add more as time permits. If you are interested in any of these obituaries, please send me an e-mail and I will scan or type the text for you.
You can also visit my personal family database at
/