Shopping Cart
Your Cart is Empty
There was an error with PayPal
Click here to try again
Thank you for your business!
You should be receiving an order confirmation from Paypal shortly.
Exit Shopping Cart
Genealogy of the Woodcock Valley
Huntingdon County, Pennsylvania
| | |
| --- | --- |
| Posted on February 21, 2021 at 10:30 AM | |
Hi, I'm Carson. I'm working on my communications merit badge for Boy Scouts. For this merit badge, I have to share information with the public. Since I love to fish, I am doing an article on the Phillips Fly and Tackle Company. My mom, who loves local history, first purchased a Phillips "Crippled Killer" at a local auction in 2014, and then purchased a book about the company.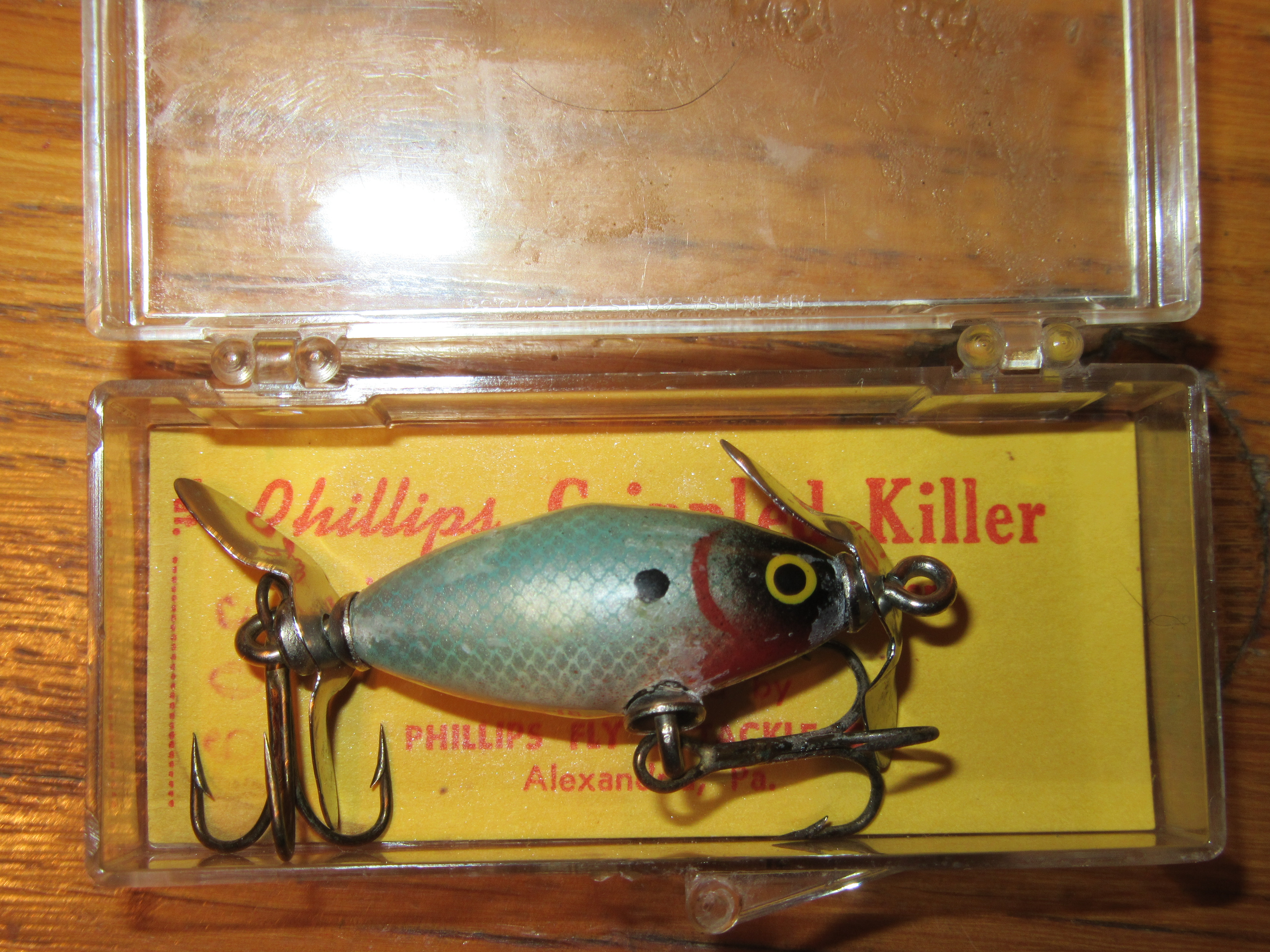 The Phillips Fly and Tackle Company was founded by George Phillips, Jr. (1913-1956) in Alexandria, in Huntingdon County, PA, in 1939. In 2007, Jean Lane Cresswell published a book on the Phillips Fly and Tackle Company called "Made For Fishermen By A Fisherman." The title of the book was the motto of the Phillips Fly and Tackle Company. The book tells you about the history of the company and some of the products they sold.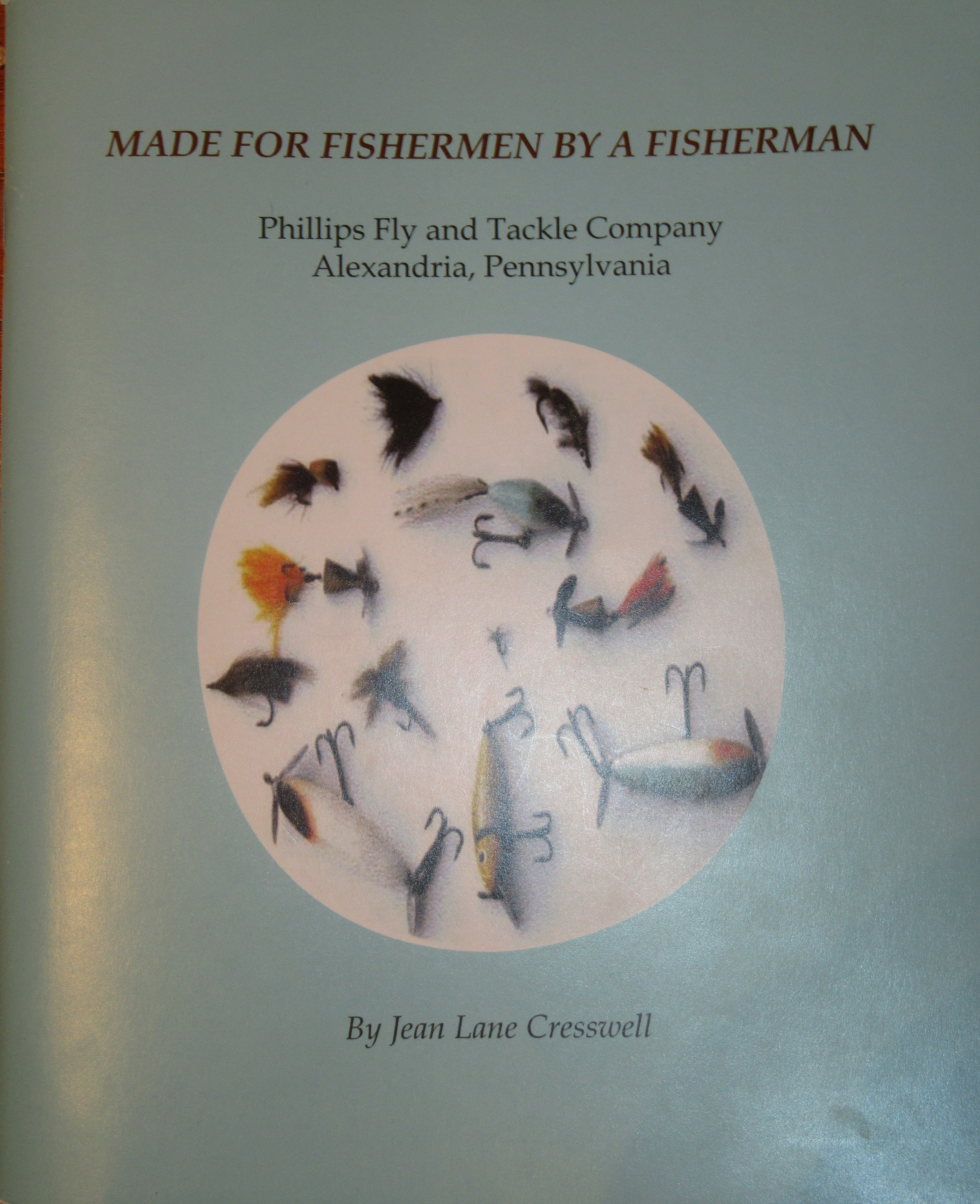 The Phillips Fly and Tackle Company employed over 100 employees, and a majority of them tied flies. Many workers tied flies in their own homes. The company had over 3,600 different kinds of flies. The company also started selling wooden lures. When plastics became available, the company started making plastic lures as well, while continuing to tie flies. Phillips lures have fairly distinct eyes, and most have a metal blade or a metal lip.
At the height of production, the company made 200,000 lures per year. One of their most popular lures was the "Crippled Killer." It was designed to imitate a crippled minnow that was on top of the water trying to swim away. The "Crippled Killer" has a distinct look with a hook that hangs straight down from the stomach and hangs much lower than a normal hook.
In doing my research for this article, I noticed a lure that looked very familiar. So I looked in my tackle box, and little did I know, but I had been fishing with two Phillips "Rainbow Runner Jr." lures! As I looked through my lures, I found 11 more lures from the Philips Fly and Tackle Company that had belonged to my late grandfather, Paul Fisher (1932-2019), and my great-grandfather, Eldon Kinch (1915-1968 ).
I think it is pretty cool that very high quality fishing lures were made in Huntingdon County! I'm even more excited to find out that I own my own share of local history. If you would like to learn more, you can get a copy of the book from the Huntingdon County Historical Society, or read more about Phillips Fly and Tackle Company from Dr. Todd Larson's blog.  If you have information on any of the lures posted above, have photos of your own Phillips lures or flies, have a favorite fishing story with a Phillips, or have relatives who worked for the company, please comment!

Categories: General Chatter, Family Names
You can also visit my personal family database at
/