Shopping Cart
Your Cart is Empty
There was an error with PayPal
Click here to try again
Thank you for your business!
You should be receiving an order confirmation from Paypal shortly.
Exit Shopping Cart
Genealogy of the Woodcock Valley
Huntingdon County, Pennsylvania
| | |
| --- | --- |
| Posted on May 27, 2014 at 6:20 PM | |
On Saturday, May 17, 2014, I took my son to his first public auction.  I knew I would be on borrowed time with an almost five year-old in tow, but I was drawn to the local history books on the sale bill.  To my surprise, he did incrediby well entertaining himself with his iPad, a new little friend he made in the auctioneer's grandson, and amusing the crowd around him.  He quickly got into the swing of things and even tried to buy some things he wanted!
Thankfully, the local history books went up for sale very quickly, and I was able to get the book I really wanted by Albert Rung, which was volume I of Rung's Chronicles of Pennsylvania History.  Next up, I bought my son a Tonka toy grader, which bought me a little more time.
As we were previewing the auction items, there were two other items that I knew I could not leave without.  One was box K of photos and the other was photo album T.  We waited and waited for them to be sold, and my son's ADHD was starting to kick in.  I knew I was on thin ice, so I went and asked the owner to move them up to be sold quickly before those around me staged a revolt.  
You see, in June 2010, I attended the estate auction of Charles Johnson in Entriken, where I purchased his obituary collection.  However, there were many boxes of photos sold that I did not get.  I earlier told my tale of woe and regret at losing out on the photos before I started this website.  Well, guess what...the box of photos I had really wanted resurfaced, alive and well, and still intact!  It had to be mine!!!  One of the photos in the box was labeled with my maiden name of Fisher, which is still a mystery work in progress.  This time, I got the box of photos, and while most are unknown, they will eventually be scanned and shared here.
The other item I knew I had to have was the one photo album that was almost completely labeled.  I immediately recognized all of the names in the album as belonging to the Woodcock Valley.  I paid a premium price, but I had to get this album to share with everyone.  After purchasing it, I asked the owner how he had come by it.  He said someone had brought it into his shop wanting to sell it; presumably a family member.
The photo album is a black album with black pages most likely dating from the 1920s or 1930s.  It contains photos of the David S. Johnston family.  David S. Johnston was born in 1839, a son of William and Elizabeth (Shultz) Johnston.  He married Hannah Mentzer.  Hannah was born in 1851.  David died in 1925 and Hannah in 1939.  They were the parents and grandparents of the following:
1.  David Elliott Johnston was born in March 1871 and died in 1947 in Huntingdon.  He married Bessie Woods, 1880-1960.  They were the parents of:
 Harold S.
Marjorie W.
Edwin Ned
Jean
2.  Myrtle B. "Mertie" Johnston was born in 1873 and died in 1916 in Clearfield Co., PA.  She married Charles G. Gill, Sr., 1871-1951.  They were the parents of:
Marion
Frances
Dorothy
Kathryn
Charles G., Jr.
3.  Lydia Elizabeth Johnston was born June 19, 1874 and died March 5, 1943 in Altoona, Blair Co., PA. She married Frederick J. Shollar, 1873-1960. They were the parents of:
 Gerald William
Marjorie
4.  Carlton Vance Johnston was born in May 1877 and lived in Huntingdon.  He married Emma Erwin.  They were the parents of:
Helen C.
Carlton R.
Frederick C.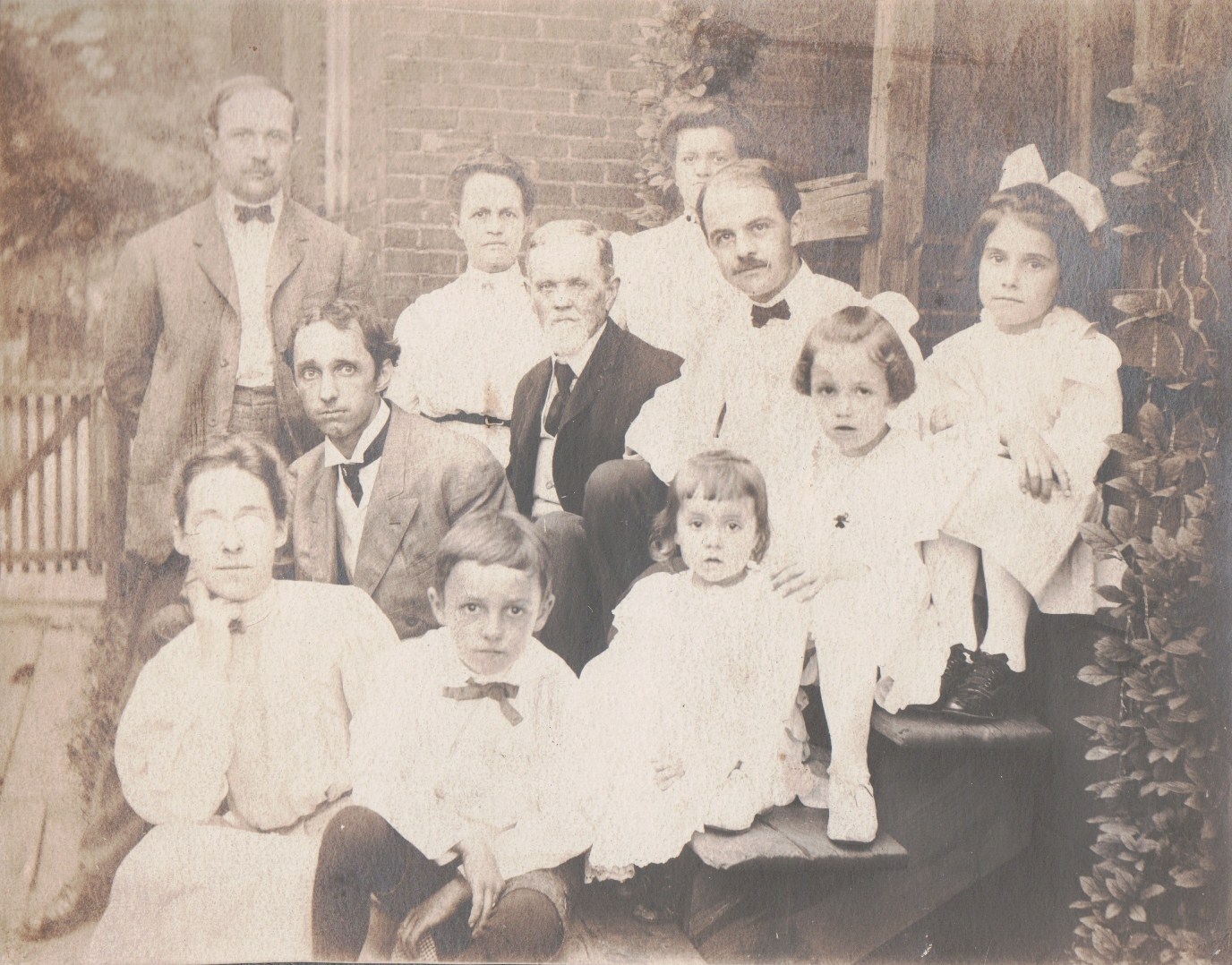 David S. Johnston and Hannah (Mentzer) Johnston, Mr. and Mrs. David Elliott Johnston, Mr. and Mrs. Carlton Vance Johnston, Fred Shollar, Gerald Shollar, Marjorie Shollar, Pauline Woods, Helen Johnston
It is not exactly known who organized the scrapbook, but it is suspected that perhaps it passed between two different individuals; both more than likely female members of the family.  The first section of the album is organized with older members of the family, and everyone is referred to as "Aunt," "Uncle," "Grandma," or "Grandpa."  No one is referred to as "Mother" or "Father"  The only real clue is that "Grandma Shollar" is referred to in one photo with "Grandma Johnston" so is it one of Lydia (Johnston) and Frederick Shollar's children that started the book?  Perhaps Marjorie (Shollar) Lewis Pratt?  If so, why does she refer to certain photos as "Uncle Fred" and "Aunt Lydia?" when these were her parents?  Later in the book, the handwriting is similar, but different.  There is a photo of a young lady who is actually referred to as "Me."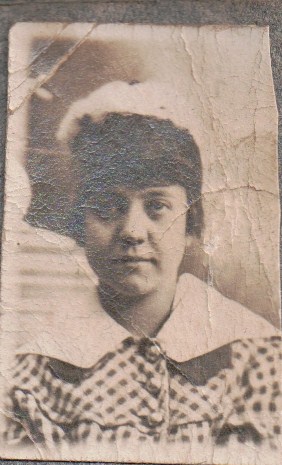 "Me"
In this section of the book, there are a lot of photos that appear to be friends and acquaintenances of the family.  Many of the names appear to be living in Altoona in the census records, where the Shollar family lived.  In Lydia (Johnston) Shollar's obituary, it lists 5 grandchildren, presumably all belonging to her daughter Marjorie as son Gerald's obituary did not list a wife or children.  Could "Me" above be one of Marjorie's daughters and Lydia's granddaughter?  There are a lot of unknowns about who the album belonged to.
Here is a family home that appeared in the album.  It is believed to be the Altoona home of Lydia Elizabeth (Johnston) Shollar and her husband Frederick J. Shollar.  It looks like Fred, Marjorie, and Gerald on the front porch.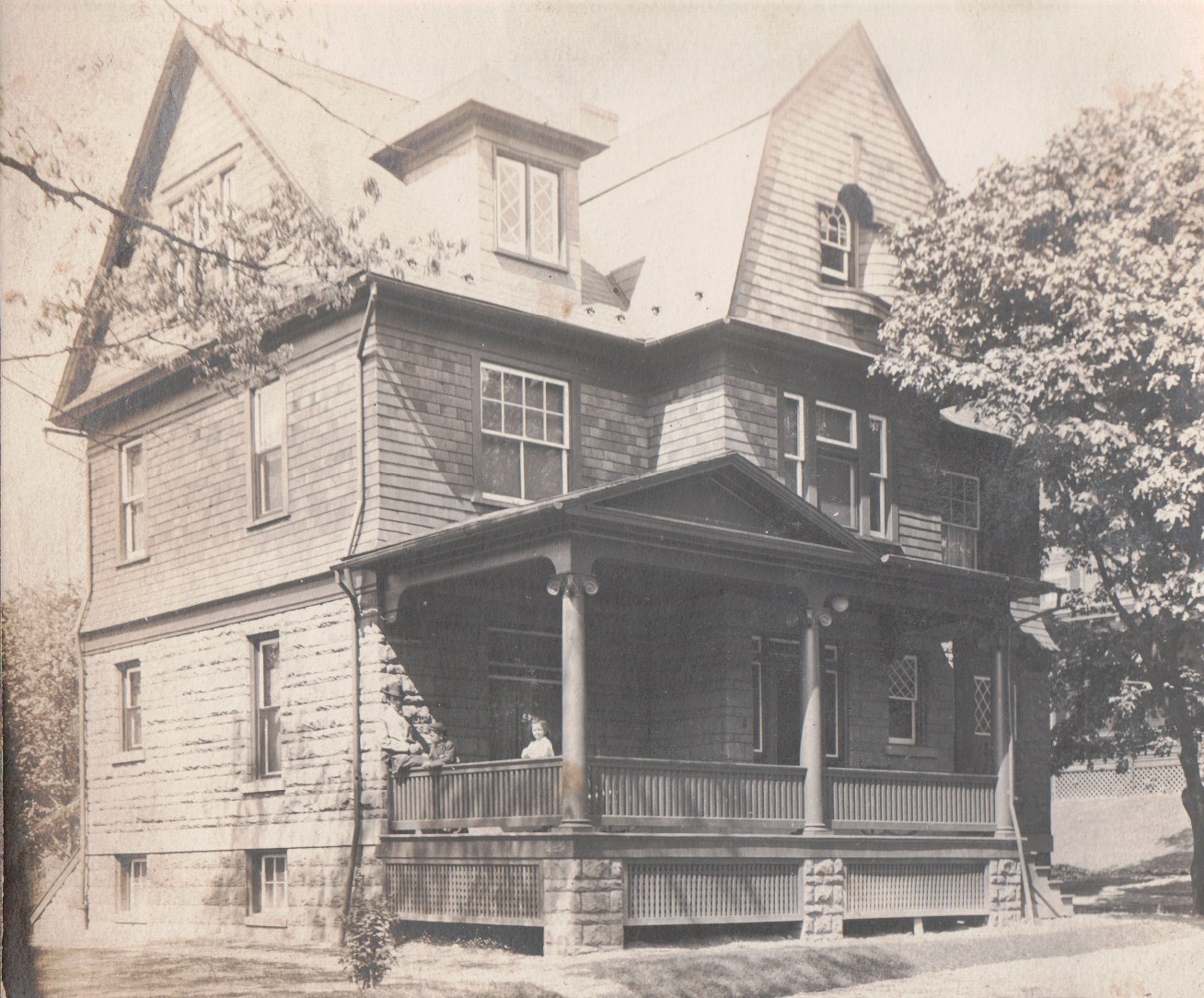 The family lived at either 2725 Broad Avenue where Lydia died in 1943 or 2000 Maple Avenue where Gerald died in 1951 and where Frederick lived until moving to California to reside with daughter Marjorie until his own death in 1960.  Frederick and Gerald were partners in an architectural firm, Shollar and Shollar.  There are also photos of the interior of the home in the photo album too.
There are many other interesting photos in the photo album too including this photo that shows what appears to be another family home with the family imposed over the home.
It is uncertain which family or home this might be.  The house is very large, and the children's ages do not quite work out correctly to be any of the Johnston children we know of.  Perhaps there are more children or grandchildren than I know about.
Here was another interesting photo, where the images were imposed over what appeared to be a newspaper article.  
Marjorie (Shollar) Lewis Pratt and Helen C. Johnston, cousins
To see the entire Johnston Photo Album collection, click on the link.  Every photo in the album is included except for a few photos of the interior view of the house above and some landscape views that were not labeled.  If a photo is not identified, then it was not labeled in the book and the person is not known.  As always, if you have additional information on the family or can identify a photo, please feel free to comment on this blog post or on an individual photo!
Categories: Site Updates, Family Names
You can also visit my personal family database at
/