Shopping Cart
Your Cart is Empty
There was an error with PayPal
Click here to try again
Thank you for your business!
You should be receiving an order confirmation from Paypal shortly.
Exit Shopping Cart
Genealogy of the Woodcock Valley
Huntingdon County, Pennsylvania
| | |
| --- | --- |
| Posted on August 1, 2013 at 9:20 PM | |
It's no secret that the family I have enjoyed researching the most, but which is also my nemesis, is the Isett family.  This week, I had the opportunity to visit the Isett Heritage Museum.  I knew they had a photo of Matthew G. Isett in his Civil War uniform.  So after dropping my son off at preschool on Tuesday, I made my way to the top of Stone Creek Ridge armed with my camera.  I explained to the guide that I simply wanted to take a photo of Matthew G. Isett's photo.  He took me to building two, where all of these vintages photos were enlarged, and positioned around the ceiling of the building.  As he led me to Matthew G. Isett's photo, I got goosebumps!  It was so awesome to finally put a face to the Civil War hero.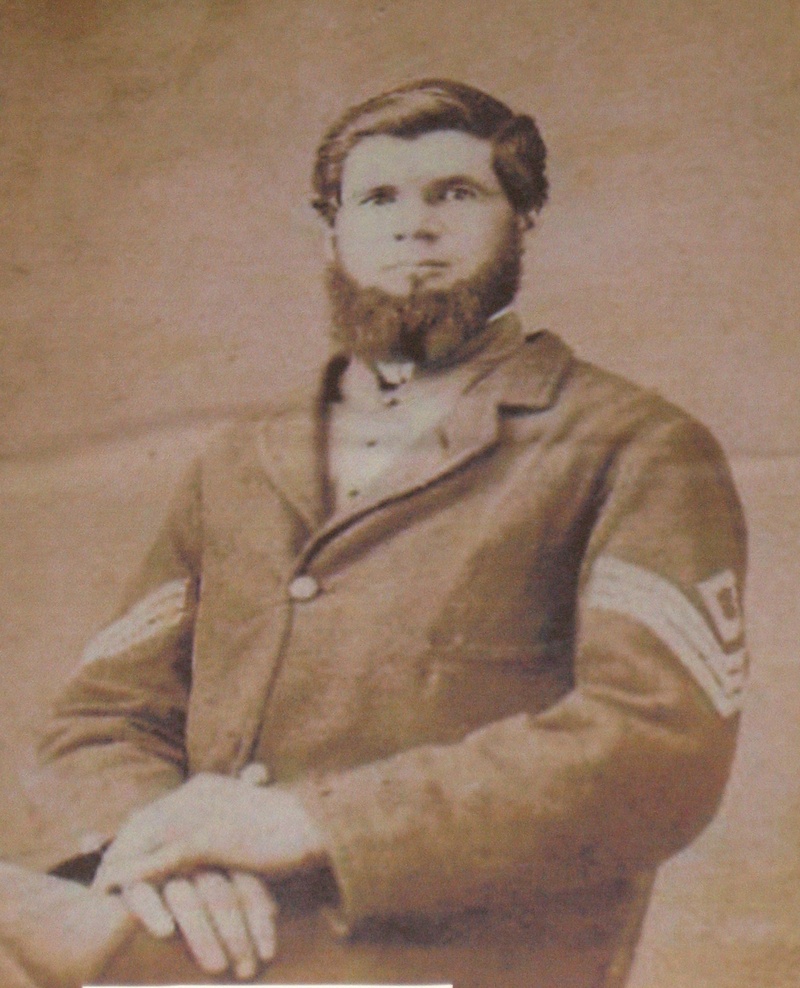 Matthew G. Isett (1838-1963) was born in the Woodcock Valley area of Huntingdon County, a son of James K. Isett and Elizabeth (Garner) Isett.  He was their second son, but oldest surviving child.  The first born, and his older brother, John G. B. Isett, died at 3 months of age.  Matthew G. Isett enlisted in Co. C of the 53rd Pennsylvania Volunteer Infantry on September 16, 1861 as part of a company from Huntingdon County.  He was elected sergeant and promoted to 1st sergeant.  He was wounded in the leg at the Battle of Fredericksburg.  Matthew G. Isett was killed in battle at Gettysburg on July 2, 1863.  He was killed in the Wheatfield area.  You can read about his death in the Civil War letter written by Anthony J. Beaver.  Matthew G. Isett is buried in the National Cemetery, Section C, grave 64, in Gettysburg.  Matthew G. Isett was never married, and if he left a sweetheart at home, that name has been lost with time.  His father, James K. Isett, visited the Gettysburg Battlefield after his son's death, contracted lead poisoning, and died shortly after his visit on August 11, 1863.  
I was stunned by Matthew G. Isett's Civil War photo.  I did not expect to see a big, burly man with such a beard.  Have you ever created an image of what someone might have looked like in your mind?  Well, I just pictured him as a skinny, little, bald faced young man.  So, I was shocked by the image that greeted me to say the least.  I was even more shocked by the image I found next to Matthew G. Isett!
There, beside Matthew G. Isett, was another Isett photo.  It was a photo of George J. Isett in his Civil War uniform too.  At first, I was thinking it was Matthew's younger brother, George Washington Isett, but I knew the middle initial was not right.  So, I took a photo of George J. Isett too, and couldn't wait to get home and place him.  Before I left, I asked my guide if all of the photos were family members or local families.  He explained to me that just the Isett photos were related, and that there was one other photo of a Huntingdon family.  The rest of the photos were donated in an old photo album, and none of them are identified.
Here is the photo of George J. Isett (1833-1865):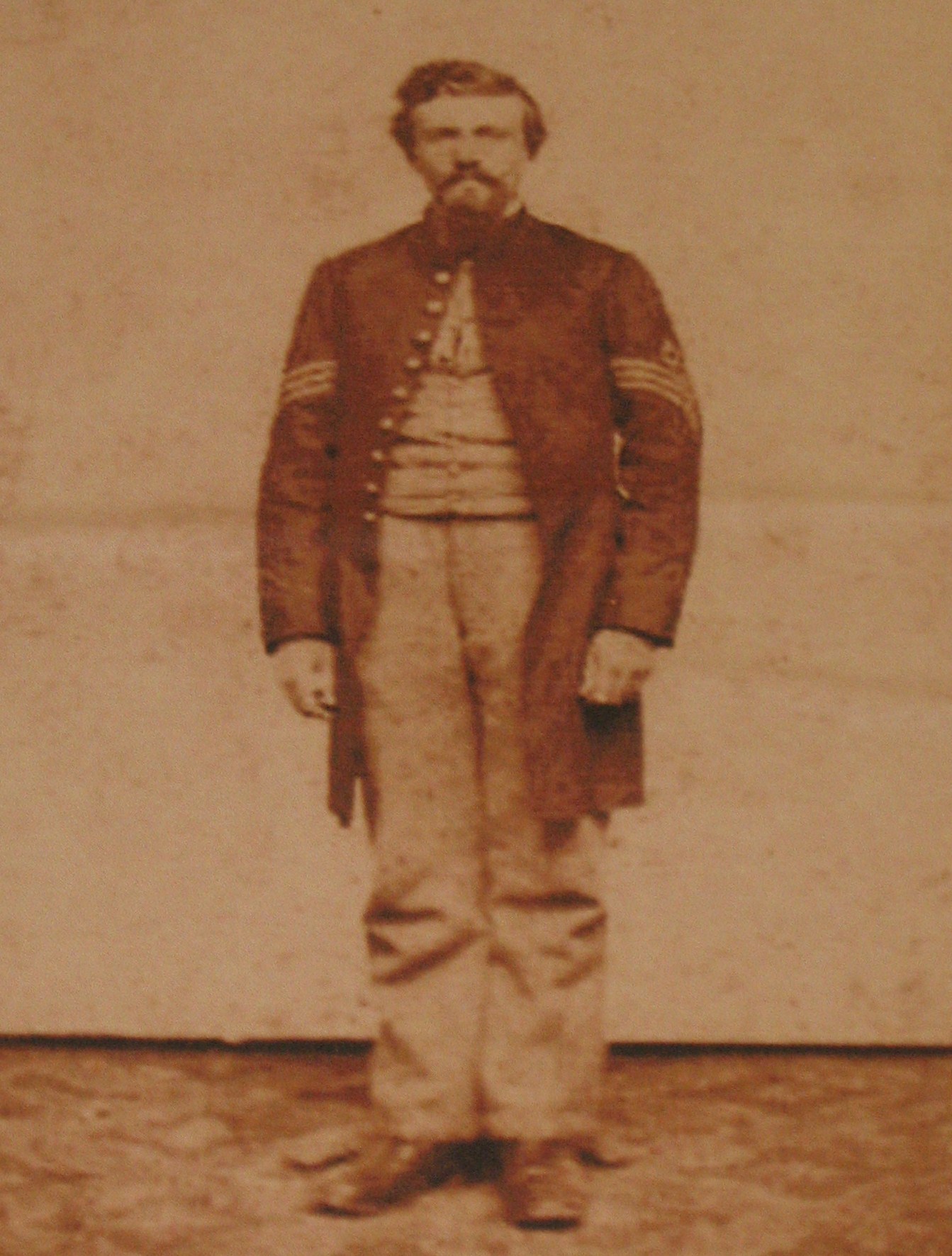 George J. Isett was the son of Joseph Isett, Sr. and Susannah (Weaver) Isett.  George J. Isett was the grandson of Jacob Isett and his first wife Sarah.  George J. Isett enlisted in Co. A of the 110th Pennsylvania Volunteer Infantry.  George was wounded in battle on May 16, 1864 and died from his injuries in 1865.  George J. Isett was married to an Emeline Price and/or Clark.
No Isett family line can just be straightforward and simple where my Isett family is concerned!  It would seem that there was possibly two George Isett men born about the same time in the same area, who both married a woman named Emeline and had a son named George. One George, born about 1835, married Emeline Price, and had a son named George Washington Isett in 1860, who moved to Ohio.
Then, there is the George J. Isett pictured above, who was possibly the second husband of his wife Emeline.  The census records are so confusing for this Emeline.  It appears she was Emeline Price, the daughter of Thomas Price in the 1850 census.  It appears that she might have first been married to a Clark who had died by 1860, when she was living with potentially her mother-in-law in the 1860 census with some young children, Cerentha, Millard, Joseph, and George.  Also living in the household was George Isett, who was presumably a laborer, whom Emeline would eventually marry between 1860 and 1865.  In 1870, Emeline has married possibly a third time to William Yon.  She now has children named Sarah and Harry too.  In 1880, Emeline is still married to William Yon, and the family has grown to include Louis, Virginia, Mary, and William.  Throughout the 1860-1880 census years, the children take on the last name of whomever Emeline is married to or living with.  They are somtimes Clark, Isett, and/or Yon children.  It is believed that George W. and Sarah A. are both Isett children of George J. Isett.  His son George W. was born about 1858.  It is unknown who he married.  It is also unclear if the son George W. is Emeline's son, or possibly to a prvious marriage of George J.
So goes the Isett, Price, Clark saga.  Was there really one George married to an Emeline with a son George W., or were there two sets in Blair County?  But, wait...I'm not done yet!  Did you notice the similarities between the photos of Matthew G. Isett and George J. Isett?  And, what are the chances of the their two photos being side by side in the Isett Heritage Museum?  The coincidence was not lost on me!  
Matthew G. Isett's grandfather's name is not known.  I do not know who the father of James K. Isett (1813-1863) was.  I only know that his mother's name was Elizabeth and that she remarried before 1820 to a man with the last name of Matthews.  Supposedly, James K. Isett's father "absconded" to parts unknown leaving his family.
Interestingly, George J. Isett's family line deadends with his grandfather, Jacob Isett (1780-1853).  No one knows who Jacob's father was either.  I have always found it interesting that there was a Simon Isett (born between 1775-1784) who disappeared from Huntingdon County owing a large amount of debt.  Could this be James K. Isett's father?  Well interestingly, Jacob Isett named one of his sons Simon Isett (1806-1877).  So, after seeing two Civil War portraits side by side in the Isett Heritage Museum from two different Isett lines that no one feels are related, I suddenly had to ask myself AGAIN - "Was Jacob Isett (1780-1853) James K. Isett's father, or did Jacob have a brother named Simon (b. bet. 1775-1784) who was James K.'s father and after whom he named one of his sons?"  Why else would these two photographs be side by side when all of the other photographs around them are not even known?
Regardless, it was wonderful to finally see a photo of Matthew G. Isett, who bravely served his country, and gave his life for our freedom.  I will also welcome the image of George J. Isett to the family, even if I'm not quite sure yet how he connects to his fellow soldier, Matthew G. Isett.
As always, if you can help with this mystery, please use the Contact Me button to e-mail me or leave a comment below on this blog post!
Categories: Family Names, Site Updates
You can also visit my personal family database at
/