Shopping Cart
Your Cart is Empty
There was an error with PayPal
Click here to try again
Thank you for your business!
You should be receiving an order confirmation from Paypal shortly.
Exit Shopping Cart
Genealogy of the Woodcock Valley
Huntingdon County, Pennsylvania
| | |
| --- | --- |
| Posted on July 7, 2013 at 2:00 PM | |
There are angels who walk among us here on Earth.  They are not the angels sent from God, but they are genealogical angels.  I was contacted by one of these angels, Tom Davis, in mid-June who found my website while searching for family information.
You see, Tom is an angel, because he rescues old family photos and albums, researches the family, and tries to return the photos to a family member.  Tom rescued a photo album that belonged to Rachel Ann (Shultz) Grubb (1875-1964) from e-Bay.  Tom thoroughly researched her and her family and found the companion album on my website, Isaac and Rachel (Shultz) Grubb Collection I, that was shared by Kathleen (Grubb) Holder in February 2011.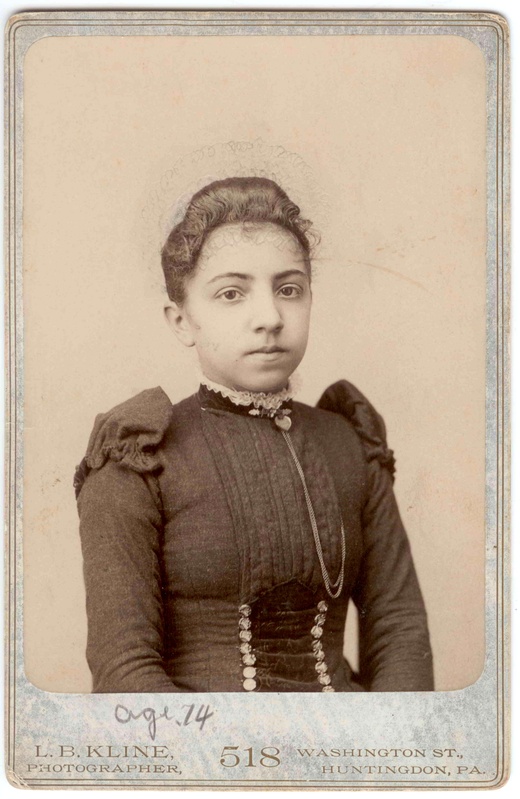 Rachel Ann (Shultz) Grubb (1875-1964) at the age of 14.
Tom lovingly and gingerly scanned each photo in the album with the original handwriting, out of the album to see the photographer's information, and did a close-up of each face in black and white.  He saved this information on a DVD, which he sent to me.  He also put each photo in an acid-free photo safe sleeve, and then into a clear sheet protector along with his research notes.  Each page was included in a hard shell three ring binder for mailing, along with the original album covers.  
Tom also researched each name included in the album and constructed a family tree based on the relationship of each individual to Rachel Ann (Shultz) Grubb.  He housed the Shultz Family Tree at Ancestry.com and included the photos that were available in the album.  The Isaac and Rachel (Shultz) Grubb Collection II includes photos of Rachel's siblings, cousins, nieces, nephews, friends, and community members.  Rachel Shultz married Isaac Bowers Grubb (1866-1946) on December 26, 1895.  There is even a photo of the preacher who married them!  The album also contains some of Isaac Grubb's family members.
There was a note inside the album that said: "Mothers old album when I was a girl"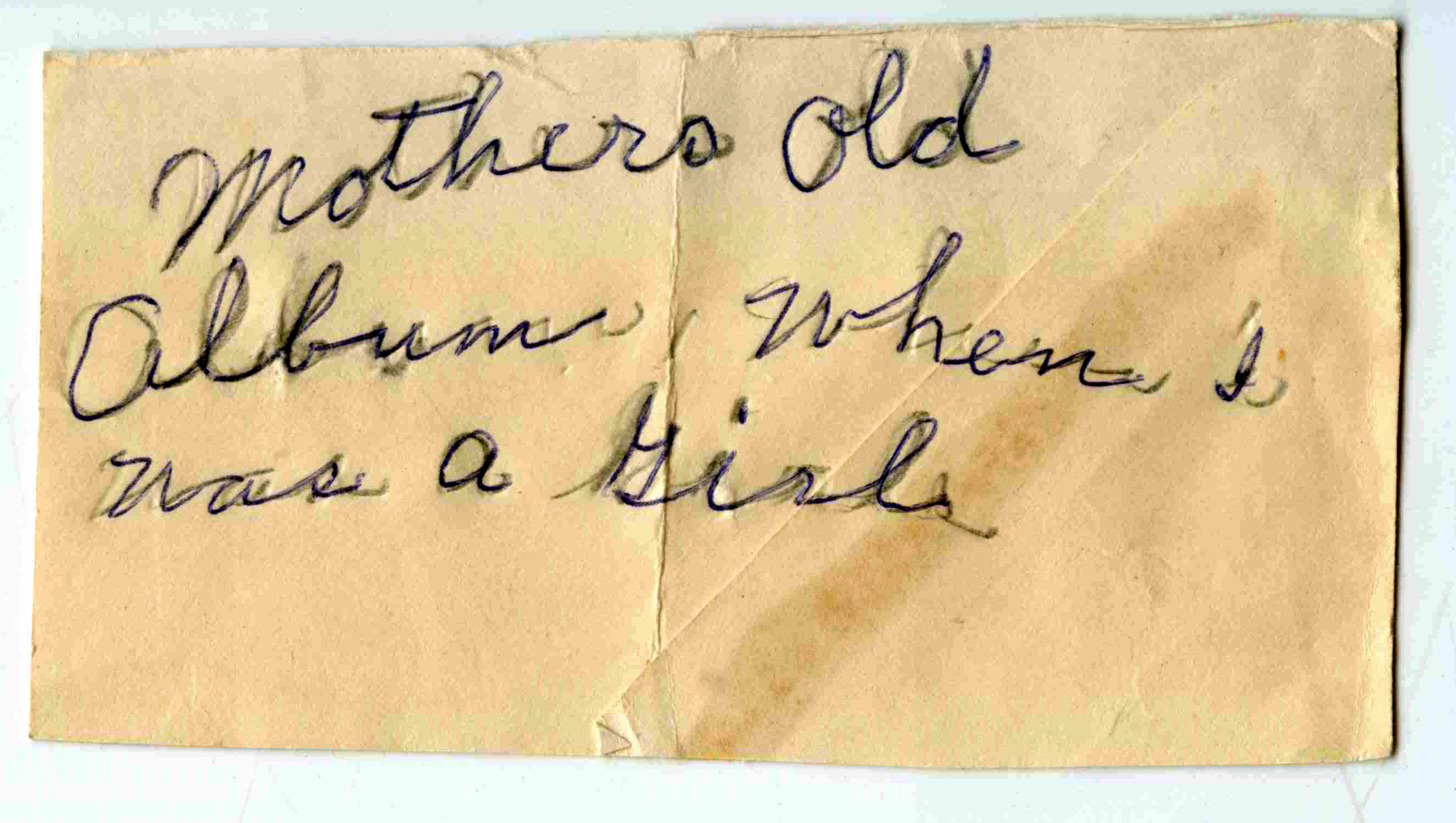 The album that Kathleen Holder shared was given to Isaac and Rachel Grubb's daughter,  Martha Lena "Martie" (Grubb) Robbins as recorded in the dedication inside the album.  The album that Tom Davis rescued also belonged to one of their daughters.  It is unknown if the second album belonged to Martie again or to one of her sisters, Katherine (Grubb) Horton or Gertrude (Grubb) Householder.  Again, the handwriting under most of the photos is believed to be that of Rachel Ann (Shultz) Grubb.  There are a few photos that do appear to have been inscribed by her daughter based on the family relationship.
Some of the names included in the new Isaac and Rachel (Shultz) Grubb Collection II photo album include:  Shultz, Keith, Glasgow, Brumbaugh, Simpson, Criswell, Grubb, Stewart, Dunmire, Garner, Norris, Crownover, Myers, Heffner, Port, Grove, Wolfe, Stone, Shontz, Parks, Hess, Smith, Cunningham, Replogle, Strock, and some unknowns.  
You can see the new photos by clicking on the link above.  You can also view all of the Genealogy of the Woodcock Valley photos and obituaries by clicking on the Photos and Obits link.
From the bottom of my heart, I want to thank Tom Davis for rescuing this precious photo album that truly belongs to the history of the Woodcock Valley.  He is such a kind and caring person to personally take care of the album, spend hours researching, scanning, labeling, and preparing the album to return to the heart of the Woodcock Valley.  He saved a piece of the Woodcock Valley and prepared it to be shared with all who have a connection to the Valley.  I hope Tom can continue to return family history to those who have been lost over time.
Categories: Site Updates, Family Names
You can also visit my personal family database at
/