Shopping Cart
Your Cart is Empty
There was an error with PayPal
Click here to try again
Thank you for your business!
You should be receiving an order confirmation from Paypal shortly.
Exit Shopping Cart
Genealogy of the Woodcock Valley
Huntingdon County, Pennsylvania
When I was first starting my genealogy reseearch, a friend of my family, Clair Grove, found my Casper Fisher family in his book, History and Genealogy of the Bieber, Beaver, Biever, Beeber Family by Rev. I. M. Beaver from 1939.  I actually learned of a daughter, Mary Jane, who died as an infant, that I never knew about.  
As my research grew and branched into the Woodcock Valley area, I always wished I could find a copy of the Beaver family history book.  However, while I'm sure there are probably a lot of copies of the book around, most families do not part with such precious items.  
I was fortunate to find a compay,https://www.facebook.com/AppleManorPress" target="_blank"> Apple Manor Press, that reprints old genealogy and local history books.  I liked their Facebook page and asked if they had access to the Beaver family book.  The answer was, "Yes."  I received my copy in the mail today, and it was like Christmas at my house!  While the original book is a large hardcover, the reprint is a two volume softcover set.  Sure, it is not an original hardcover book, but I am very happy to just have a copy in my hands!  
If you are interested in a copy of the Beaver family history book or any other out of print genealogy or history book, stop by the https://www.facebook.com/AppleManorPress" target="_blank">Apple Manor Press page on Facebook.  If you click on "Like" at the top of the page, you can then post a message on the wall with the title of the book you are looking for.  Also, if you click on "Info" you can find links to some of the sites that they sell books through.  However, they do offer a discount if you order directly from them.  You can find an e-mail address on the Info page too.
I can't wait to work my way through my new Beaver book!  Thank you so much, Apple Manor Press
The 1940 census will be publicly released online on April 2, 2012 at 9 a.m. EST.  The National Archives, with its partner, Archives.com, has started a website at
where this information will first be released.  
On February 21, 2012, the National Archives issued a press release with more information, including the following statement about the content of the 1940 census:
"Many of the questions on the 1940 census are the standard ones: name, age, gender, and race, education, and place of birth. But the 1940 census also asks many new questions, some reflecting concerns of the Great Depression. The instructions ask the enumerator to enter a circled x after the name of the person furnishing the information about the family; whether the person worked for the CCC, WPA, or NYA the week of March 24–30, 1940; and income for the 12 months ending December 31, 1939. The 1940 census also has a supplemental schedule for two names on each page. The supplemental schedule asks the place of birth of the person's father and mother; the person's usual occupation, not just what they were doing the week of March 24–30, 1940; and for all women who are or have been married, has this woman been married more than once and age at first marriage."
You can read the entire press release by clicking on the link.
What will you be doing on April 2, 2012?
This week, the Pennsylvania Department of Health released birth and death indices.  On December 15, 2011, Governor Tom Corbett approved Senate Bill 361, to provide for public access to certain birth and death certificates after a fixed amount of time has passed. This legislation provides that such documents become public records 105 years after the date of birth or 50 years after the date of death.
The birth indices are only available for 1906 at this point.  The death indices cover the years 1906-1961.  The indices open as .pdf files and are not searchable at this time, but are divided by letters of the surname.
You can order non-certified copies of the birth and death records for $3.00 each.  You can find the forms for ordering on the Pennsylvania Department of Health website near the bottom of the linked page.
If anyone is researching the Isett family, my fellow researcher, Bonnie Isett Gorman, has already extracted the Isett names from the death indices, and has posted them on our https://www.facebook.com/pages/Isett-Family-History-Genealogy/188553994531325" target="_blank">Isett Family History & Genealogy page on Facebook.
There is discussion among genealogists that death records may be scanned and included on the internet in the future.
I received this e-mail, and thought I would pass it on for anyone who might be interested.  I still have an old Tracfone that is from the dark ages!  If you are more phone savvy and technologically advanced, you might want to check this out:
"Hi there,
I've been following your Woodcock Valley blog, and since we're both passionate about genealogy, I am excited to share with you a new project we've been working on the past year. You may have read about it on some other genealogy blogs lately, but if not, the name of the service is RestingSpot and it uses the GPS technology in smartphones to help people locate RestingSpots in cemeteries. Once marked via the mobile app (iphone or android), they are linked to RestingSpot.com online memorials for users to share memories, pay respects and post photos of loved ones.
We really want you to use it and let us know what you think and how it helps you. Whatever feedback you have, positive or negative, would be most welcome.
The (free) iPhone app is available right now for download here: http://itunes.apple.com/us/app/restingspot/id455237705?mt=8
Android app will be available shortly.
Project RestingSpot is our goal to map every RestingSpot in the United States by Memorial Day 2013. We're looking for team leaders and volunteers to help us achieve something that's never been done before. We'd love you to join us!
Also, please join our Twitter or Facebook pages to be updated on new features, etc.
Website: http://www.RestingSpot.com
Facebook page: http://www.facebook.com/pages/RestingSpot/217684168263834
Twitter page: http://twitter.com/restingspot
Also, don't worry if a cemetery is not currently in the database. The service will still work just fine. Simply mark a RestingSpot in that cemetery, and shoot us an email and we'll add the cemetery to the database.
We look forward to hearing from you,
Brett Atlas & Scott Kroeger"
Again, I don't know anything about this project and am not associated in any way.  I'm just passing on the info to others who might be interested.
Last night, I started a new Facebook group called Huntingdon County, PA Genealogy at www.facebook.com/groups/142266682529191/ 
If you use Facebook, please consider joining this group.  It is a central location to discuss Huntingdon County history and families you are researching from the Huntingdon County area.
I used to belong to a number of mailing lists through which people would post this kind of information through e-mail messages.  However, with the creation of Facebook, many of these groups have almost been replaced by people sharing information on Facebook.  I felt it was time for Huntingdon County to be represented as well.
Again, please visit the Huntingdon County, PA Genealogy page at www.facebook.com/groups/142266682529191/ and join.  Share this information with your family and friends, and post about your areas of interest and the names you are researching.
I want to tell you about the new portable scanner I got.  It is called a Flip-Pal Mobile Scanner, and I love it!  My dad had a pacemaker put in on Thursday, and I took a book of obituaries I purchased at Charlie Johnson's estate sale, and my Flip-Pal, and I literally sat in the waiting room scanning photos left and right.  The Flip-Pal is much faster and easier to use than my HP flatbed scanner that is hooked up to my computer.
I originally started out with a Kodak portable scanner that fed the photos through the scanner.  However, no matter what I did, I could not make the scanner work.  It also overheated very easily, and it was impossible to remove the battery cover.  So, I quickly returned it to the place of purchase.  I started searching the internet looking for another portable scanner, and I found the Flip-Pal.  The reviews for this product were excellent!
So, what makes the Flip-Pal so wonderful?  You can scan ANY size photo, document, or any other item your heart desires.  The Flip-Pal looks just like any flatbed scanner.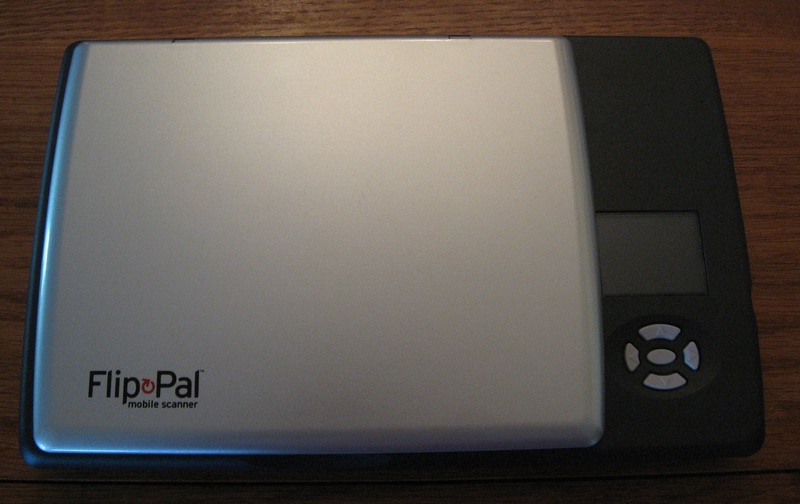 By lifting the lid, you can insert a 4 X 6 photo for scanning or any other small, flat object or momento.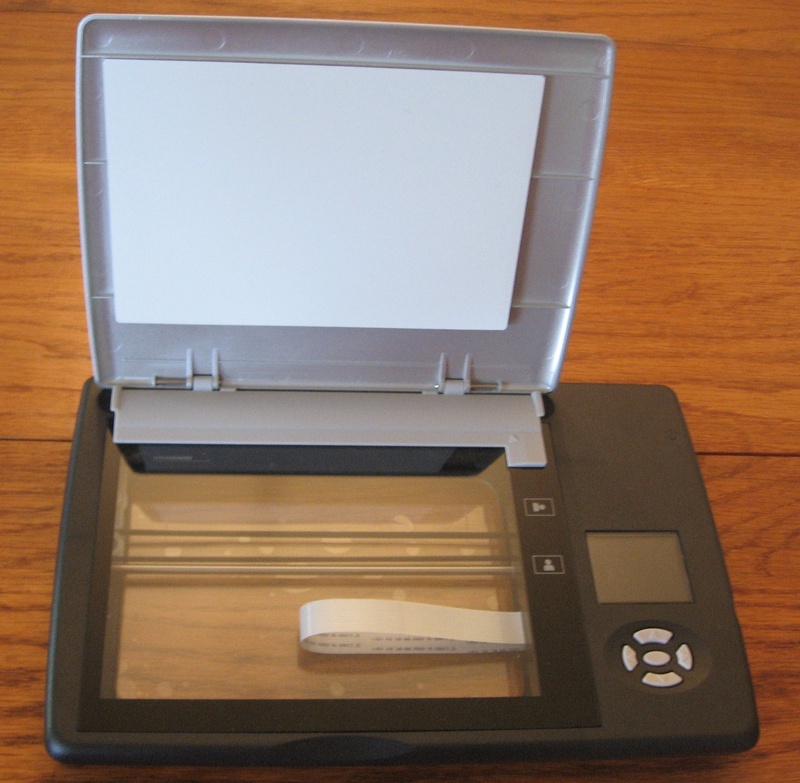 But, wait, here comes the great part!  The lid comes off and allows you to scan an object or photo of any size!  All you do is take the lid off, turn the scanner over, and scan a large object by making slightly overlapping scans until you have the whole image scanned.  The scanner then comes with software that allows you to "stitch" the image back together on your computer.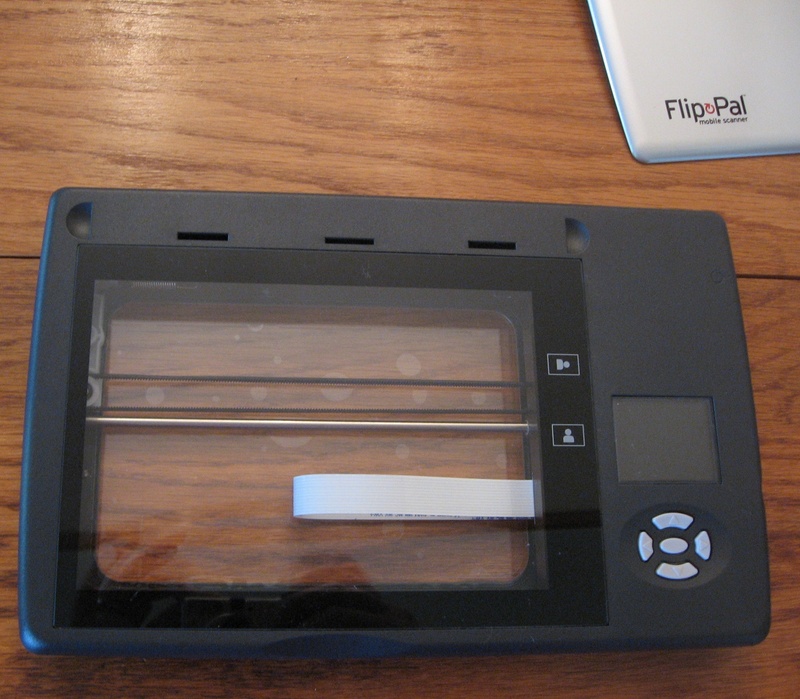 Below is an image of the scanner turned over and ready to scan a larger image.  The bubbles you see are in a protective cover to keep the bottom of the scanner from getting scratched.  I could not seem to get them all worked out, but I'm sure that was just me being me...  The bubbles do not show up in your scans because you are scanning from the top-side.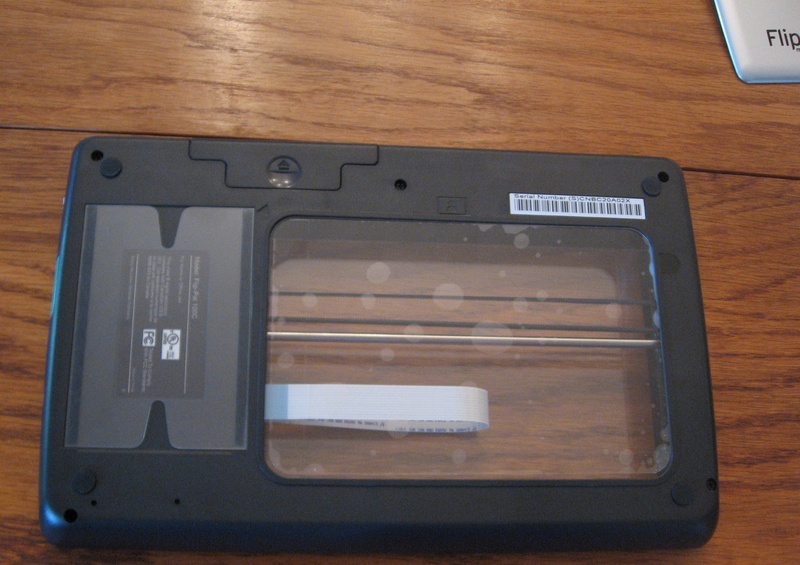 Here is a long obituary that I scanned with three overlapping scans: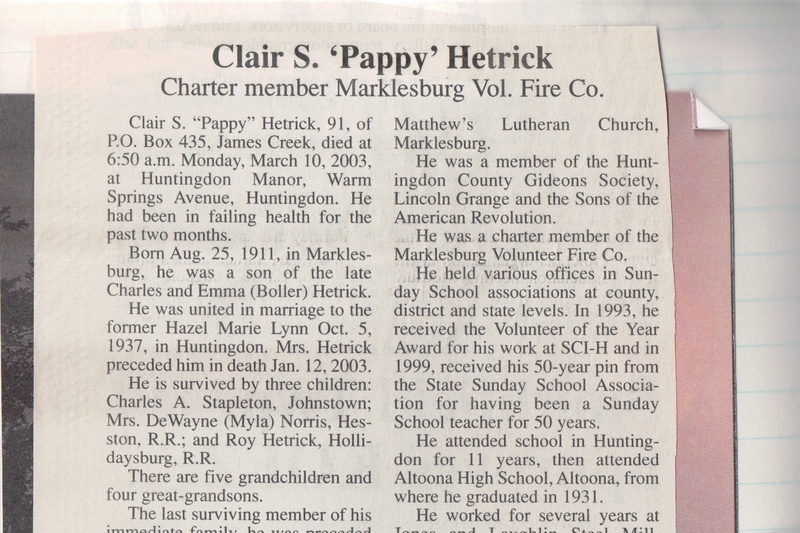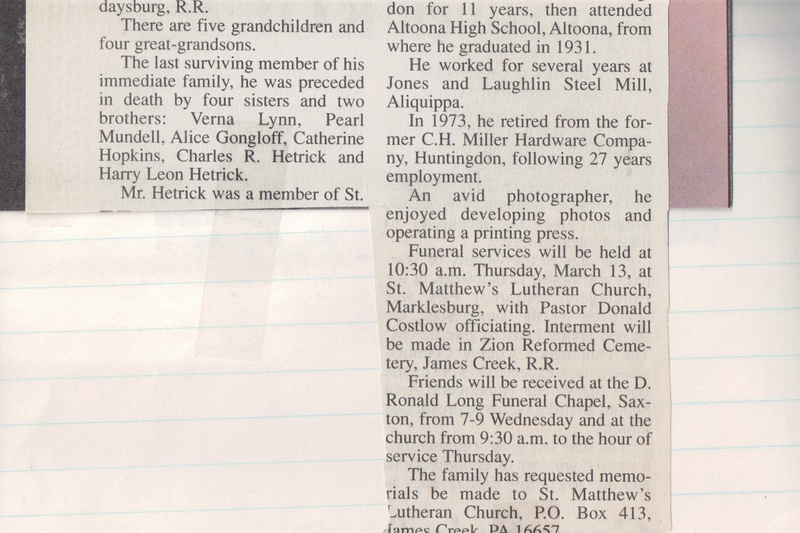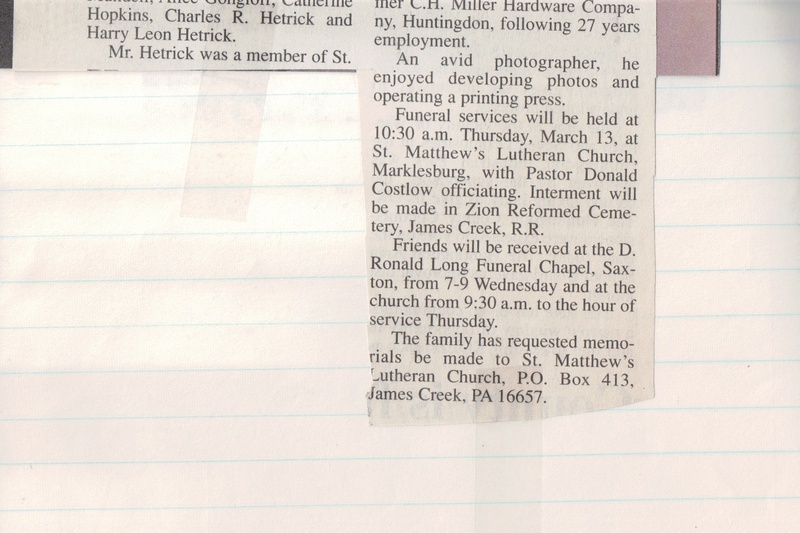 Above are the three scans of the obit that I did.  I'm new to using my Flip-Pal, so with a little more practice, I could have reduced my number of scans down to two.  Below is the "stitched" image after the Flip-Pal software took my three images and combined them into one original.  The stitching process has to be completed on a computer.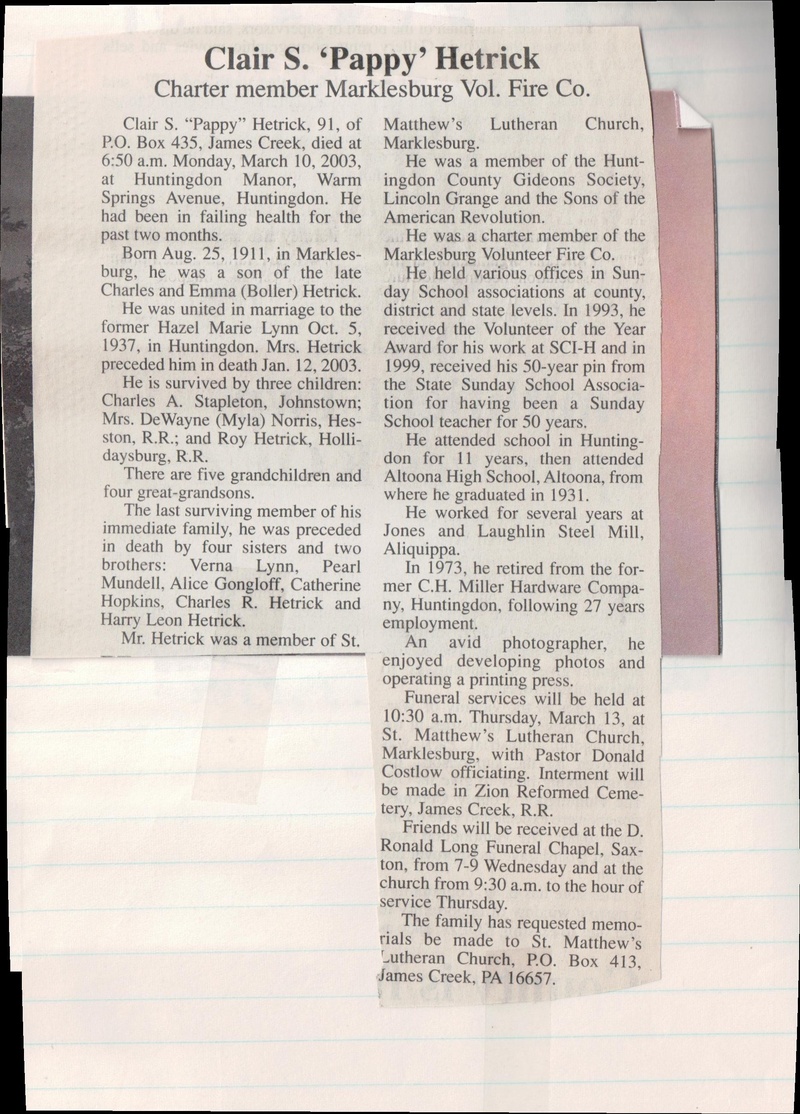 Here is the final obituary after I took the stitched image and cropped it using my own editing software on my computer.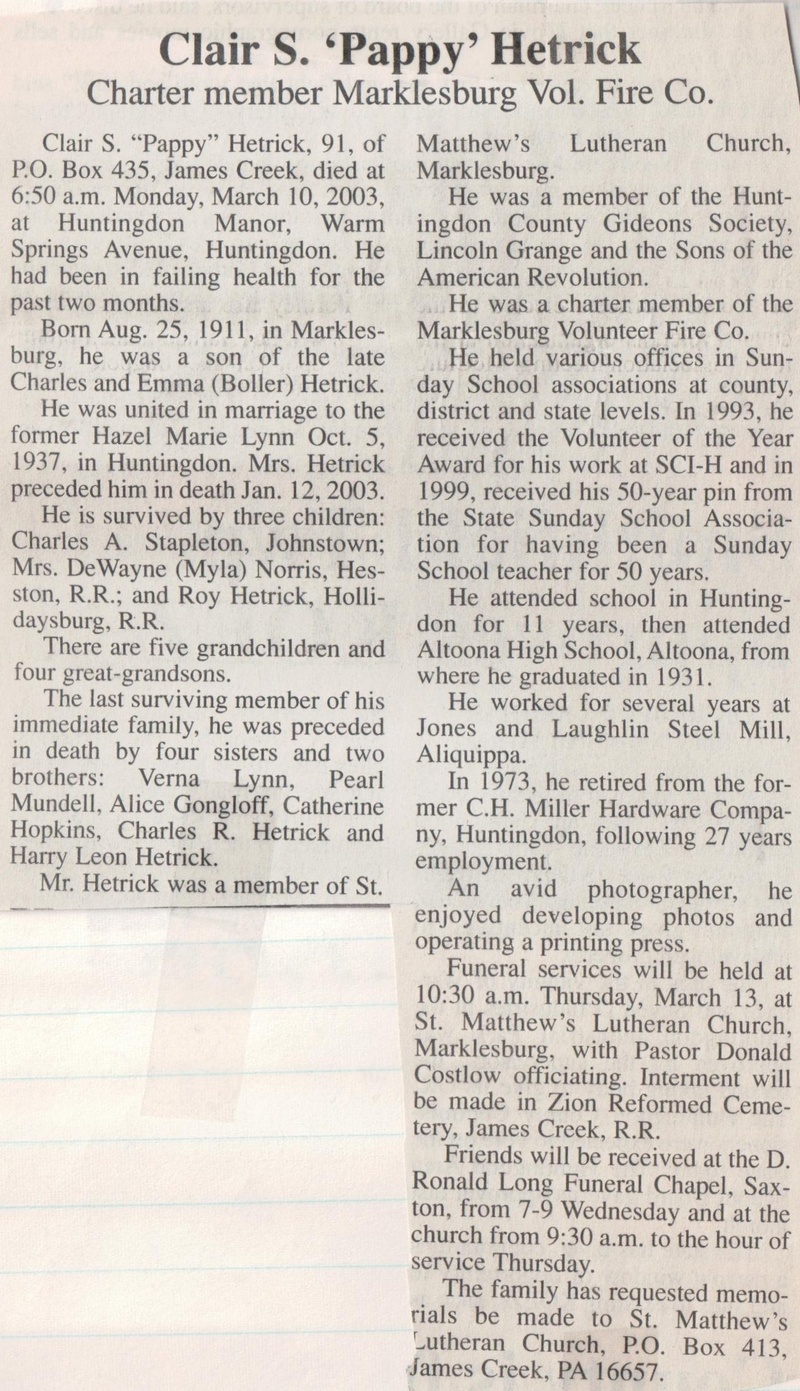 The Flip-Pal does have it's own viewing window, and you can perform certain functions using the control keys on the Flip-Pal.  The Flip-Pal also comes with an SD card that stores your images as well as a thumb-drive that allows you to insert the SD card into it if you do not have an SD reader on your computer.  All of the software is housed on the SD card.
I really think the Flip-Pal is a pretty amazing tool for genealogists.  If you travel in your genealogy research or attend family reunions, I encourage you to check the Flip-Pal out.  By clicking on the link, you can watch a video demonstration of how the Flip-Pal works, read testimonials, and find out what other bloggers are saying about it.  Some recommend the Flip-Pal for sewing, scrapbooking, and other various hobbies.  I know I will be taking my Flip-Pal with me to family reunions so I can get actual images of the old photos people bring, instead of just trying to capture a photo with my digital camera!
Mimi Taylor posted information on the Blair County mailing list about the United States Department of Veterans Affairs website.  From their Burial and Memorial Benefits page, they offer a link that allows you to locate the gravesites of veterans using their Nationwide Gravesite Locator.  When you click on the Nationwide Gravesite Locator link, you can search by name, date, and cemetery.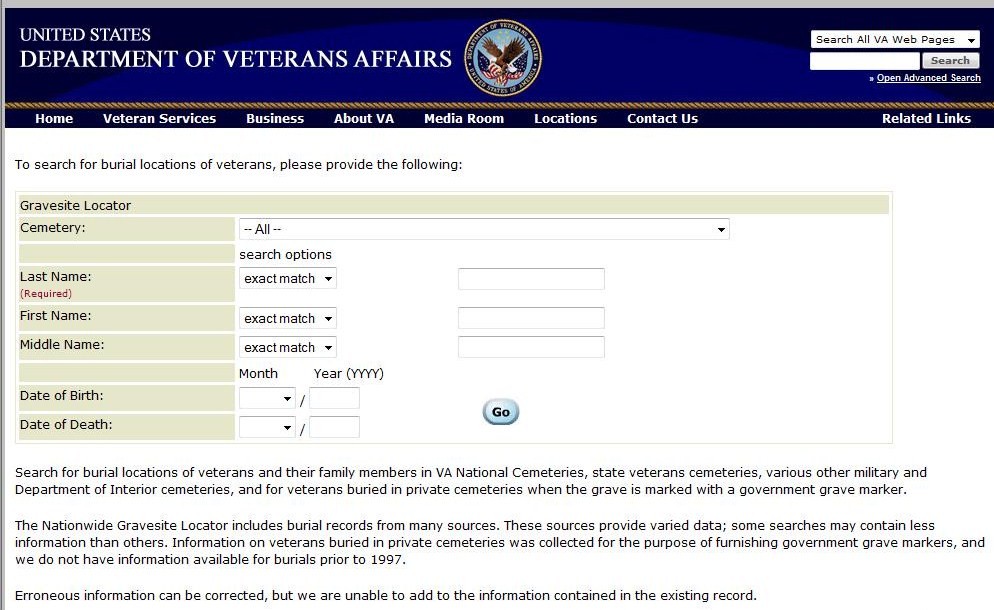 I tried doing a search on the Isett surname.  I just assumed the results would only show those buried in national cemeteries, but I got results for local cemeteries as well.  The results not only included the veterans, but their spouses too if they are buried in the same location.  An example of my search is below: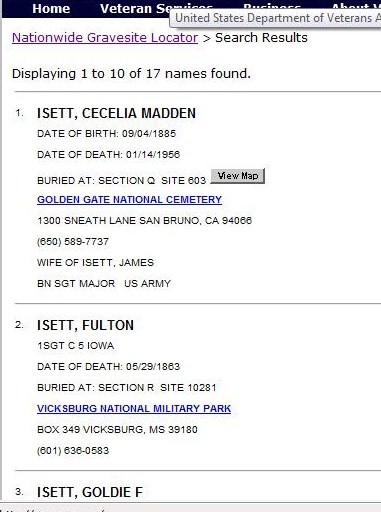 If you are not familiar with the Nationwide Gravesite Locator, I encourage you to search for your relatives who served our country.
I learned of a fantastic new search engine today that is just for genealogists!

Mocavo is a free search engine that acts like Google, Yahoo, or Bing. However, instead of getting irrelevant results that having nothing to do with genealogy, Mocavo only searches free genealogy websites for the information you are looking for. Once the results are displayed, Mocavo takes you right to the website where the information was found. A "Back to Results" arrow remains at the top of the page to take you back to all of the results on the Mocavo page when you are finished browsing.
Mocavo just launched today. It searches all of the well known websites such as "genealogy message boards, family trees, state and local historical societies, the Library of Congress, National Archives, Ellis Island, Find A Grave, the Internet Archive, various U.S. state archives, and many tens of thousands of genealogy sites built by individuals"
Obviously, since Mocavo is new, it has not yet found every free genealogical website! There is an option to "Suggest a Site" at the very bottom of their page. You can use this option to add your favorite genealogical websites, so Mocavo will start searching them as well. Mocavo will then display the results from these websites for others to use. Mocavo should become even more successful as users submit other websites.
The creator of Mocavo, Cliff Shaw, has created other genealogical web resources such as Smart Matching, GenForum, GenCircles, Family Tree Legends, and the  Back Up My Tree website. All of his previous creations are now owned by other companies including Ancestry.com and MyHeritage.com. So, I would take advantage of Mocavo while it is free, because I predict it will quickly be purchased by a larger company! It is a great tool, and I hope that it remains free to genealogists.
You can also visit my personal family database at
/