Shopping Cart
Your Cart is Empty
There was an error with PayPal
Click here to try again
Thank you for your business!
You should be receiving an order confirmation from Paypal shortly.
Exit Shopping Cart
Genealogy of the Woodcock Valley
Huntingdon County, Pennsylvania
Hi, I'm Carson. I'm working on my communications merit badge for Boy Scouts. For this merit badge, I have to share information with the public. Since I love to fish, I am doing an article on the Phillips Fly and Tackle Company. My mom, who loves local history, first purchased a Phillips "Crippled Killer" at a local auction in 2014, and then purchased a book about the company.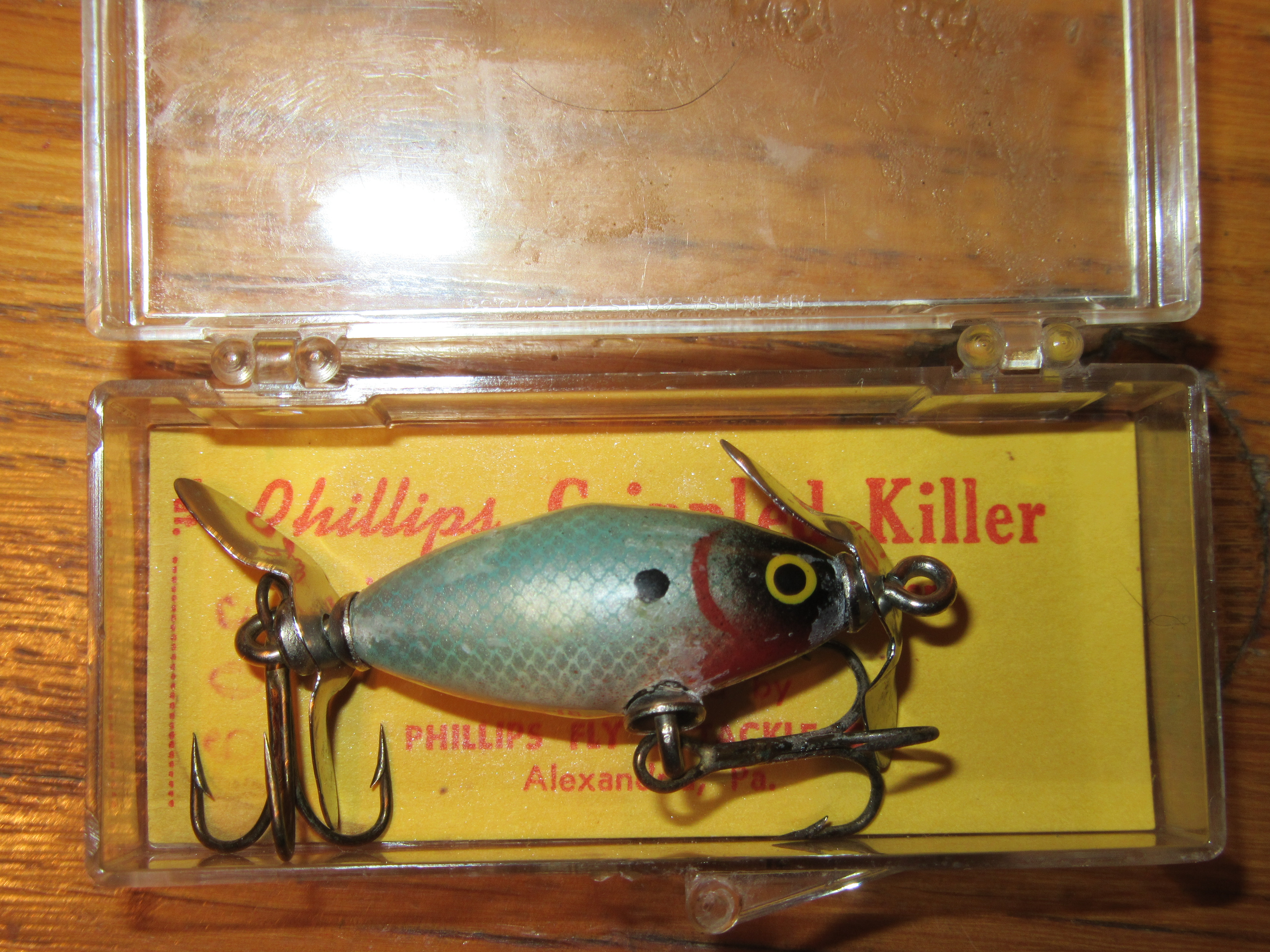 The Phillips Fly and Tackle Company was founded by George Phillips, Jr. (1913-1956) in Alexandria, in Huntingdon County, PA, in 1939. In 2007, Jean Lane Cresswell published a book on the Phillips Fly and Tackle Company called "Made For Fishermen By A Fisherman." The title of the book was the motto of the Phillips Fly and Tackle Company. The book tells you about the history of the company and some of the products they sold.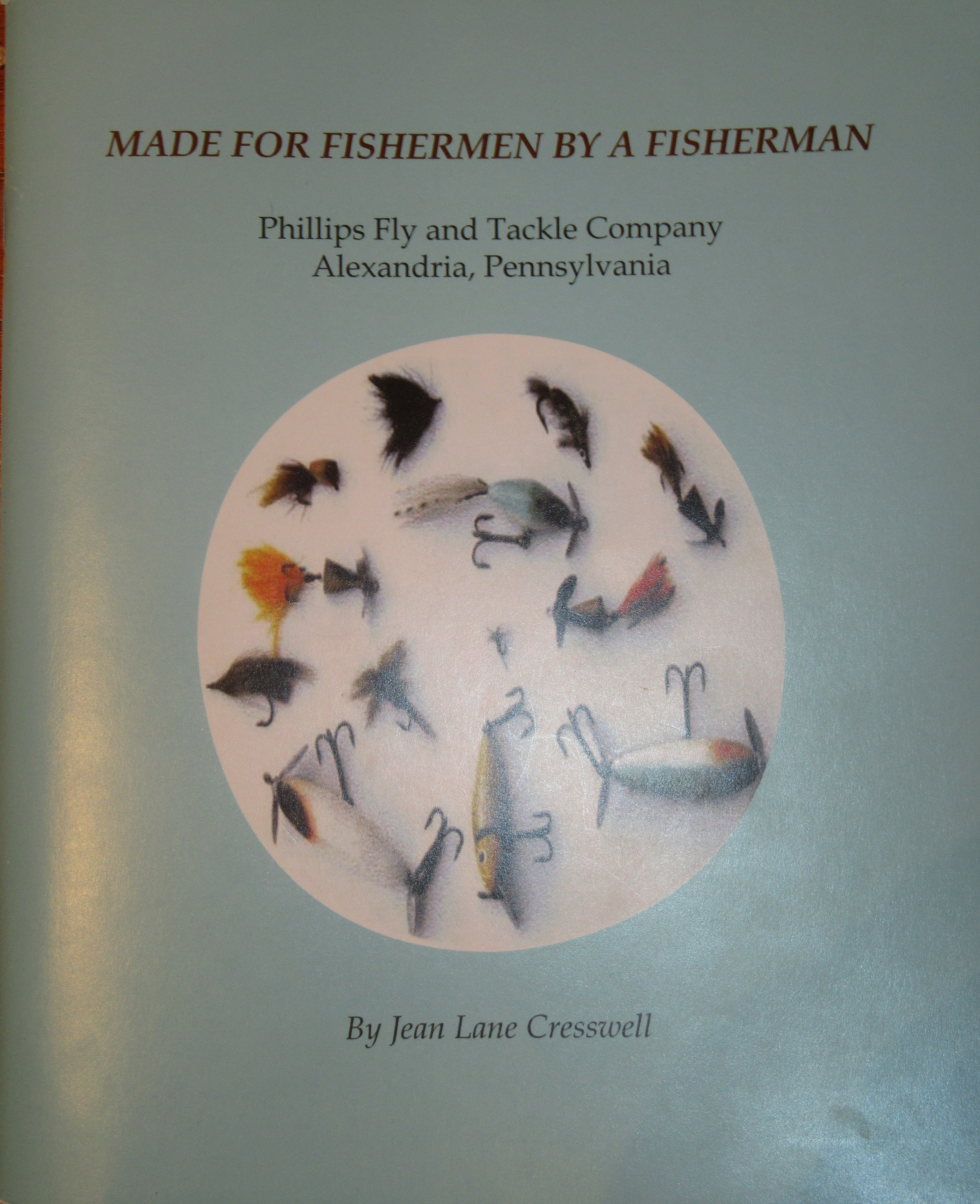 The Phillips Fly and Tackle Company employed over 100 employees, and a majority of them tied flies. Many workers tied flies in their own homes. The company had over 3,600 different kinds of flies. The company also started selling wooden lures. When plastics became available, the company started making plastic lures as well, while continuing to tie flies. Phillips lures have fairly distinct eyes, and most have a metal blade or a metal lip.
At the height of production, the company made 200,000 lures per year. One of their most popular lures was the "Crippled Killer." It was designed to imitate a crippled minnow that was on top of the water trying to swim away. The "Crippled Killer" has a distinct look with a hook that hangs straight down from the stomach and hangs much lower than a normal hook.
In doing my research for this article, I noticed a lure that looked very familiar. So I looked in my tackle box, and little did I know, but I had been fishing with two Phillips "Rainbow Runner Jr." lures! As I looked through my lures, I found 11 more lures from the Philips Fly and Tackle Company that had belonged to my late grandfather, Paul Fisher (1932-2019), and my great-grandfather, Eldon Kinch (1915-1968 ).
I think it is pretty cool that very high quality fishing lures were made in Huntingdon County! I'm even more excited to find out that I own my own share of local history. If you would like to learn more, you can get a copy of the book from the Huntingdon County Historical Society, or read more about Phillips Fly and Tackle Company from Dr. Todd Larson's blog.  If you have information on any of the lures posted above, have photos of your own Phillips lures or flies, have a favorite fishing story with a Phillips, or have relatives who worked for the company, please comment!

For a year and a half, I worked at Isett Heritage Museum in Huntingdon, PA.  In many ways, it was an ideal job for this genealogy loving history buff!  I loved being surrounded by the local history items and daily reminders of days gone by.
One of my favorite pieces in the collection was an unusual pillow, hand-crafted and hand-stitched in 1905 by the students at the Marklesburg Normal School.  The pillow had been donated to the museum by Elaine Fisher in memory of her mother, Grace Irene (Morningstar) Fisher (1927-2011).  Irene was the daughter of Howard Dewey Morningstar (1898-1957) and Sarah Grace Stone (1903-1973).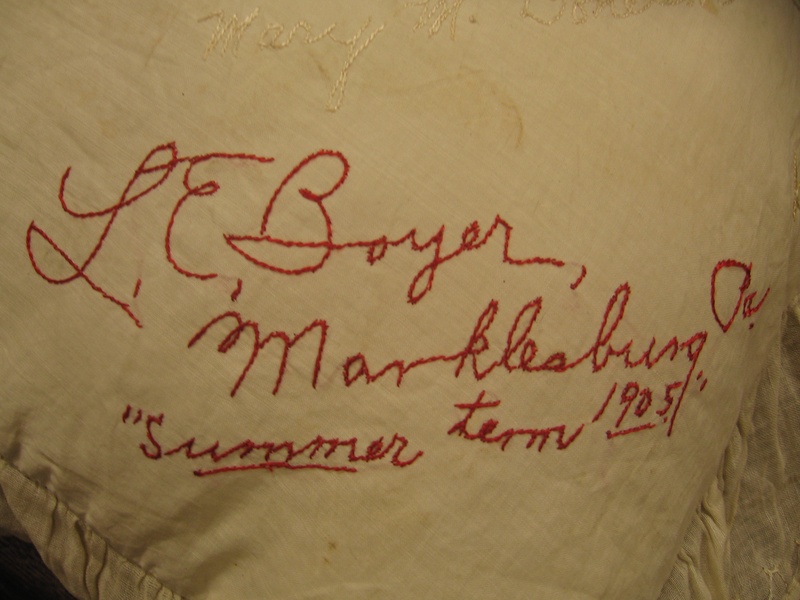 In 1905, during the summer session, 52 teachers in training created a very special keepsake of their time at the Marklesburg Normal School in Penn Township, Huntingdon County, PA.  During the school year, the Marklesburg School housed grades one through eight, and was opened to young adults who wanted to further their eduction over the summer months.  The Normal School was affiliated with Juniata College.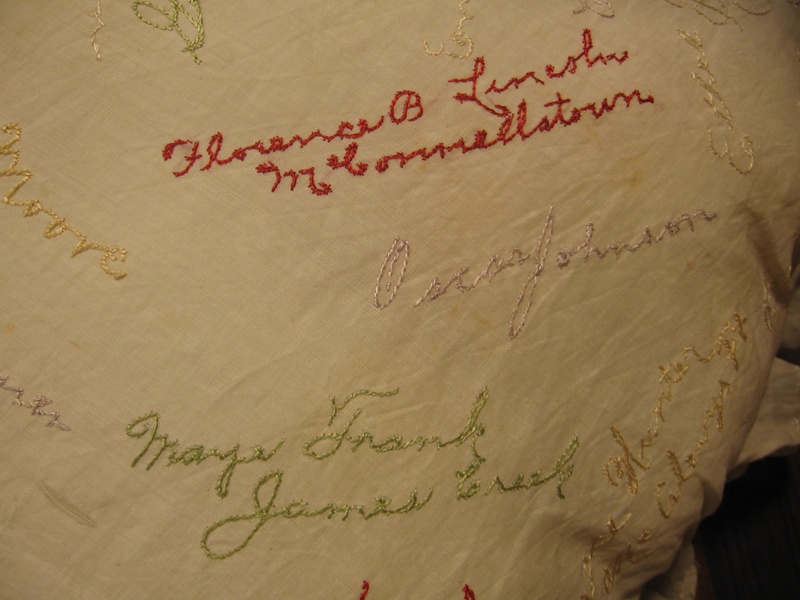 Each soon-to-be-educator signed the pillow in stitches, and some included their hometown too.  The signatures on the pillow include:
Xopher Beck
Mayne M. Hoover
Ada Householder
J. H. McCall
Lorane A. Mierley
G. Homer Pheasant
Clyde Shultz
Raymond D. Baker
Harry Moore
Nelson Keith, Aitch
Maye Frank, James Creek
Florence B. Lincoln, McConnellstown
Blanche Boyer
Jno. H. Hess
Ella M. Lininger, Grafton
Minnie S. Marshall, Greenwood Furnace
Ethel Grace Isett, James Creek
Charles Johnson
Maude Vaughn, Salter
Blanche Speck, Huntingdon
Ira A. Taylor, Todd
Homer Miller
Maude Hetrick
Mary M. Donelson
D. Rolla Pheasant
Winfield Garner
John C. Horton
Emma Crum, Salter
Grace L. Shultz
Otto O. Stone
Frank Wright
John C. Householder
Gilbert Daughenbaugh
Wilmer A. Brumbaugh
Carrie A. Smith
Flora M. Cramer
Edna Boyer
Mary Davis
Oscar Johnson
Grace Hunter, McAlevys Fort
Samuel M. Schell, Aitch
Gertrude Roland
Oscar Stone, Salter
Geo. E. Corcelius, Hesston
Joseph Hess, Orbisonia
Effie Dell
Carrie Chilcote
L. E. Boyer, Marklesburg
John H. Keith
C. Pearle Crum
Doris R. Glasgow
Wilbur D. Swope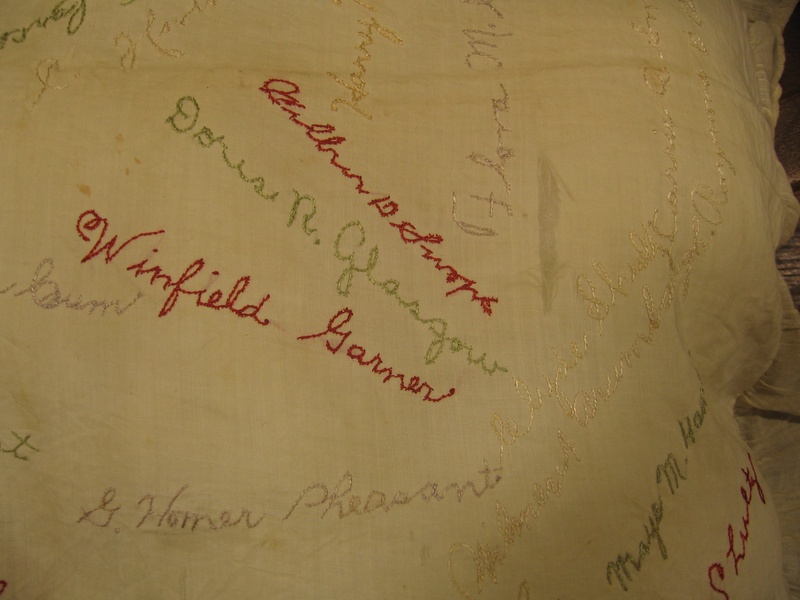 You can learn more about other students and instructors of the Marklesburg School by clicking on the link. 
This special pillow is a lasting legacy of not only a special group of young men and women, but of an unique education program that operated within the Woodcock Valley.
Two years ago, my son and I were fortunate enough to attend a public auction in Marklesburg, where they sold a box of teacher's manuals and student books from the Marklesburg Normal School.  Being a former teacher, book lover, and history buff, I couldn't pass up the books.  Many of the books have local names inside.  I will write about them in a future blog post.
Are you wondering about now how many jobs I've had?  LOL  I have finally found my forever job - accounting is for me!!!!
I often go to eBay and just type in a specific search relating to local history to see what comes up.  Some days are just luckier than others.  In mid-February, I found a photo that was eerily familiar to me.  At the time, I couldn't explain why, but the price was right and I bought it.  I took a look at what else the seller had for sale and found some other old photos that had great subject matter and I bought several more.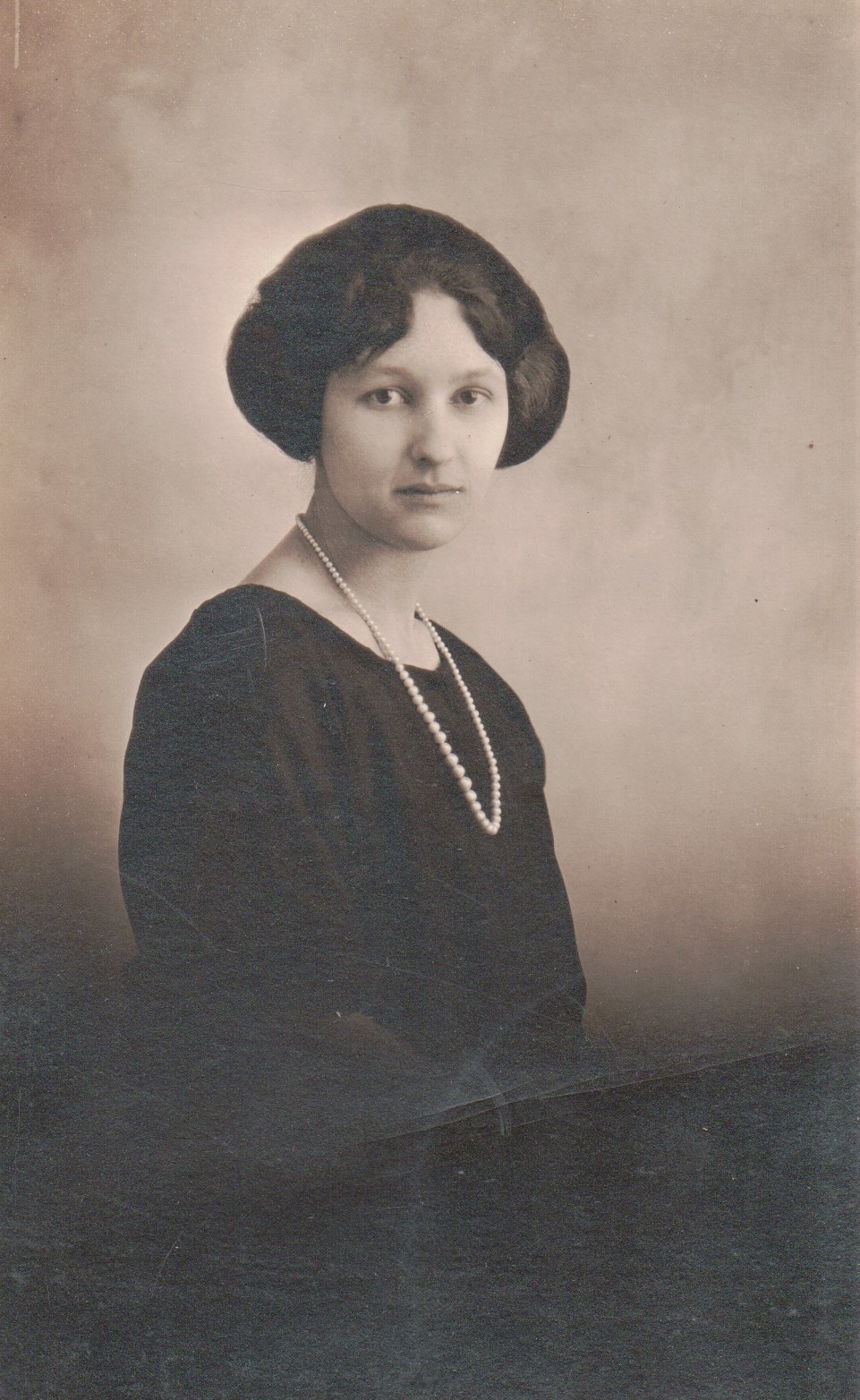 The photo that eerily caught my eye, Mary (Anderson) Snively
I continued to wait anxiously for my purchase over the next several days and continued to reflect on why the photo seemed so familiar to me.  After several days of not receiving any shipment confirmation, I contacted the eBay seller.  It turns out she had sent me an e-mail, which I had not received, telling me she had more photos from the same estate to post.  Through e-mail, I found out that the previous owners of the photos had moved to Florida, and she put me in contact with them.
After a reply e-mail from the previous owners of the photos, it became quite clear why the photo was eerily familiar to me...because she was a member of my family!  Meet Mary (Anderson) Snively, whose photo was already on my website!  No wonder she seemed so familiar!!!  Through e-mail correspondence, I found out that all of the photos posted on eBay were most likely related to the Anderson family.  So, I contacted the seller and purchased all of the remaining photos to share here in hopes that they can all be identified some day.
The photos belonged to Eva Margaretta (Stone) Thompson (1904-1996).  She was the daughter of an unknown Stone father and Anna Eleanor Anderson (1879-1968].  Her mother then married Raymond Orland Rinker (1885-1968].  Together, they had four more children.  Eva married William C. Thompson (1901-1984), and they had ten children.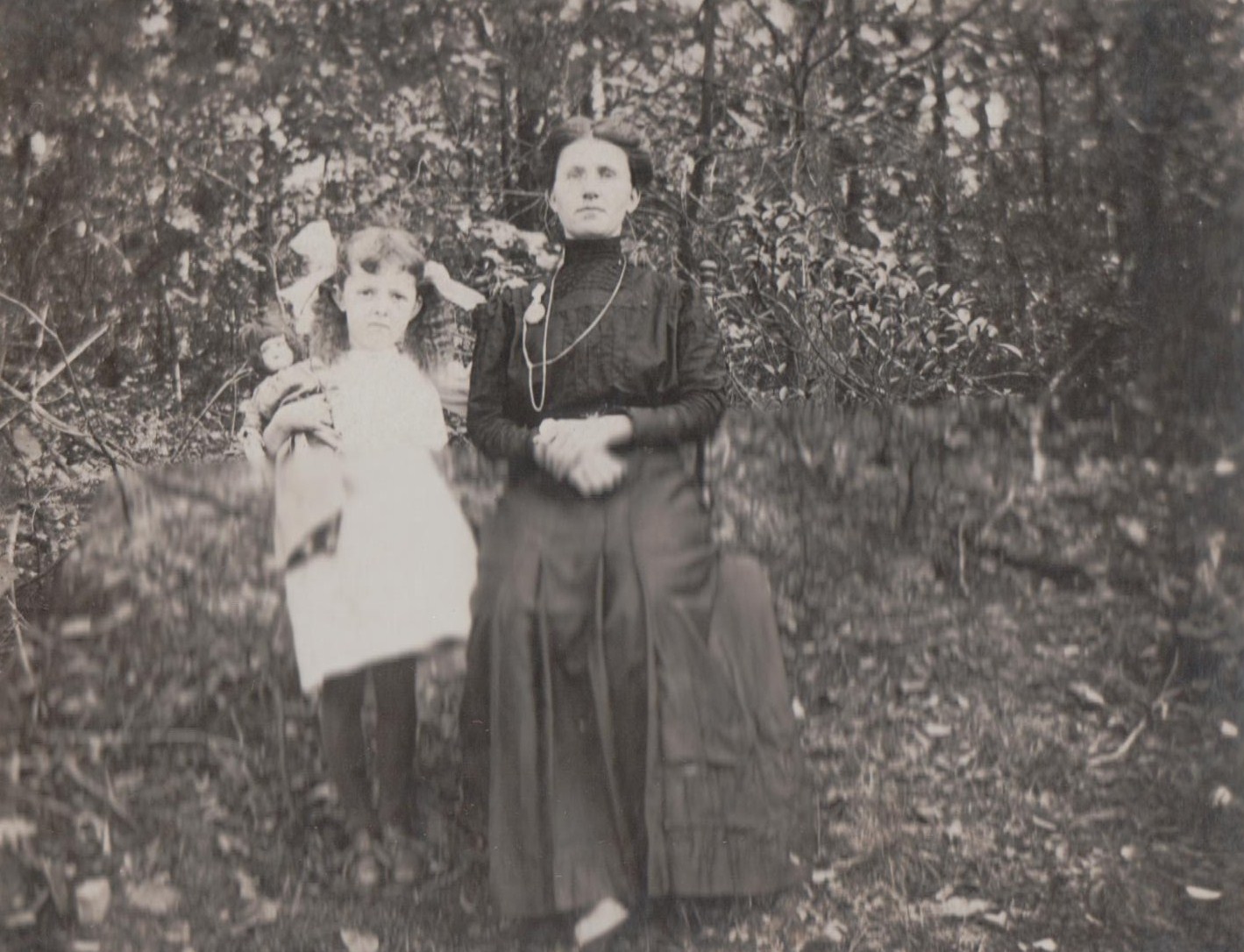 Eva Margaretta (Stone) Thompson and her mother, Anna Eleanor (Anderson) Rinker
The lineage starts with the oldest portrait of Henry Anderson (1842-1910) and his wfie, Mary Jane (Grubb) Anderson (1841-1918].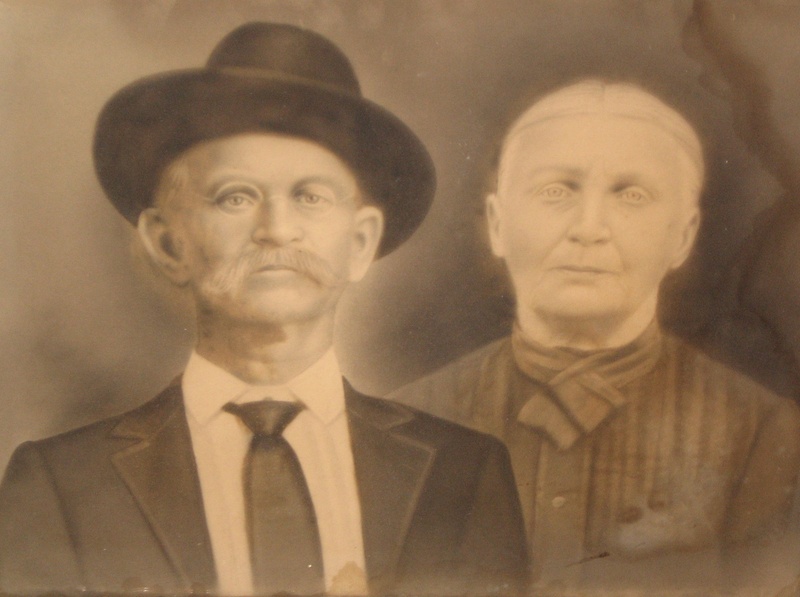 Henry and Mary Jane (Grubb) Anderson
Eva's mother, Anna Eleanor, was the youngest daughter of Henry and Mary Jane.  It is believed that most of the photos in the Eva (Stone) Thompson Family album are most likely from the Anderson side of the family.  Only a few of the photos were labeled or known, and indications are that they are probably related to the Anderson side of the family.
So, what is my connection to these people?  My great, great grandmother, Ruhama A. (Anderson) Norris (1846-19194) was the sister of Henry Anderson above.  AND, my great aunt, Sarah Blanche (Fisher) Rinker (1889-1975) married Leslie Frank Rinker, a brother of Raymond Orlando Rinker.  See why I love genealogy so much - especially in the Woodcock Valley?  I am connected to this group of photos on both my father's maternal and paternal sides.
What makes this find even more interesting is that Ruby (Shirk) Keller shared some of these exact same photos with me in her album, Ruby Shirk Keller Collection, including this photo of the Anderson Family.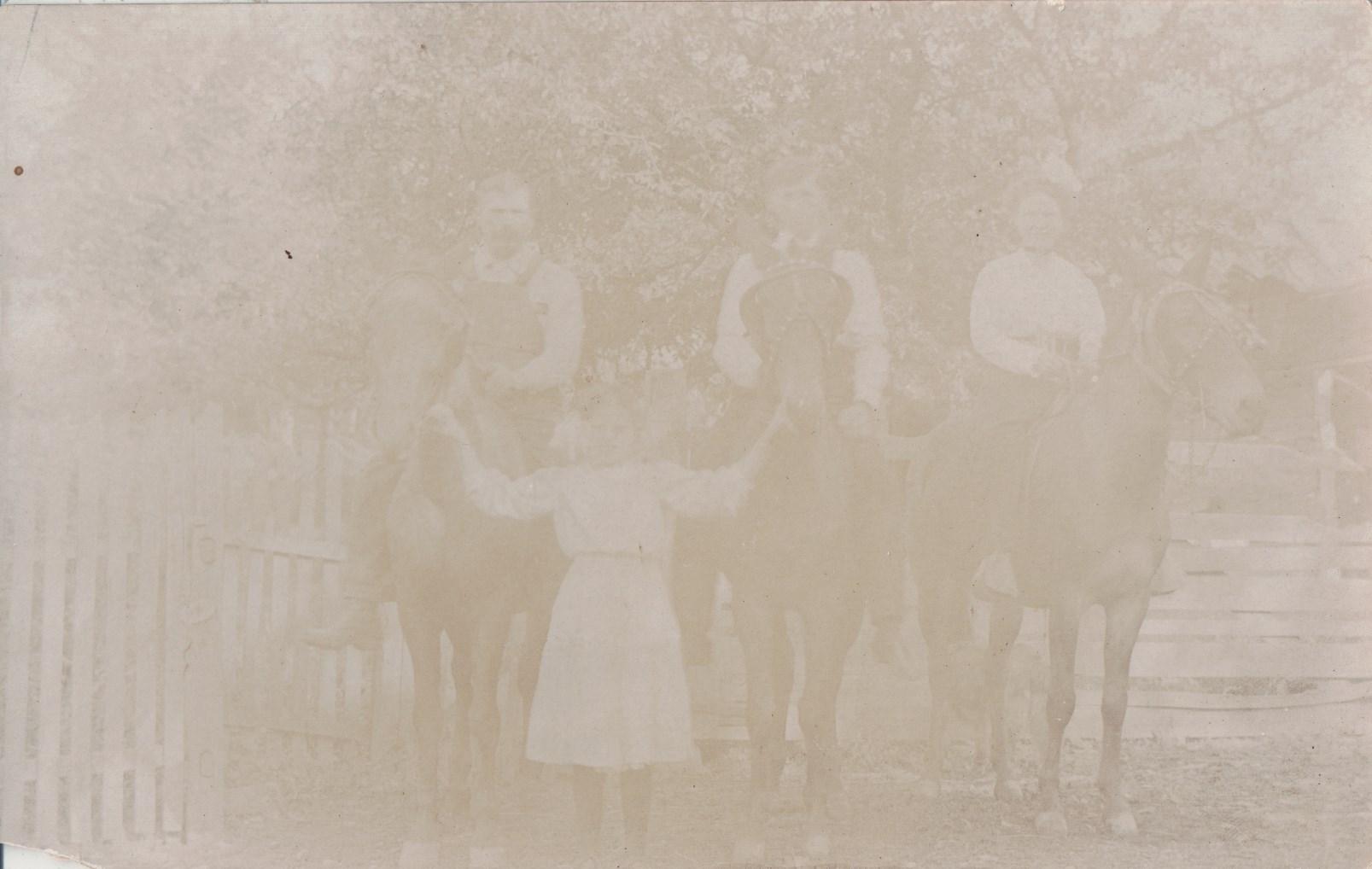 The Anderson Family
Also included in some of Ruby's photos were a photo of Anna Eleanor (Anderson) Rinker and a Stone family.  The original owner of the family would love to learn more about who Eva Margaretta Stone's father might have been.  Could he be in one of Ruby's photos?
I am thrilled to take possession of these photos, but would be ecstatic if others could help me identify some of the unknown photos.  At least two of the photos appear to be sisters with their spouses and children.  If you have information, please comment or contact me.
It has been a while since I've blogged; I never meant for it to be so long!  I'm still alive and well.  2014 was a rough year for me personally, but it was also a year of wonderful new beginnings. 
After teaching for 15 years in public education, I decided I would never last for 15 more years.  It was a promise that I had always made to myself - that if it ever stopped being fun that I would get out.  It was time to get out!  I found myself no longer liking the direction public education was taking me, I was being bullied by a supervisor who personally hated me, and I had a son about to enter the public school system, so it was time for me to make my exit.  On June 13, 2014, I made my resignation official and spent a few days enjoying life and pondering my future.
As I job searched, I had been envisioning myself in an office setting doing computer work.  However, by the end of June, I had secured employment in a surprising turn of events with just a letter on a whim.  Knowing my love of local history, I decided to send a letter to Isett Heritage Museum to let them know of my availability, thinking perhaps I could get a job for the summer until I found a position in an office setting.  However, little did I know, but Isett Heritage Museum was looking for a full time person to work beisde their office manager!  It was a match made in Heaven!  I started my new career on July 3, 2014.  I am now surrounded by local history and history in general on a daily basis.  It is just a dream come true!  I never thought I would get paid to do something I love so much!!!
On Thursday, January 8, 2015, I was working at Isett Heritage Museum, and waiting with much anticipation on some new items to arrive at the museum.  You see, it is not at all unusual for new donations to come in.  However, I knew about these items in advance and it was like Christmas day as I waited for them to arrive from Montana.  If you have followed my blog posts, you know how much I love to research the Isett family.  So, it was with such eagerness that I anxiously awaited the arrival of a Civil War sword that had been passed down through the Isett family!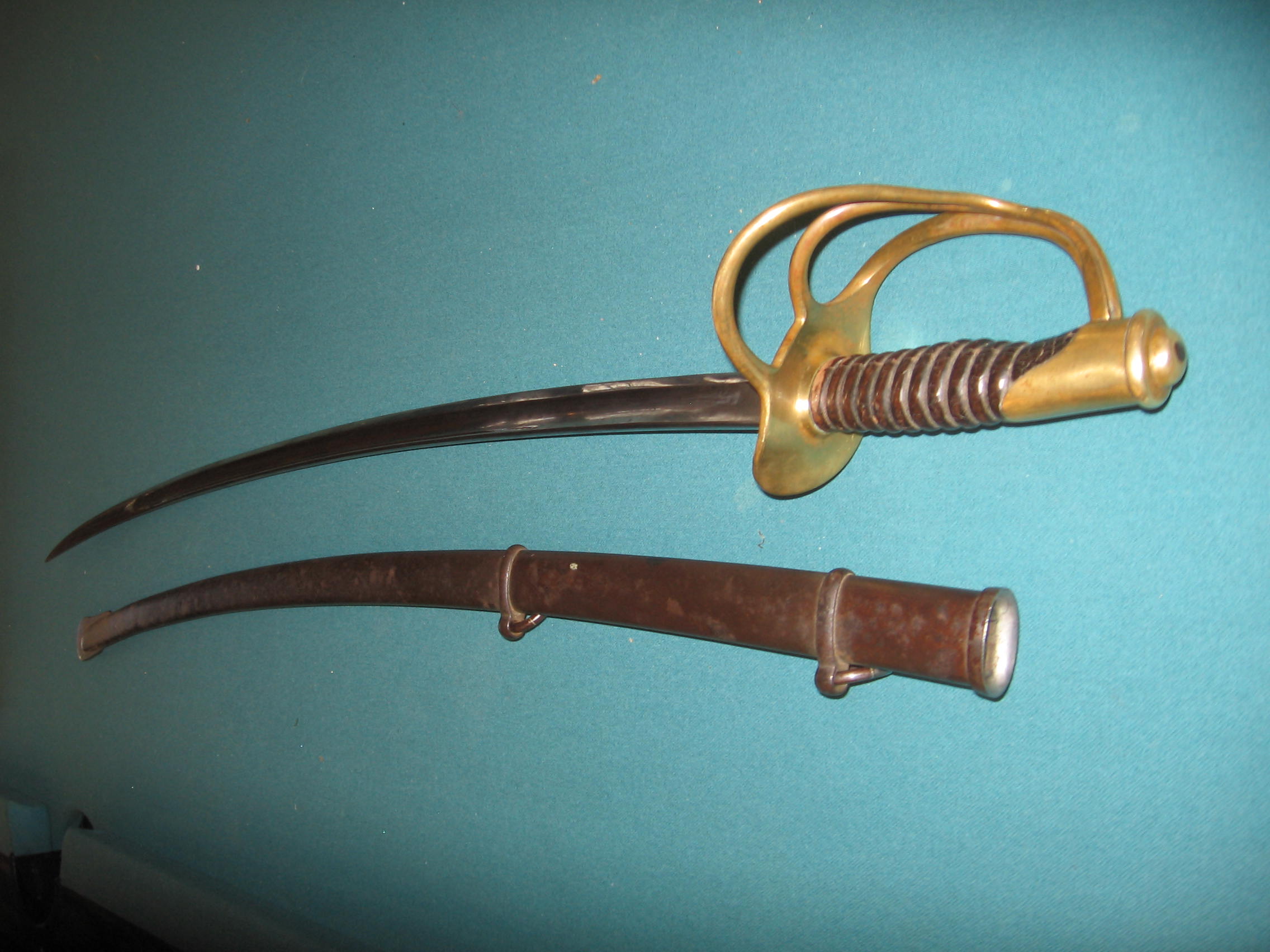 The sword was made in 1862 by Mansfield & Lamb of Forestdale, Rhode Island.  The sword was most likely carried by Matthew G. Isett (1838-1863), who served as a 1st Sergeant with Co. C of the 53rd Pennsylvania Infantry.  He was killed in the Wheatfield during the Battle of Gettysburg.  We know from a letter written by local survivors that they removed his body from the battlefield, and most likely took his sword with them at that time.  Matthew's brother, George Washington Isett (1844-1915), was also wounded in the Wheatfield that same fateful day.  It is quite possible George brought the sword back home with him when he was discharged due to his injuries.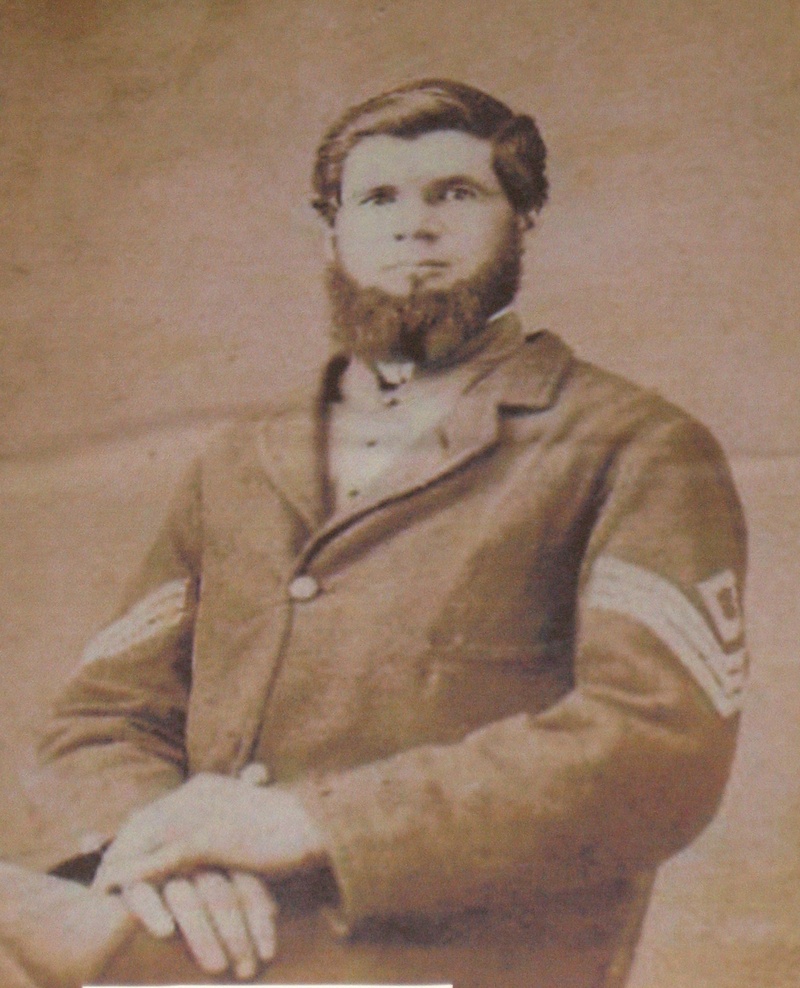 Matthew G. Isett
Along with the Civil War sword, the family members also brought an antique Isett family photo to put on display along with the sword.  The photo is of Matthew Isett's younger brother, John A. Isett (1851-1919) and his wife, Rachel (Walb) Isett (1851-1935).  John and Rachel had two children:  Gertrude and James Guy.  It is from James Guy Isett that the founder of Isett Heritage Museum decends.
John A. and Rachel (Walb) Isett
It is amazing to me that a Civil War sword can survive the test of time and remain within a family such as this one has done.  We can only assume that it was Matthew Isett's since he was a first sergeant and his brother George was only a private.  However, there is no markings on the sword other than the manufacturer's mark to prove the theory.  The oral history has not survived either other than it has been passed down through the family.  Legend has it that a uniform also exists, but it has not surfaced so far.  Regardless, it is a cherished piece of American history that will soon be on display at Isett Heritage Museum - a place where I am now proud to call home!

The Huntingdon County Historical Society held their first Civil War Living History Weekend on June 7 and 8, 2014 at the Huntingdon County Fairgrounds.   The event hosted various reenactment groups including members of Company C of the 53rd Pennsylvania Volunteer Infantry, Company C of the 125th Pennsylvania Volunteer Infantry, Battery B Artillery from Boalsburg, Dr. Hayden portraying a Civil War surgeon, the Aughwick Civil War Roundtable, and Irvin Myers the auther of "We Might as Well Die Here."  
I have visited Gettysburg countless times, but have never really been to a living history event or even any sort of reenactment before.  So, this was all new to me.  My son was eager to visit with just the mention of guns.  It was hard to explain to an almost five year old what the Civil War was all about.  He wanted to know who the bad guys were.  I just explained it as there were no bad guys; just men with a difference of opinion trying to work everything out.  It was a sad time for everyone.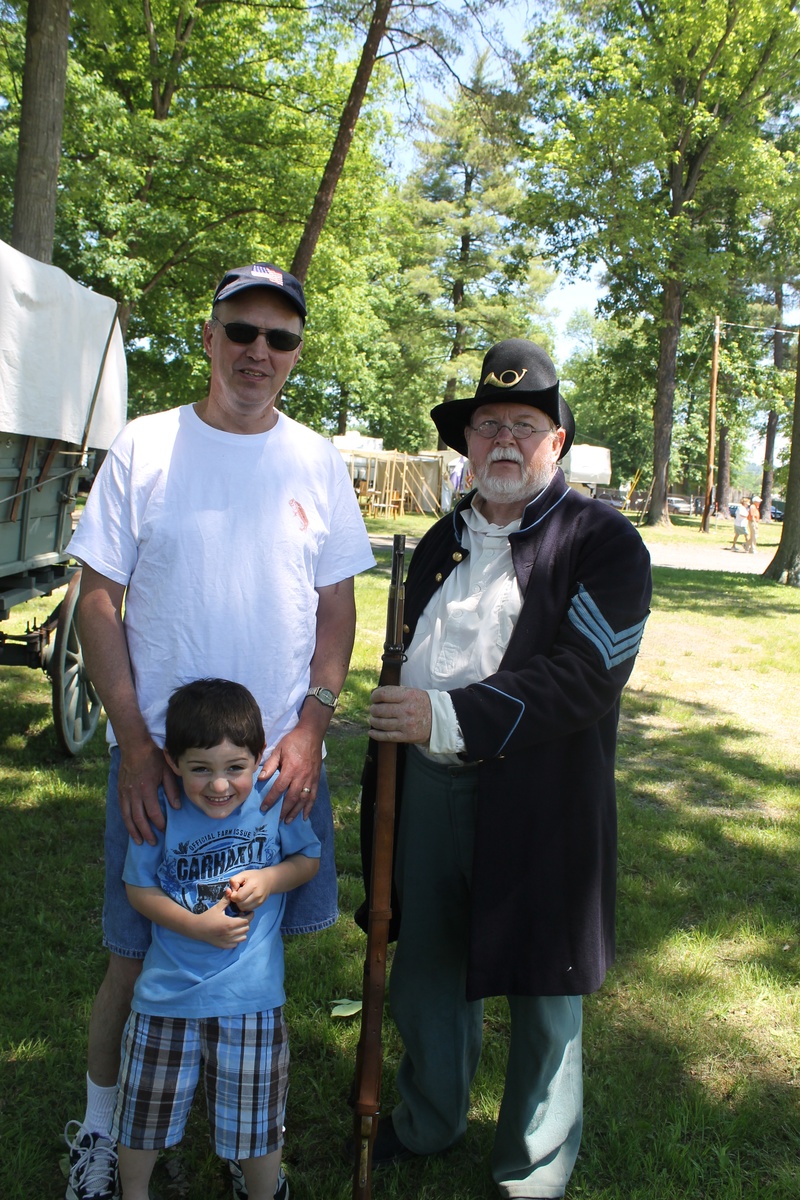 Here is a photo of my husband, son, and local reenactor, Bob Stewart.  
I was most excited to see men in uniform representing Company C of the 53rd P. V. I.  Many of my ancestors fought in this company, as did many others representing the Woodcock Valley.  You can learn more about this company by visiting my Company C of the 53rd Pennsylvania Volunteer Infantry page.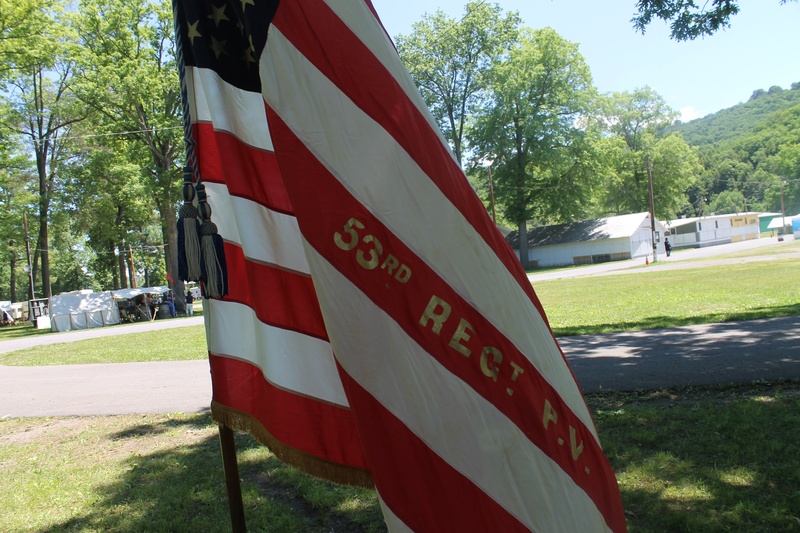 The flag for the 53rd at their encampment.
Mike Espenshade with Company C of the 53rd Pennsylvania Volunteer Infantry spent many hours at the Historical Society trying to learn more about the men from Huntingdon and Blair Counties who joined Co. C of the 53rd back in 1863.  He and his men have a genuine interest in learning more about the men they portray.  Their encampment was a popular spot for visitors who stopped to talk to the men and share information about their family members who had served with Co. C of the 53rd.  For me, two immediate names come to mind:  Samuel Wilson Norris and Matthew G. Isett.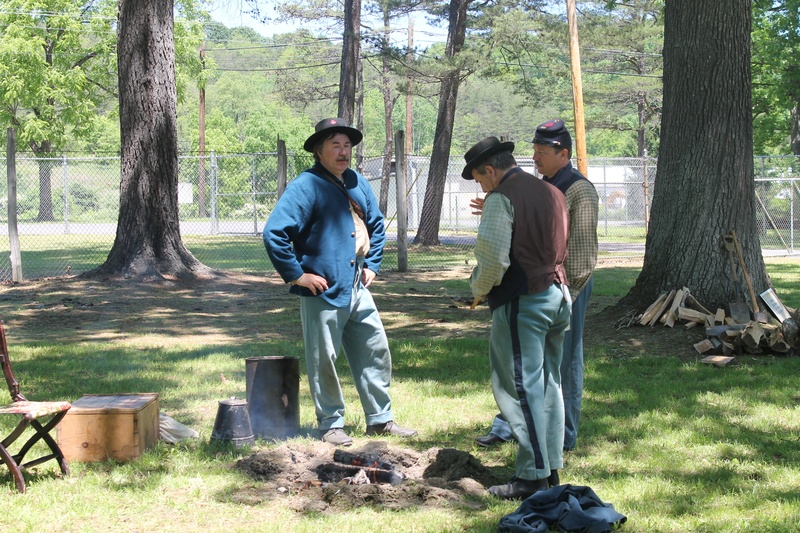 Members of Co. C of the 53rd P. V. I. enjoying a moment of camp life at lunch time.
One piece of history on display from the Huntingdon County Historical Society was the GAR roster from Co. C of the 125th Pennsylvania Volunteer Infantry, often referred to as the "Bible Company."  I never realized how deeply rooted in Huntingdon County history this company was prior to the Living History weekend.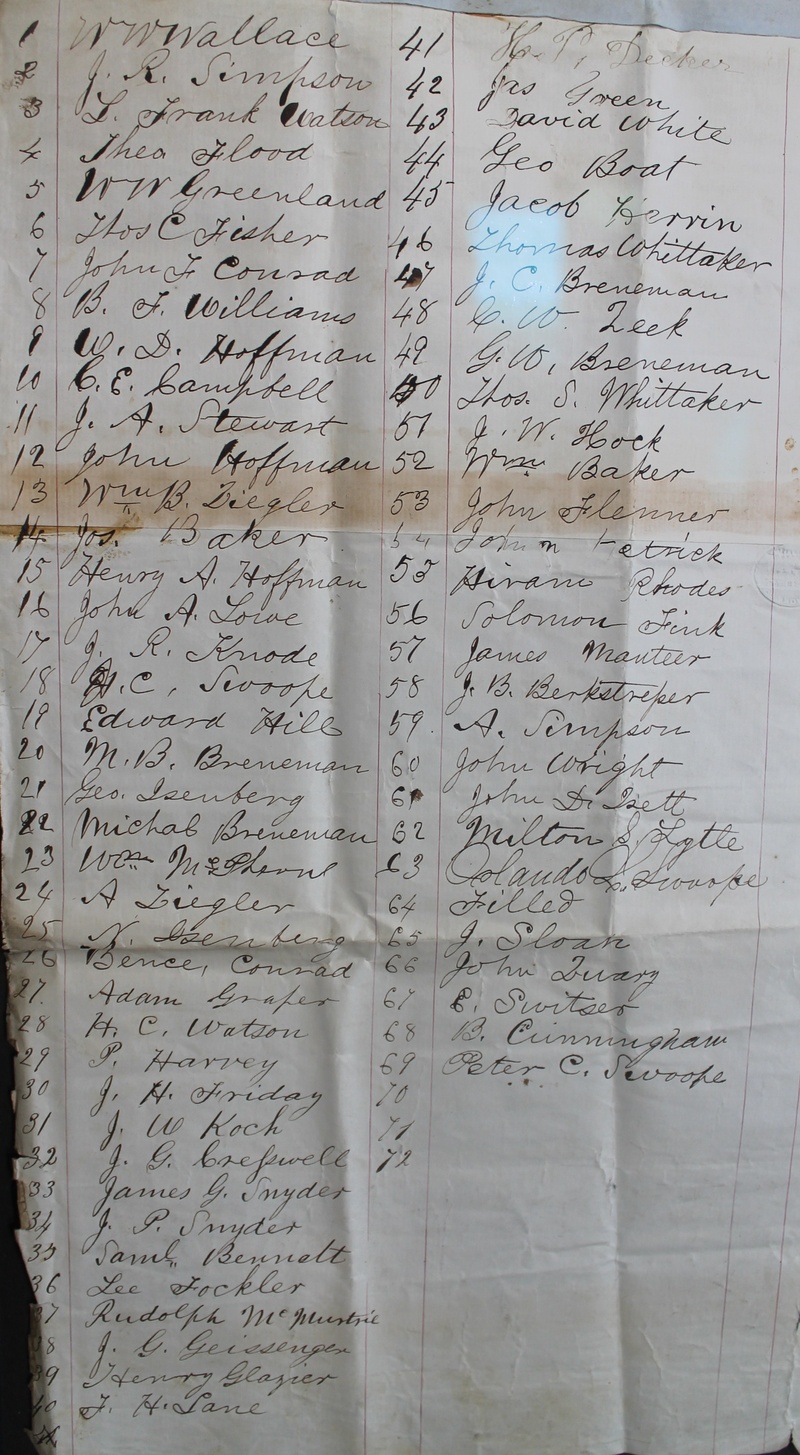 The sign-up roster for Co. C of the 125th was on display during the Living History Weekend compliments of Karl Lang.  The roster shows the local names.
After seeing the public interest in the local names of those who served in "The Bible Company," I have started a page dedicated to Company C of the 125th Pennsylvania Volunteer Infantry.  The page will chronicle the company's formation, movement, and battles, as well as list those who served in the company with some personal information on as many as possible.  As always, photographs are welcomed.  The photos can be linked to the individual names and group photos can be included on the page.  If you have photos to contribute or additional  information, please complete a Roll Call form for Co. C of the 125th.  I also created a new photo album titled Faces of the 125th PVI that contains photos and letters of the men from the 125th.
Finally, no Civil War Living History Weekend would be complete without the sound of cannons filling the air.  I think this was probably one of my son's most favorite parts of the event.  The men of Battery B did such a great job of answering his 50+ strange and completely random questions.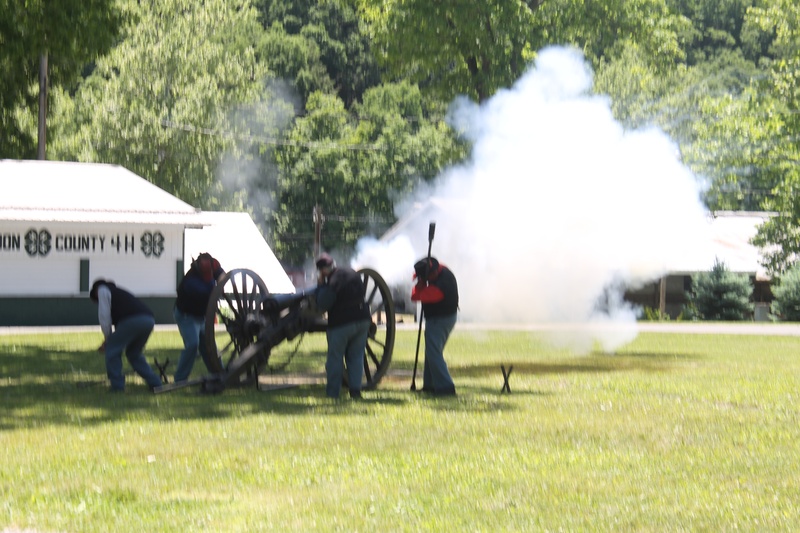 Overall, the Civil War Living History Weekend was very successful.  There is already another one in the planning for 2015 that will hopefully be bigger and better with calvalry and more hands-on activities and exhibits.  The goal is to then make this a biennial event.
On Saturday, May 17, 2014, I took my son to his first public auction.  I knew I would be on borrowed time with an almost five year-old in tow, but I was drawn to the local history books on the sale bill.  To my surprise, he did incrediby well entertaining himself with his iPad, a new little friend he made in the auctioneer's grandson, and amusing the crowd around him.  He quickly got into the swing of things and even tried to buy some things he wanted!
Thankfully, the local history books went up for sale very quickly, and I was able to get the book I really wanted by Albert Rung, which was volume I of Rung's Chronicles of Pennsylvania History.  Next up, I bought my son a Tonka toy grader, which bought me a little more time.
As we were previewing the auction items, there were two other items that I knew I could not leave without.  One was box K of photos and the other was photo album T.  We waited and waited for them to be sold, and my son's ADHD was starting to kick in.  I knew I was on thin ice, so I went and asked the owner to move them up to be sold quickly before those around me staged a revolt.  
You see, in June 2010, I attended the estate auction of Charles Johnson in Entriken, where I purchased his obituary collection.  However, there were many boxes of photos sold that I did not get.  I earlier told my tale of woe and regret at losing out on the photos before I started this website.  Well, guess what...the box of photos I had really wanted resurfaced, alive and well, and still intact!  It had to be mine!!!  One of the photos in the box was labeled with my maiden name of Fisher, which is still a mystery work in progress.  This time, I got the box of photos, and while most are unknown, they will eventually be scanned and shared here.
The other item I knew I had to have was the one photo album that was almost completely labeled.  I immediately recognized all of the names in the album as belonging to the Woodcock Valley.  I paid a premium price, but I had to get this album to share with everyone.  After purchasing it, I asked the owner how he had come by it.  He said someone had brought it into his shop wanting to sell it; presumably a family member.
The photo album is a black album with black pages most likely dating from the 1920s or 1930s.  It contains photos of the David S. Johnston family.  David S. Johnston was born in 1839, a son of William and Elizabeth (Shultz) Johnston.  He married Hannah Mentzer.  Hannah was born in 1851.  David died in 1925 and Hannah in 1939.  They were the parents and grandparents of the following:
1.  David Elliott Johnston was born in March 1871 and died in 1947 in Huntingdon.  He married Bessie Woods, 1880-1960.  They were the parents of:
 Harold S.
Marjorie W.
Edwin Ned
Jean
2.  Myrtle B. "Mertie" Johnston was born in 1873 and died in 1916 in Clearfield Co., PA.  She married Charles G. Gill, Sr., 1871-1951.  They were the parents of:
Marion
Frances
Dorothy
Kathryn
Charles G., Jr.
3.  Lydia Elizabeth Johnston was born June 19, 1874 and died March 5, 1943 in Altoona, Blair Co., PA. She married Frederick J. Shollar, 1873-1960. They were the parents of:
 Gerald William
Marjorie
4.  Carlton Vance Johnston was born in May 1877 and lived in Huntingdon.  He married Emma Erwin.  They were the parents of:
Helen C.
Carlton R.
Frederick C.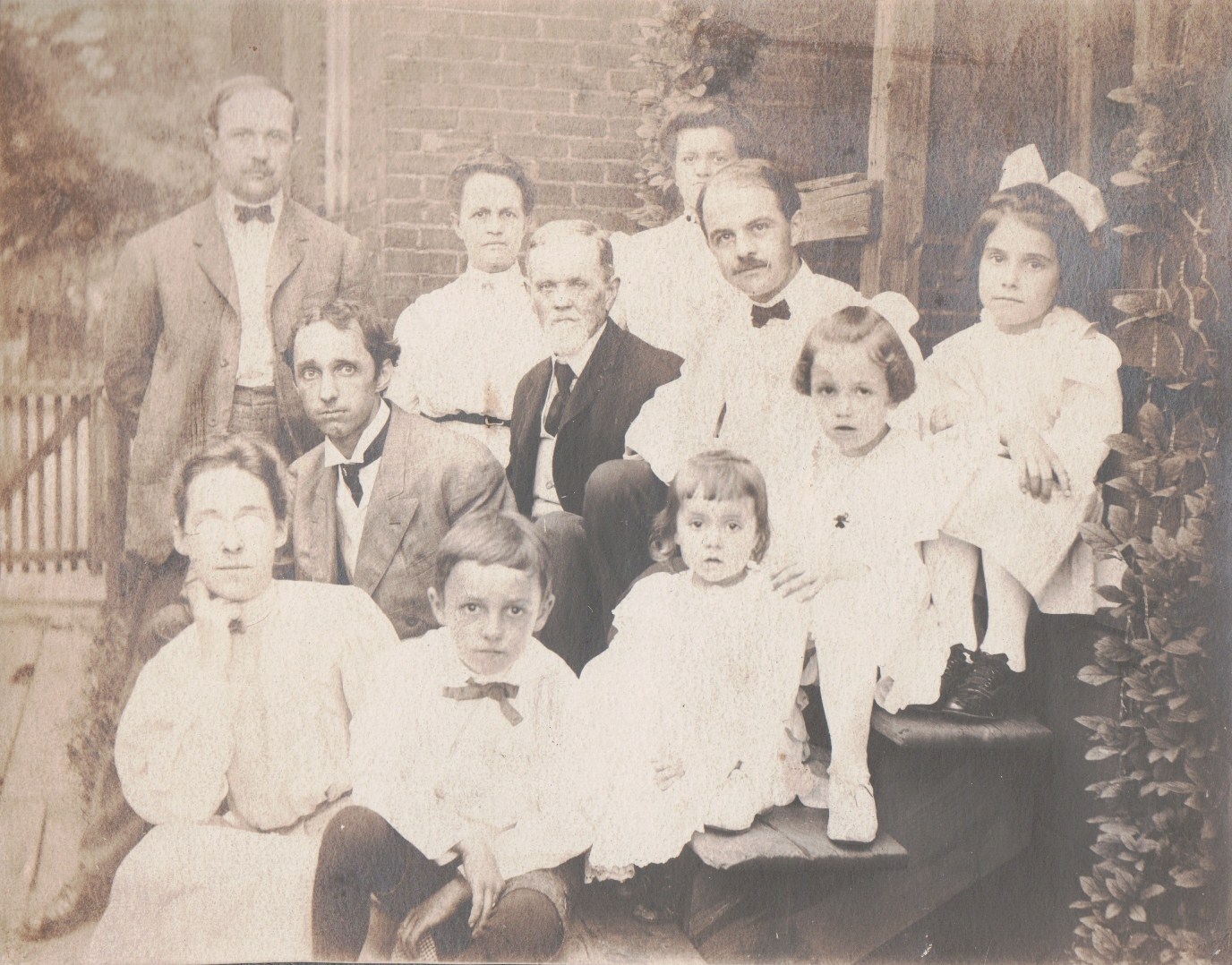 David S. Johnston and Hannah (Mentzer) Johnston, Mr. and Mrs. David Elliott Johnston, Mr. and Mrs. Carlton Vance Johnston, Fred Shollar, Gerald Shollar, Marjorie Shollar, Pauline Woods, Helen Johnston
It is not exactly known who organized the scrapbook, but it is suspected that perhaps it passed between two different individuals; both more than likely female members of the family.  The first section of the album is organized with older members of the family, and everyone is referred to as "Aunt," "Uncle," "Grandma," or "Grandpa."  No one is referred to as "Mother" or "Father"  The only real clue is that "Grandma Shollar" is referred to in one photo with "Grandma Johnston" so is it one of Lydia (Johnston) and Frederick Shollar's children that started the book?  Perhaps Marjorie (Shollar) Lewis Pratt?  If so, why does she refer to certain photos as "Uncle Fred" and "Aunt Lydia?" when these were her parents?  Later in the book, the handwriting is similar, but different.  There is a photo of a young lady who is actually referred to as "Me."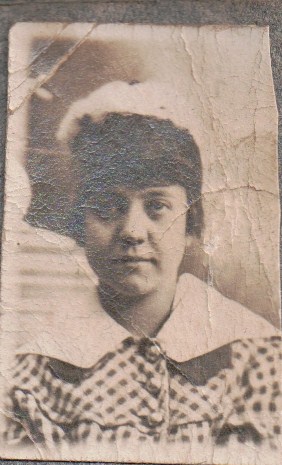 "Me"
In this section of the book, there are a lot of photos that appear to be friends and acquaintenances of the family.  Many of the names appear to be living in Altoona in the census records, where the Shollar family lived.  In Lydia (Johnston) Shollar's obituary, it lists 5 grandchildren, presumably all belonging to her daughter Marjorie as son Gerald's obituary did not list a wife or children.  Could "Me" above be one of Marjorie's daughters and Lydia's granddaughter?  There are a lot of unknowns about who the album belonged to.
Here is a family home that appeared in the album.  It is believed to be the Altoona home of Lydia Elizabeth (Johnston) Shollar and her husband Frederick J. Shollar.  It looks like Fred, Marjorie, and Gerald on the front porch.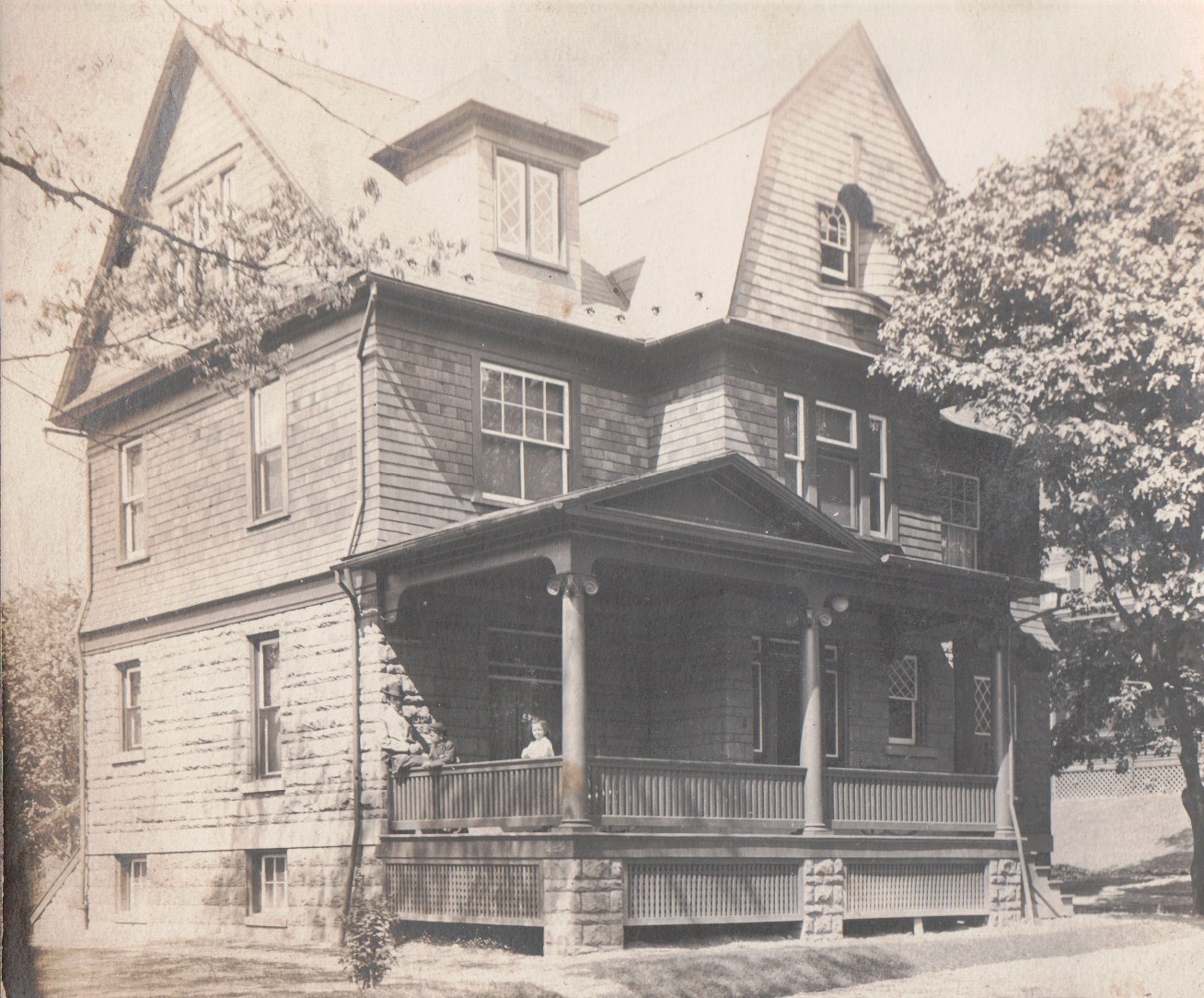 The family lived at either 2725 Broad Avenue where Lydia died in 1943 or 2000 Maple Avenue where Gerald died in 1951 and where Frederick lived until moving to California to reside with daughter Marjorie until his own death in 1960.  Frederick and Gerald were partners in an architectural firm, Shollar and Shollar.  There are also photos of the interior of the home in the photo album too.
There are many other interesting photos in the photo album too including this photo that shows what appears to be another family home with the family imposed over the home.
It is uncertain which family or home this might be.  The house is very large, and the children's ages do not quite work out correctly to be any of the Johnston children we know of.  Perhaps there are more children or grandchildren than I know about.
Here was another interesting photo, where the images were imposed over what appeared to be a newspaper article.  
Marjorie (Shollar) Lewis Pratt and Helen C. Johnston, cousins
To see the entire Johnston Photo Album collection, click on the link.  Every photo in the album is included except for a few photos of the interior view of the house above and some landscape views that were not labeled.  If a photo is not identified, then it was not labeled in the book and the person is not known.  As always, if you have additional information on the family or can identify a photo, please feel free to comment on this blog post or on an individual photo!
Recently, I put an e-mail out to all of my fellow Isett researchers when Family Tree DNA announced that they were lowering the cost of their Family Finder DNA test.  Valene Woolridge and I have communicated over the years about her husband's connections to the Isett family, and she decided to do testing on several members of her family, including her husband.
I was ecstatic when I realized that Valene's husband was submitting a Family Finder test.  He descends through Charlotte "Lottie" Regina Young, a daughter of David and Mary J. (Isett) Young and a granddaughter of Simon and Caroline (Beamer) Isett.  Simon Isett (1806-1877) was a son of Jacob and Sarah Isett.  Jacob Isett was born in 1780 and died in 1853.  Jacob Isett's parents are unknown.  Jacob resided in the Sinking Valley and Frankstown areas of Blair County.  
I was hoping so hard that Robert Woolridge's Family Finder test results would either connect him to my husband, a descendant of James K. Isett (1813-1863), or to a fellow researcher who descends from the immigrant son, Jacob Isett (abt. 1725-bef. 1790).  Sadly, Robert's test results did not show a connection to either Isett line.  However, Family Finder test reults are very "hit or miss" once you get past third cousin status.  So, there could still be a connection, but it just was not picked up due to genetic distance.
HOWEVER, even though I am DNA cursed, all was not lost!!!  Robert Woolridge also did a y-DNA test.  Interestingly, just like in my own testing experiences, he had no y-DNA Woolridge matches.  His Woolridge line dead ends with Stephen Woolridge (b. abt. 1800), who lived in Franklin County, PA.  Members of his family eventually moved to Blair County, PA.  Robert's y-DNA did match some Ginter family members.  Here is where it gets interesting!
I know one Ginter, who attends my church.  So, I asked him for some family information, and he was able to give me enough to get me started.  On a whim, I started researching his line and the Ginter family in Huntingdon and Blair Counties in PA.  In Huntingdon County, I quickly found myself in a geographic area that I am familiar with that relates to my mother's family.  As I continued my research on the Ginter family, all of a sudden, the light bulb went off in my blonde head!  My third great-grandmother's name was Angeline Ginther (1839-1920), who married John Kinch (1831-1894).  Here I was in the same geographical area, and I just knew her name was Ginter, with Ginther as a variation!!!  Sure enough, I researched her line, which I had somehow avoided up until this point, and found that her father was John Conrad Ginter (1791-1865), who connects to the man from my church and the people Robert Woolridge is matching from the Ginter family.
To make a long story short, it turns out Robert Woolridge and I are related (somehow) through Ginter blood!  Here I was hoping for a connection to my husband or my long time research friend, and it turns out I am the one related!  Not only am I related to Robert, but I am also related to the man in my church with the last name of Ginter!  Through this process, I have came in contact with other Ginter researchers who have ties to Huntingdon and Blair Counties, and also to Bath County, Kentucky.  The Ginter family is large and complex.  We still do not know Robert Woolridge's exact spot in the Ginter family, but we will continue to research and look for clues.  I greatly appeciate receiving Valene Woolridge's permission to share her husband's test results and how they took me full circle with DNA testing.  We are all in amazement by this turn of events.
Is the Isett family still my nemesis?  Yes!  Do I still consider myself to be DNA cursed?  Yes!  However, this is has been one amazing DNA journey, and it is rather awesome how this one turned out!
We just finished up another week of the "Bigger and Better" Huntingdon County Fair.  The Huntingdon County Fair is an annual tradition for many local families.  It is one of the oldest, most continuous county fairs in the state, having started in 1831.
One of my favorite features is the Farm Museum that is housed at the Huntingdon County Fairgrounds.   The board members and community members attend public auctions and scour antique stores and stands to find new items for the collection.  The museum also accepts items on loan for display purposes.  You never know what you will discover at the Farm Museum.
This year, I found a history of the James Creek Mill and some sacks that showed the names of the millers.  
After I did my initial blog post, site member Dale Norris contacted me and shared this photo of an original bag when Joseph Grubb was the miller.  The photo was shared with Dale by George and Anna Mary Grove.  
The above history is included with this sack below for the next miller:
Here is the next sack in the history, also on display at the farm museum:
There was also a poster for the Marklesburg and Woodcock Valley Picnic:
The poster is dated September 3, 1921.  I apologize for the reflections.  I tried so hard to block out the fluorescent light to no avail.  
A new tradition my son and I started last year was attending the tractor parade on Wednesday afternoon.  This year, he was another year older and enjoyed it even more.  This year, the parade started with Clair Grove driving his 1928 Model A Ford.  He drove the fair queen and royalty as grand martial of the parade.  The tractors followed and it was concluded with a vintage fire truck.
The Model A, tractors, and fire truck are all on display at the Farm Museum during the fair and/or throughout the year.
The Huntingdon County Fair is finished for another year, but if you have the opportunity to visit in 2014, please be sure to check out the Farm Museum for more pieces of Woodcock Valley history.
It's no secret that the family I have enjoyed researching the most, but which is also my nemesis, is the Isett family.  This week, I had the opportunity to visit the Isett Heritage Museum.  I knew they had a photo of Matthew G. Isett in his Civil War uniform.  So after dropping my son off at preschool on Tuesday, I made my way to the top of Stone Creek Ridge armed with my camera.  I explained to the guide that I simply wanted to take a photo of Matthew G. Isett's photo.  He took me to building two, where all of these vintages photos were enlarged, and positioned around the ceiling of the building.  As he led me to Matthew G. Isett's photo, I got goosebumps!  It was so awesome to finally put a face to the Civil War hero.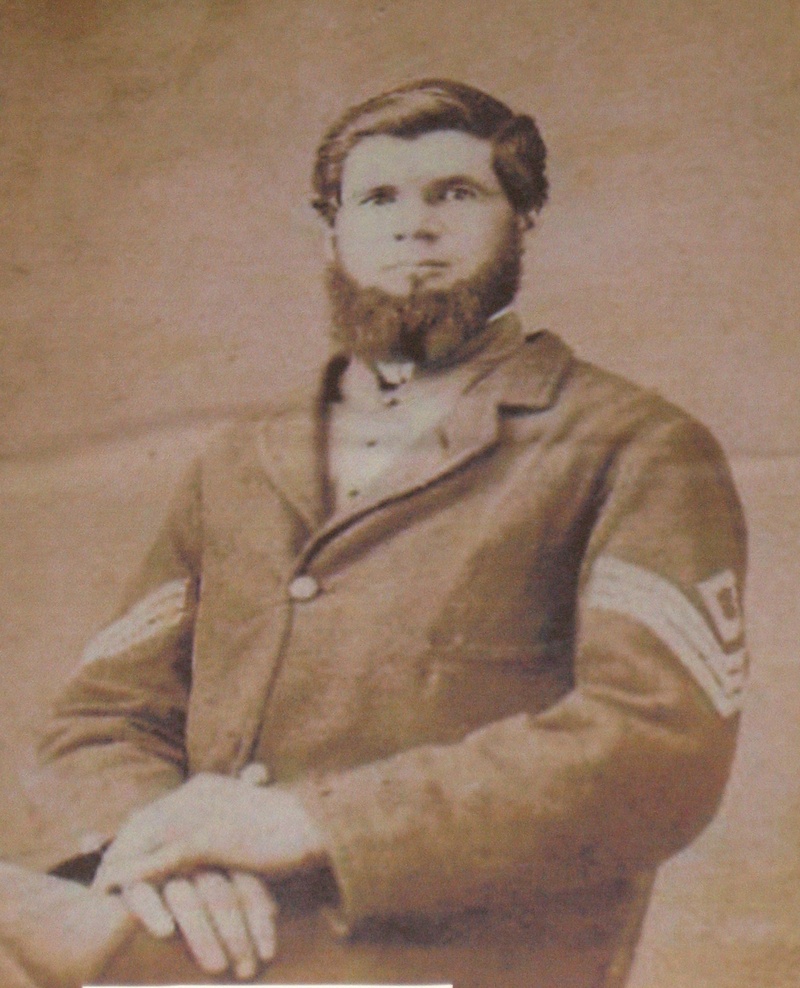 Matthew G. Isett (1838-1963) was born in the Woodcock Valley area of Huntingdon County, a son of James K. Isett and Elizabeth (Garner) Isett.  He was their second son, but oldest surviving child.  The first born, and his older brother, John G. B. Isett, died at 3 months of age.  Matthew G. Isett enlisted in Co. C of the 53rd Pennsylvania Volunteer Infantry on September 16, 1861 as part of a company from Huntingdon County.  He was elected sergeant and promoted to 1st sergeant.  He was wounded in the leg at the Battle of Fredericksburg.  Matthew G. Isett was killed in battle at Gettysburg on July 2, 1863.  He was killed in the Wheatfield area.  You can read about his death in the Civil War letter written by Anthony J. Beaver.  Matthew G. Isett is buried in the National Cemetery, Section C, grave 64, in Gettysburg.  Matthew G. Isett was never married, and if he left a sweetheart at home, that name has been lost with time.  His father, James K. Isett, visited the Gettysburg Battlefield after his son's death, contracted lead poisoning, and died shortly after his visit on August 11, 1863.  
I was stunned by Matthew G. Isett's Civil War photo.  I did not expect to see a big, burly man with such a beard.  Have you ever created an image of what someone might have looked like in your mind?  Well, I just pictured him as a skinny, little, bald faced young man.  So, I was shocked by the image that greeted me to say the least.  I was even more shocked by the image I found next to Matthew G. Isett!
There, beside Matthew G. Isett, was another Isett photo.  It was a photo of George J. Isett in his Civil War uniform too.  At first, I was thinking it was Matthew's younger brother, George Washington Isett, but I knew the middle initial was not right.  So, I took a photo of George J. Isett too, and couldn't wait to get home and place him.  Before I left, I asked my guide if all of the photos were family members or local families.  He explained to me that just the Isett photos were related, and that there was one other photo of a Huntingdon family.  The rest of the photos were donated in an old photo album, and none of them are identified.
Here is the photo of George J. Isett (1833-1865):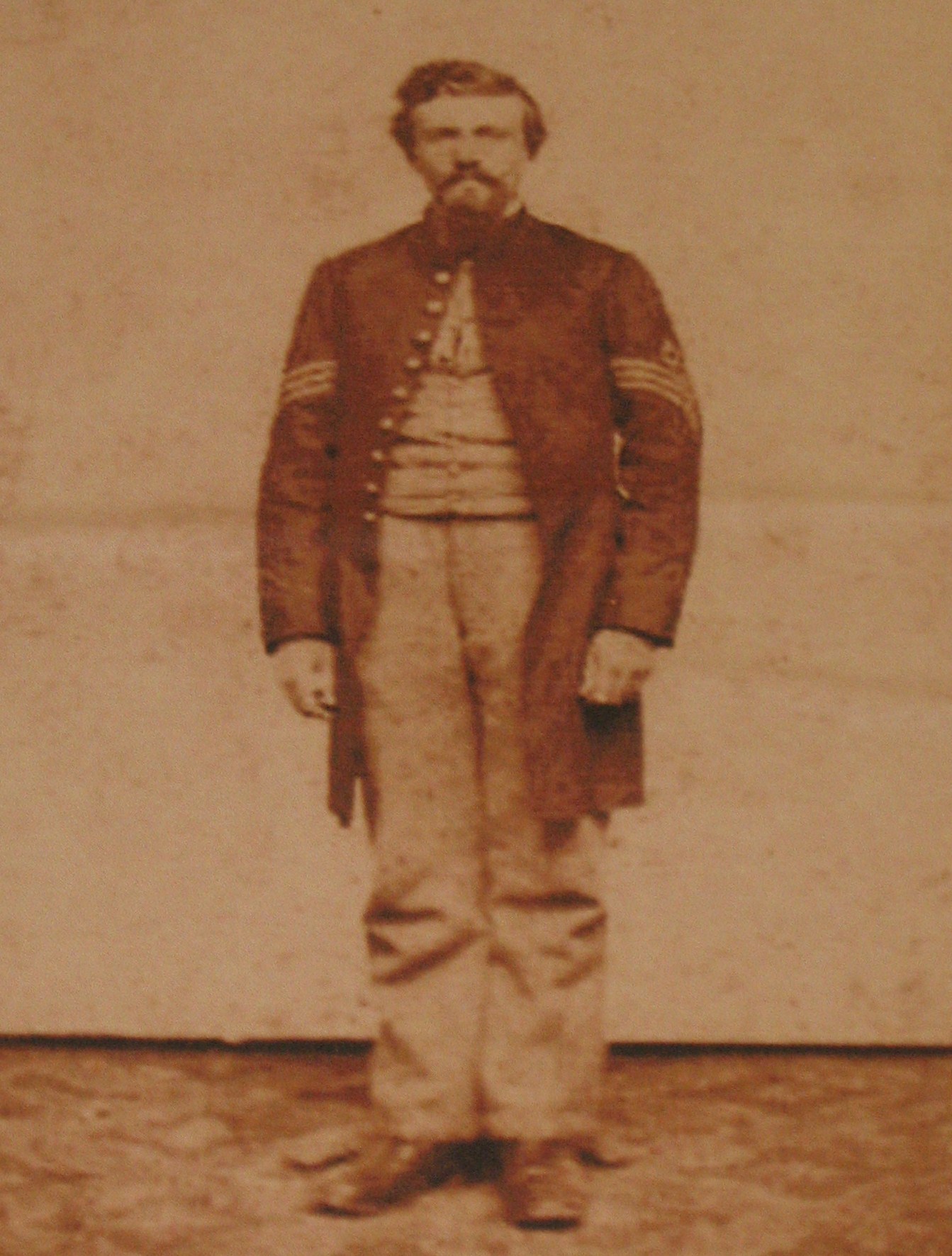 George J. Isett was the son of Joseph Isett, Sr. and Susannah (Weaver) Isett.  George J. Isett was the grandson of Jacob Isett and his first wife Sarah.  George J. Isett enlisted in Co. A of the 110th Pennsylvania Volunteer Infantry.  George was wounded in battle on May 16, 1864 and died from his injuries in 1865.  George J. Isett was married to an Emeline Price and/or Clark.
No Isett family line can just be straightforward and simple where my Isett family is concerned!  It would seem that there was possibly two George Isett men born about the same time in the same area, who both married a woman named Emeline and had a son named George. One George, born about 1835, married Emeline Price, and had a son named George Washington Isett in 1860, who moved to Ohio.
Then, there is the George J. Isett pictured above, who was possibly the second husband of his wife Emeline.  The census records are so confusing for this Emeline.  It appears she was Emeline Price, the daughter of Thomas Price in the 1850 census.  It appears that she might have first been married to a Clark who had died by 1860, when she was living with potentially her mother-in-law in the 1860 census with some young children, Cerentha, Millard, Joseph, and George.  Also living in the household was George Isett, who was presumably a laborer, whom Emeline would eventually marry between 1860 and 1865.  In 1870, Emeline has married possibly a third time to William Yon.  She now has children named Sarah and Harry too.  In 1880, Emeline is still married to William Yon, and the family has grown to include Louis, Virginia, Mary, and William.  Throughout the 1860-1880 census years, the children take on the last name of whomever Emeline is married to or living with.  They are somtimes Clark, Isett, and/or Yon children.  It is believed that George W. and Sarah A. are both Isett children of George J. Isett.  His son George W. was born about 1858.  It is unknown who he married.  It is also unclear if the son George W. is Emeline's son, or possibly to a prvious marriage of George J.
So goes the Isett, Price, Clark saga.  Was there really one George married to an Emeline with a son George W., or were there two sets in Blair County?  But, wait...I'm not done yet!  Did you notice the similarities between the photos of Matthew G. Isett and George J. Isett?  And, what are the chances of the their two photos being side by side in the Isett Heritage Museum?  The coincidence was not lost on me!  
Matthew G. Isett's grandfather's name is not known.  I do not know who the father of James K. Isett (1813-1863) was.  I only know that his mother's name was Elizabeth and that she remarried before 1820 to a man with the last name of Matthews.  Supposedly, James K. Isett's father "absconded" to parts unknown leaving his family.
Interestingly, George J. Isett's family line deadends with his grandfather, Jacob Isett (1780-1853).  No one knows who Jacob's father was either.  I have always found it interesting that there was a Simon Isett (born between 1775-1784) who disappeared from Huntingdon County owing a large amount of debt.  Could this be James K. Isett's father?  Well interestingly, Jacob Isett named one of his sons Simon Isett (1806-1877).  So, after seeing two Civil War portraits side by side in the Isett Heritage Museum from two different Isett lines that no one feels are related, I suddenly had to ask myself AGAIN - "Was Jacob Isett (1780-1853) James K. Isett's father, or did Jacob have a brother named Simon (b. bet. 1775-1784) who was James K.'s father and after whom he named one of his sons?"  Why else would these two photographs be side by side when all of the other photographs around them are not even known?
Regardless, it was wonderful to finally see a photo of Matthew G. Isett, who bravely served his country, and gave his life for our freedom.  I will also welcome the image of George J. Isett to the family, even if I'm not quite sure yet how he connects to his fellow soldier, Matthew G. Isett.
As always, if you can help with this mystery, please use the Contact Me button to e-mail me or leave a comment below on this blog post!
You can also visit my personal family database at
/