Shopping Cart
Your Cart is Empty
There was an error with PayPal
Click here to try again
Thank you for your business!
You should be receiving an order confirmation from Paypal shortly.
Exit Shopping Cart
Genealogy of the Woodcock Valley
Huntingdon County, Pennsylvania
My family and I took advantage of the first program of the summer season at Greenwood Furnace State Park.  The program was conducted by Paul Fagley, their historian and educational interpreter.  The program, which he titled "Three Squares and a Cot" was a virtual tour of five local Civilian Conservation Corps camps that were local to Greenwood Furnace State Park and conducted work within the park.  I took notes and photographs during his presentation and would like to share his hard work with you here.
This year, 2013, marks the 80th anniversary of the creation of the CCC.  The program was started by Franklin D. Roosevelt, when America was in the grip of the Great Depression.  Roosevelt was inaugurated on March 4, 1933.  Two weeks later, he presented the idea to Congress.  Congress passed the bill on March 27, 1933, and the first CCC camp was opened on April 17, 1933.  In only 42 days, the President created a program that would transform the country.
The CCC gave the men "Three Squares and a Cot" or three meals a day and a bed to sleep in as part of the new work program.  With the nickname "Roosevelt's Tree Army" and the motto "We can take it!," 3,463.776 men enrolled over the course of the program.  They could work for 6 months and/or up to two years.  The men were predominantly between the ages of 18 and 25, unemployed, unmarried, and were from a family on relief.  There were also veterans of the Spanish American War and World War I who could serve with no restrictions.  The men were paid $30 a month, or $1 a day, and were required to send $25 home and could keep $5 as spending money.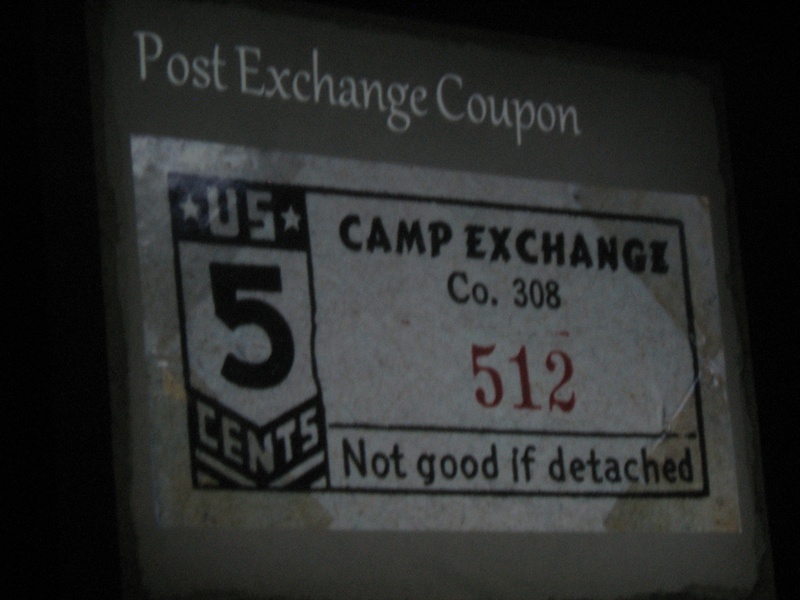 This photo was taken during Paul Fagley's presentation.
Over the course of the Civilian Conservation Corps, 40,000 men learned to read and write.  They planted over 3 billion trees, and built 800 state parks.  Many of the enrollees went on to become soldiers in World War II.  The program was de-funded by Congress on June 30, 1942, but was never officially terminated.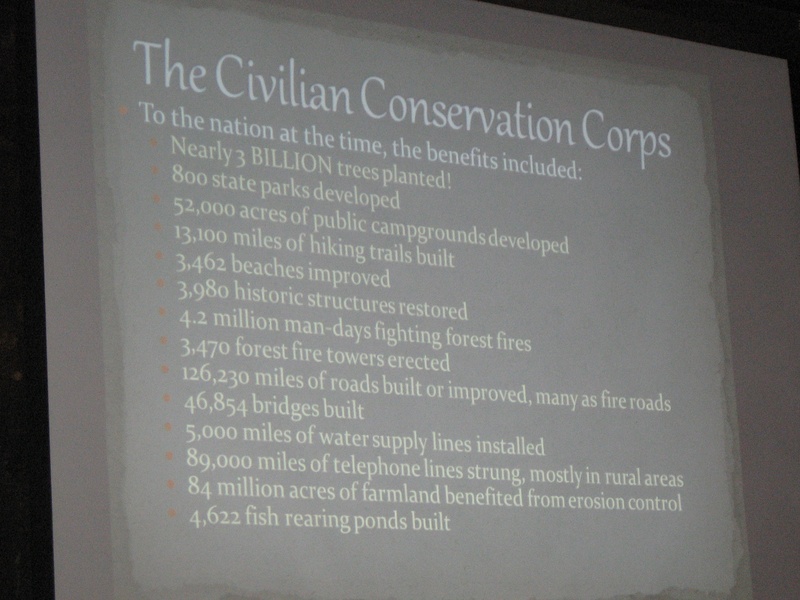 This photo was taken during Paul Fagley's presentation.
The CCC did over $400 billion worth of work in Pennsylvania alone on the value of money in the 1930s.  Pennsylvania had the second highest number of CCC camps behind California.  The first camp opened in Pennsylvania in May 1933.  
Some famous CCC alumni include:  Robert Mitchum, Aldo Leopold, Stan Musial, Walter Matthau, Chuck Yeager, Dave Akeman, and Raymond Burr.  
There were different kinds of Civilian Conservation Corps camps.  Most of the ones around Huntingdon County were state forest camps and are designated by an "S" for state forest.  There was one soil conservation service camp that went by "SCS."  Other designations across the United States include ANF, MP, NP, P, SP, and A or AF.  These stood for Allegheny National Forest, Military Park, National Park, etc.
Most companies had no designation, but there were some that did.  There were colored companies (C), veterans companies (V), American Indian companies (I), womens companies (W), and mixed race companies (X).  Paul Fagley said the womens companies were often referred to as the "She-She-She."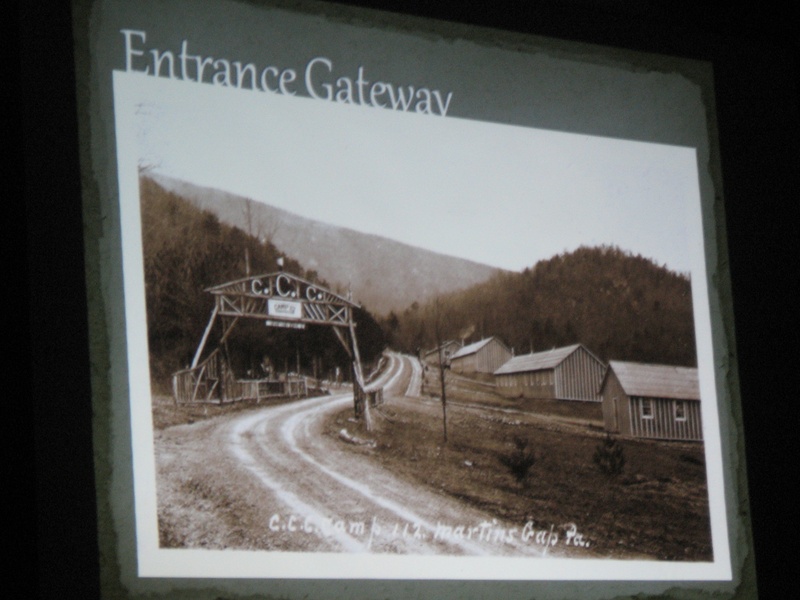 This photo was taken during Paul Fagley's presentation, and is from Camp S-112.
Each camp consisted of 4-5 barracks, a mess hall, recreation hall, administrative building with a hospital, educational building, bathroom and shower facilities, sheds, power house, officers quarters, and other necessary buildings.  Most buildings followed the same construction templates.  When camps were first formed, enrollees lived in tents or "tent cities" until they could construct the permanent buildings.  Remnants of the camps still exist if you know where to look.  When the buildings were torn down, the workers planted spruce trees.  So, if you find the grove of spruce trees you can find chimneys, fireplaces, flag pole bases, and even some existing buildings.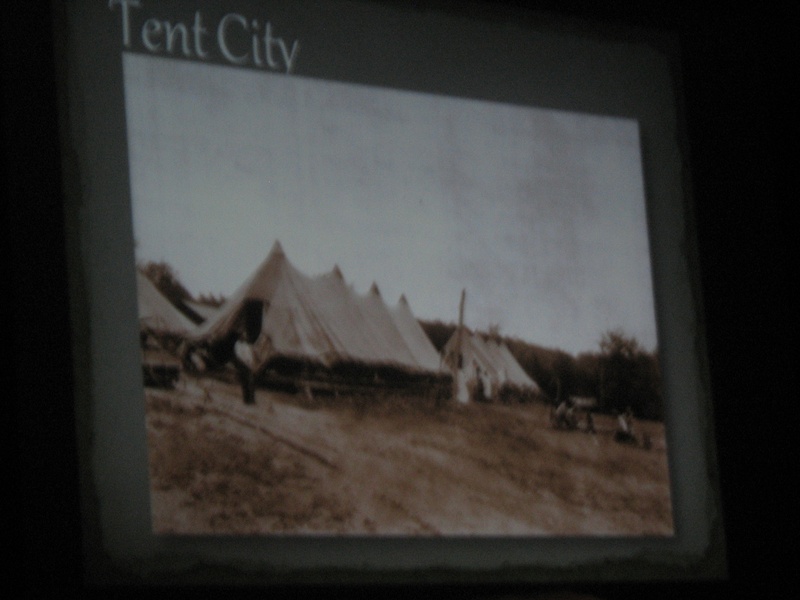 This photo was taken during Paul Fagley's presentation, and is from Camp S-59.
Over the course of the evening, Paul Fagley gave a virtual tour of camp S-59, S-60, S-61, S-62, and S-112 using aerial and close-up photographs of the buildings and men who worked at each camp.  To learn more about each camp, please click on my Civilian Conservation Corps home page.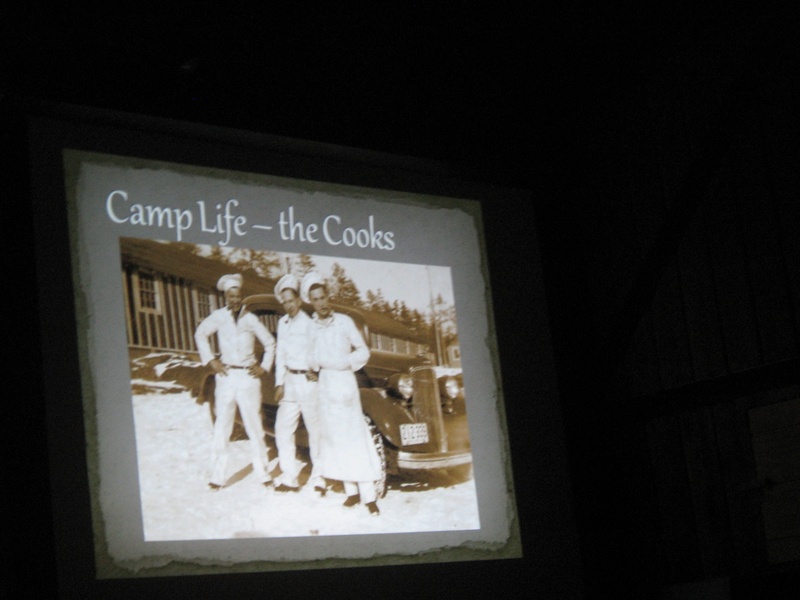 This photo was taken during Paul Fagley's presentation, and is from Camp S-61.

It was quite fitting that I was able to attend Paul Fagley's presentation this evening to gather and share information.  I have been corresponding this past week with Keith Kenawell, whose father George Kenawell, served at Camp S-60.  George was from Hollidaysburg, PA, which is in neighboring Blair County.  George was there from 1940-1941 and Keith has an extensive collection of photos and artifacts.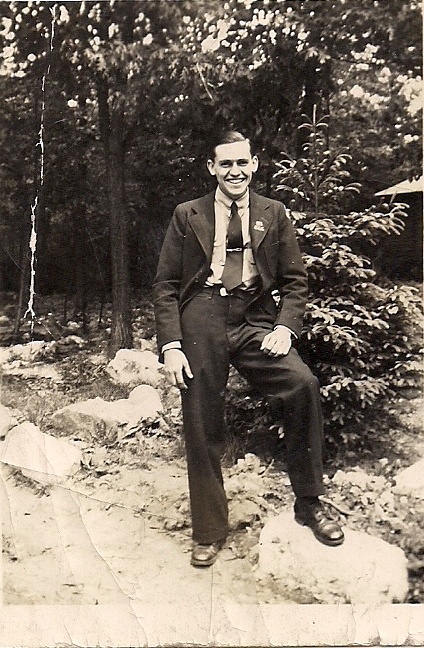 The photo above is of George Kenawell in his dress uniform at the Owl's Gap camp.  
Keith's treasures include a 1940 Thanksgiving Menu and Roster that lists all of the names of the men who were present at the camp.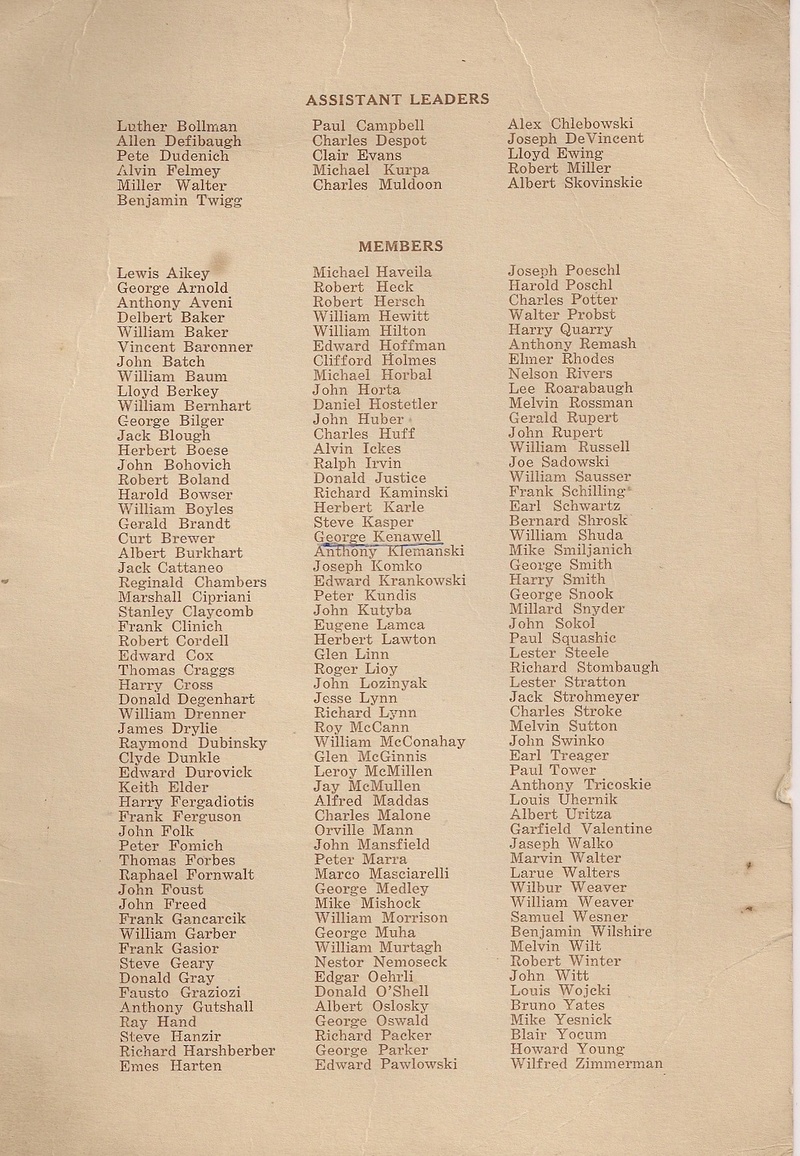 This is the second page of the roster that shows most of the names.  The officers were listed on the preceeding page.  All of the names from S-60 in 1940 have been included in my Civilian Conservation Corps Workers database.  Thanks to Keith, I added over 200 more names to the list.  I have also included all of Keith's scans in the Civilian Conservation Corps photo album.  
There will be another program on the Civilian Conservation Corps this summer at Greenwood Furnace State Park on July 20 entitled "We Can Take It!" the motto of the CCC.  The program will be conducted by historian John Eastlake.  For more information, you can see this event on the calendar.
As Paul Fagley said tonight, it is so important that we celebrate the 80th anniversary of the CCC, because this is probably the last anniversary that we will have living survivors with us who worked for the Civilian Conservation Corps.  The youngest members are now in their 90s.  Most will probably not live to see the 90th reunion.
As always, I welcome information on any CCC member as well as photographs and documents.  While I especially love information on those from Huntingdon County and the surrounding areas, I will include information on any CCC veteran from around the United States as a way to honor them and the special work they did for our country during a difficult time in American history.  If you know of someone who worked for the CCC, please send me his information.
Your Affectionate Son - Letters form a Civil War Soldier is a new book with a collection of 34 letters that were written by James Cleaver to his father, Charles Cleaver.  James Cleaver served with the 37th PA Regiment, 8th Reserve, Company F from Bedford County.  The book provides a first-hand account of the Civil War from 1861-1864.
A list of soldiers in his company are included on the corresponding website.  
The author, Milann Daugherty, will be holding book signings this weekend.  Saturday, she will be signing books at the Bedford Historical Society from 1 to 4 p.m.  She will also be at the Everett Train Station from 2 to 4 p.m. on Sunday.  She will speak at 2:00 on Sunday, and refreshments will be served during the open house.  
Family reunion season is almost upon us!  Family reunions are usually a time of fellowship, catching-up, good food, hugs and kisses, family photos, and even a long lost relative or two.
Family reunions have been taking place for many, many years.  I have news articles of family reunions in the 1880s.  My Fisher and Norris lines have always been big on family reunions.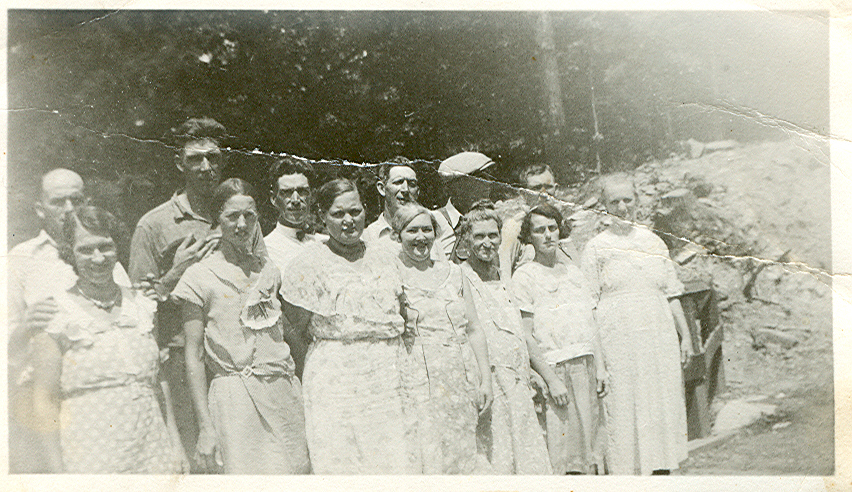 In the photo above, Sarah Belle (Swope) Fisher is surrounded by her children and their spouses in 1936.  The location is not known for certain, but it could possibly be at Paradise Furnace, which is now part of the Trough Creek State Park.
If you and your family will be having a family reunion that you would like to open up to other "long lost relatives" or very distant cousins, please consider posting it on the Calendar.  Any member can add an event or family reunion to the calendar.  You can provide details about the event, where it will take place, and when.  You can even add a map to show people how to get there!
Happy Family Reunion Season!
For anyone who may be interested and available to help on Friday, December 3, 2010:
This Friday, 1,600 wreaths will be placed at gravesites in the Soldiers' National Cemetery. Join us if you can - we need the help!
If you want to help tie bows, show up at Giant on Route 30 at 8 a.m. If you want to place the wreaths on the gravesites, show up at the Taneytown Road entrance to the cemetery at 12:45 p.m. It truly is a special event.
This was posted on the Historic Gettysburg, Pennsylvania page on Facebook.  I would love to take a day off and venture down some year to do this...but not this year!  Gettysburg is one of my favorite spots in Pennsylvania.
You can also visit my personal family database at
/