Shopping Cart
Your Cart is Empty
There was an error with PayPal
Click here to try again
Thank you for your business!
You should be receiving an order confirmation from Paypal shortly.
Exit Shopping Cart
Genealogy of the Woodcock Valley
Huntingdon County, Pennsylvania
The 53rd Pennsylvania Volunteer Infantry was formed very early during the Civil War.  Company C of the 53rd P. V. I. was formed from the Huntingdon and Blair County areas of central Pennsylvania.  Many of the men to enlist in September and October of 1861 were from the Woodcock Valley area of Huntingdon County.  Most were mustered in October 17, 1861.
I have created a new page dedicated to the men of Company C of the 53rd P. V. I.   The page includes a brief history, the battles the men engaged in, a list of every person known to serve with Company C, and some additional resources.  When possible, I included information and/or photos of each veteran.  However, I still need a lot more information!  If you have an ancestor who served with Co. C of the 53rd P. V. I,, please complete a Roll Call form and submit his information.  I will then respond to you via e-mail.  
The men of Co. C were at the Battle of Gettysburg, and their names are represented on the plaque for the 53rd at the Pennsylvania Memorial.

There were several injuries at Gettysburg received by the men of Co. C who fought in the Wheatfield area.  Matthew G. Isett was killed at Gettysburg.  You can read more about this battle in the letters of Anthony J. Beaver, which are contained in the Faces of the 53rd PVI photo album.  Anthony detailed Matthew Isett's death and the injuries received by the men of Company C.
The men of the 53rd continued fighting until the end of the war.  As the war went on, many men joined Co. C from Company K of the 145th Pennsylvania Volunteer Infantry in 1864 and 1865.  These men were originally recruited in Erie County, Pennsylvania.  
The men of Company C and of the 53rd Regiment reunited in Gettysburg on several occassions.  The photo below was taken on September 12, 1899.  They are pictured at the 53rd monument.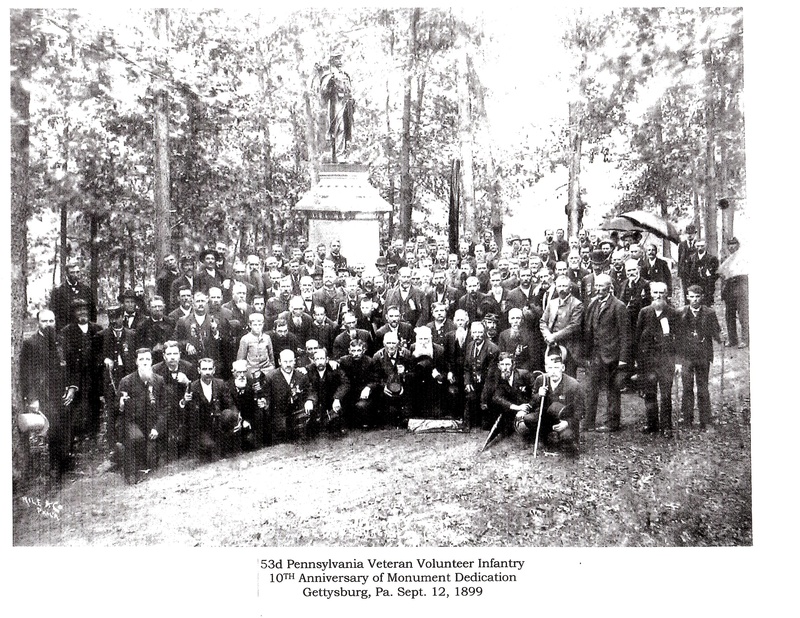 The photo below was also taken at Gettysburg, but the exact date is not known.  There are a number of veterans from Company C in the front row.  Those who have already been identified include Samuel Wilson Norris, Samuel Watson Gill, and John G. Garner.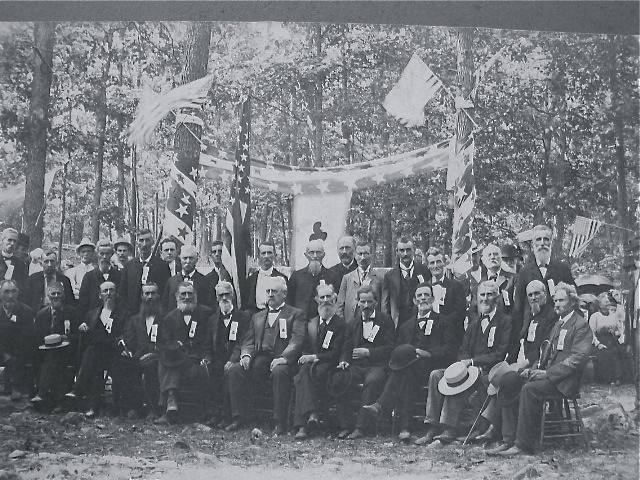 Finally, the men of Company C met and reunited locally as well.  The photo below was taken on June 8, 1898, in Grafton, now known as Hesston, in Huntingdon County, PA.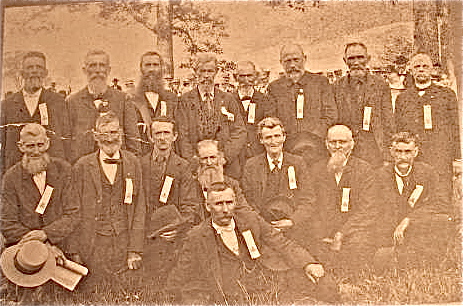 Some of the local men from the Woodcock Valley area of Huntingdon County who served with Compan C have been identified above.  Samuel Wilson Norris is the first person on the left in the front row.  Samuel Watson Gill is the fourth person from the left in the front row (there is another man on the ground in front of him).  John G. Garner is the third man in the back row from the left.  Can you identify any other faces from the Woodcock Valley?
Please fill out a Roll Call form if you can submit additional information on any member of Company C of the 53rd Pennsylvania Volunteer Infantry.  I would love to have biographical information on each man, photos, and/or letters written during the Civil War.  You can find the photos and letters I already have in the Faces of the 53rd PVI photo album.  Finally, be sure and check out the Company C, 53rd Pennsylvania Volunteer Infantry page.  It includes a lot of information on our ancestors who left the Woodcock Valley to serve their country during the Civil War.
I scanned a number of school photos when I visited with Clair Grove.  After posting them to the website, I went through to make sure I included the teacher names on the Schools pages.  One of the scans I found was a list of the Penn Township teachers from an unknown year.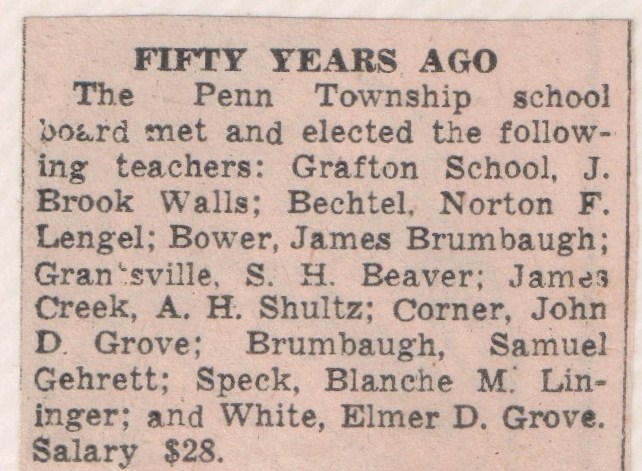 This article was published in the Huntingdon Daily News 50 years after it's original publication.  The exact date of publication and the follow-up date are not known.  However, I do know that James Brumbaugh was at the Bower School during the years 1901-1902 and 1915-1917.  Using my genealogy detective skills, Blanche Lininger was not born until 1902, so for her to be a teacher too, this article had to have originally been published between 1915-1917.
This article brought two new schools to my attention:  the Brumbaugh School and the White School.  Obviously, both schools are no longer in existence, and were probably lost for the construction of Raystown Lake if not before.  It makes sense to me that the Brumbaugh School should have been somewhere in the vicinity of the Brumbaugh Homestead and Cemetery.  However, no one I've talked to remembers it or knows where it was.  My dad remembers the White School.  It was on the road that now takes you into the Susquehannock Campground.  For the old timers, he told me it was between the Speck's house and the White's lane on the right hand side of the road.  
I would love to learn more about these two schools and any other schools in the Woodcock Valley for which I have not yet created a page or do not have photos or a lot of information.  I would love to have building photos, class photos, souvenir booklets, teacher's names, pupil's names, and any other helpful information you might be able to share.  If you can contribute some school-related items, post a comment below or send me a message using the Contact Me form.
In the mean time, please be sure and check out the Schools page and the Schools photo album.
Long time, no see...on my part!  I want to thank all of you who have continued to visit the website and add photos and other pieces of information.  I greatly appreciate that.  
I have to apologize, because my life has been so crazy since school started that I feel like I barely have time to breathe, let alone work on genealogy.  I am hoping for a tad more free time over the upcoming holidays and when summer rolls around
I was hoping maybe some of our members might like to step up and write an occasional blog entry for the website about a certain branch of their family, their genealogical travels, a favorite cemetery, or any other topic of interest that would appeal to other members.  If you would like to write a blog entry, just let me know and I will grant you the permission you need to add it to the blog.  Thanks for considering!
Keep on visiting the website, adding photos and obits, and asking questions and posting information in the forums.  As always, feel free to message me with any questions you may have, and I promise I will eventually get back to you.
In the meantime, yes, I am still alive and kicking...
Last night, I started a new Facebook group called Huntingdon County, PA Genealogy at www.facebook.com/groups/142266682529191/ 
If you use Facebook, please consider joining this group.  It is a central location to discuss Huntingdon County history and families you are researching from the Huntingdon County area.
I used to belong to a number of mailing lists through which people would post this kind of information through e-mail messages.  However, with the creation of Facebook, many of these groups have almost been replaced by people sharing information on Facebook.  I felt it was time for Huntingdon County to be represented as well.
Again, please visit the Huntingdon County, PA Genealogy page at www.facebook.com/groups/142266682529191/ and join.  Share this information with your family and friends, and post about your areas of interest and the names you are researching.
I just started a new Facebook page entitled, Isett Family History & Genealogy at https://www.facebook.com/?ref=home#!/pages/Isett-Family-History-Genealogy/188553994531325.  If you have an interest in the Isett family, please feel free to click on "Like" at the top of the page.  Then, go ahead and introduce yourself, and tell about your connection or interest in the Isett family.  The goal is to try and get a group of people together who all have an interest in this family.  For those researching the Isett family, I think we all have a branch that just "stops" dead.  Maybe with a united, collaborative effort, we can start tearing down some brick walls!  Bonnie Isett Gorman is going to be a co-administrator with me on the new Facebook page.
Site member, Ron McCall, contacted me with his list of teachers this evening.  He attended the Mill School, Hesston School, Grantsville School, and Upper Corner School.  So, I created a page for each of these schools and listed his teachers and the years he had them.  It amazes me how these teachers bounced from school to school.  In conversation with my own father yesterday, he told me how the teachers stayed with local families.  Ron McCall said that one teacher, Irene Bagshaw, stayed with his family for a while.  My dad also attended the Upper Corner School.
Ron McCall also mentioned to me that somewhere on the internet, he found a list of the teachers in the Penn Township schools.  We have both searched high and low and can not find this list again.  Do any of you know of such a list?
Okay, now listen up students, here is your assignment: 
If you went to a one room school, contact me with who your teachers were! 
If you are too young for a one room school, then contact your parents and/or grandparents and pick their brains about who their teachers were!
You may not move on to the next grade until you do so!!!!!
There has been a lot of interest in my recent blog post on the Bowers School.  It has started folks to talking about the other one room schools and who the teachers were there.
So, I'm on a mission to create a list of teachers for each school, and to try to make it as complete as possible!  In addition, I need to know more about each school house - when was it built, what were the years of operation, what was it constructed of, where there any unique architectural features?  To do this, I have to have your help!!!!!
You can help by going to the Teacher Roll Call page and sending me the information you know about the one and two room school houses that dotted the Woodcock Valley.  If you attended one of these schools, please let me know who your teachers were.
To get us started, I will focus on the Upper Corner School.  This is where my dad went as a young boy.  He and his family lived in the hollow close by.  Here is a class photo that was shared with me by Ralph Garner.  It is from the 1937-1938 school year.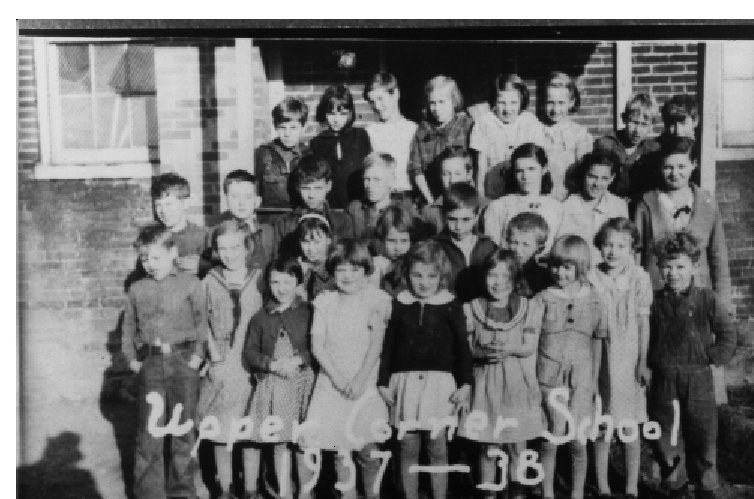 To see the names of the people in the photo, click on the photo above.
Some of the teachers I am aware of at the Upper Corner School include:
Lena Grace Norris 1910
Mabel Hampton 1925-1926
Helen E. McCloskey 1927
Chloe Garner 1930-1931
If you know of more teachers, please use the roll call form or e-mail me.  Again, I would like to set up a page for each school, so let me know if you have info on schools other than just the Upper Corner School.
Family reunion season is almost upon us!  Family reunions are usually a time of fellowship, catching-up, good food, hugs and kisses, family photos, and even a long lost relative or two.
Family reunions have been taking place for many, many years.  I have news articles of family reunions in the 1880s.  My Fisher and Norris lines have always been big on family reunions.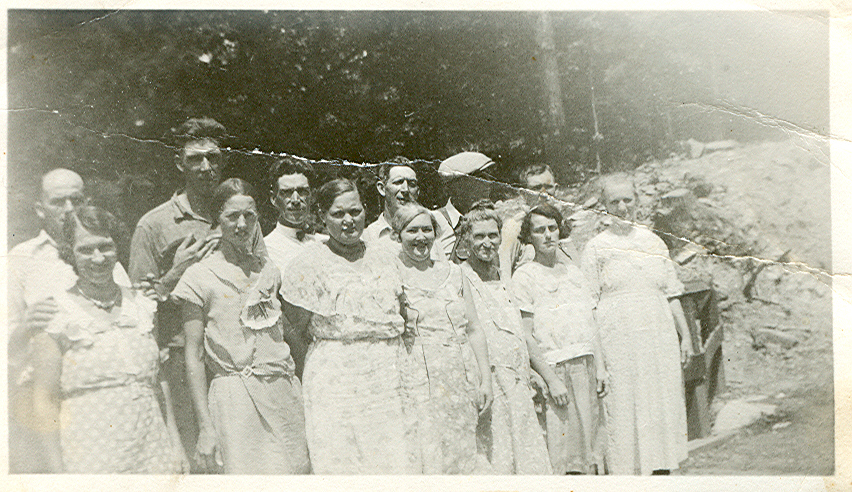 In the photo above, Sarah Belle (Swope) Fisher is surrounded by her children and their spouses in 1936.  The location is not known for certain, but it could possibly be at Paradise Furnace, which is now part of the Trough Creek State Park.
If you and your family will be having a family reunion that you would like to open up to other "long lost relatives" or very distant cousins, please consider posting it on the Calendar.  Any member can add an event or family reunion to the calendar.  You can provide details about the event, where it will take place, and when.  You can even add a map to show people how to get there!
Happy Family Reunion Season!
By day, I am a Kindergarten teacher.  My school is preparing for LAMPS Day, which is like a science fair, but students can participate in any area.  The L stands for Language Arts, A is for the Arts, M is for Math, P is for Physical Education, and the S is for Science and Social Studies.  The students in grades 3-5 are required to come up with a project or presentation.  It is optional for students in grades K-2.  The K-2 teachers were encouraged to come up with a whole class display that involved all of the students.  So, I'm thinking "What am I going to do that will involve all of my students?"  In the e-mail request, our princial made a comment something like, "the students involvement might spark a lifelong interest..."  Immediately, I knew what I was going to do!
My love of genealogy is a lifelong passion, so why not see if I can start some of my students early?  I regret that I was never interested in genealogy until after the death of my mother and all of my grandparents.  While I always loved history and anything old, I never questioned my heritage or my roots.  I regret all of the missed opportunities I had to discuss these topics with the previous generations before it was too late.
I started searching the internet to find a family tree suitable for Kindergarten students and their families.  While the idea of a tree is fairly simple, it can be complex if you've never done one before!  My search led me to the Love To Know website, where they have links and resources for free family tree printables.  I chose the following tree for my students:
You can click on the image above to download this tree from the website where I found it, which is called Kids' Turn Central.  They have other forms and charts available to help children with genealogy research too.  There is an interview form and other trees and charts.
Stay tuned with how this LAMPS project turns out.  The children's family trees are due back on May 20.  I already have two returned.  I also asked for old family photos, and have received one so far.  LAMPS Day is in June, so I will post some photos of our finished display after the event.
I started a new Facebook page this evening to correspond to this website.  Previously, I had a Facebook group called Woodcock Valley Genealogy, to which some of you belonged.  I had to "upgrade" my group, and did so, but decided to just create a page and name it the same as the website.  I am eventually going to phase out the group and will delete it at some point in the future.
If you are a Facebook user, be sure and click on the https://www.facebook.com/pages/Genealogy-of-the-Woodcock-Valley/171680899551803?sk=wall#!/pages/Genealogy-of-the-Woodcock-Valley/171680899551803" target="_blank">Genealogy of the Woodcock Valley page and "Like" it.  It does not appear that I can move the old posts from the group to the new page, but I will be posting new activity in the future, and I always welcome anyone to post on the Facebook page!
If you click like on the Facebook page in the sidebar to your left, it will take you to the new page.
You can also visit my personal family database at
/