Shopping Cart
Your Cart is Empty
There was an error with PayPal
Click here to try again
Thank you for your business!
You should be receiving an order confirmation from Paypal shortly.
Exit Shopping Cart
Genealogy of the Woodcock Valley
Huntingdon County, Pennsylvania
Hi, I'm Carson. I'm working on my communications merit badge for Boy Scouts. For this merit badge, I have to share information with the public. Since I love to fish, I am doing an article on the Phillips Fly and Tackle Company. My mom, who loves local history, first purchased a Phillips "Crippled Killer" at a local auction in 2014, and then purchased a book about the company.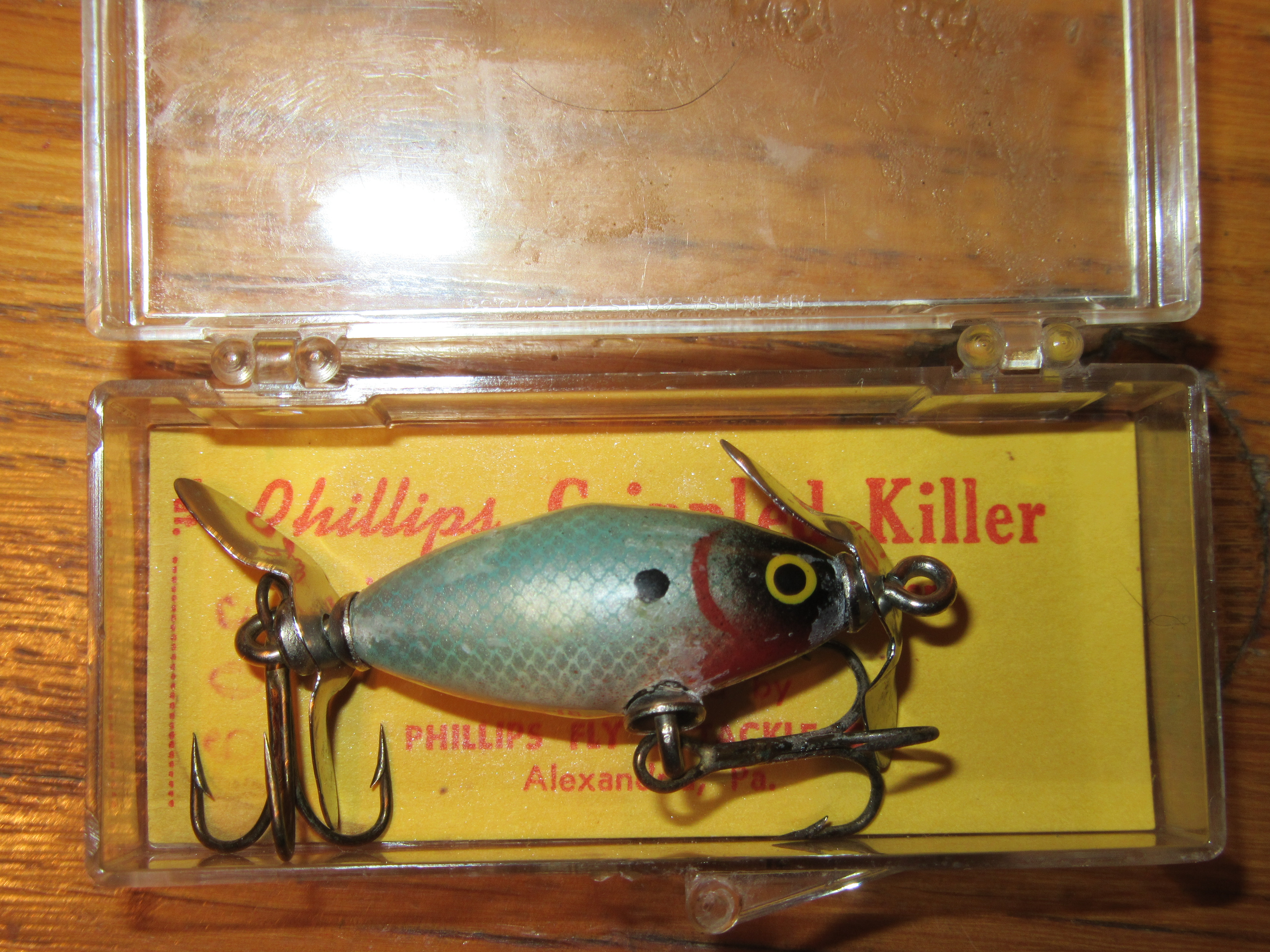 The Phillips Fly and Tackle Company was founded by George Phillips, Jr. (1913-1956) in Alexandria, in Huntingdon County, PA, in 1939. In 2007, Jean Lane Cresswell published a book on the Phillips Fly and Tackle Company called "Made For Fishermen By A Fisherman." The title of the book was the motto of the Phillips Fly and Tackle Company. The book tells you about the history of the company and some of the products they sold.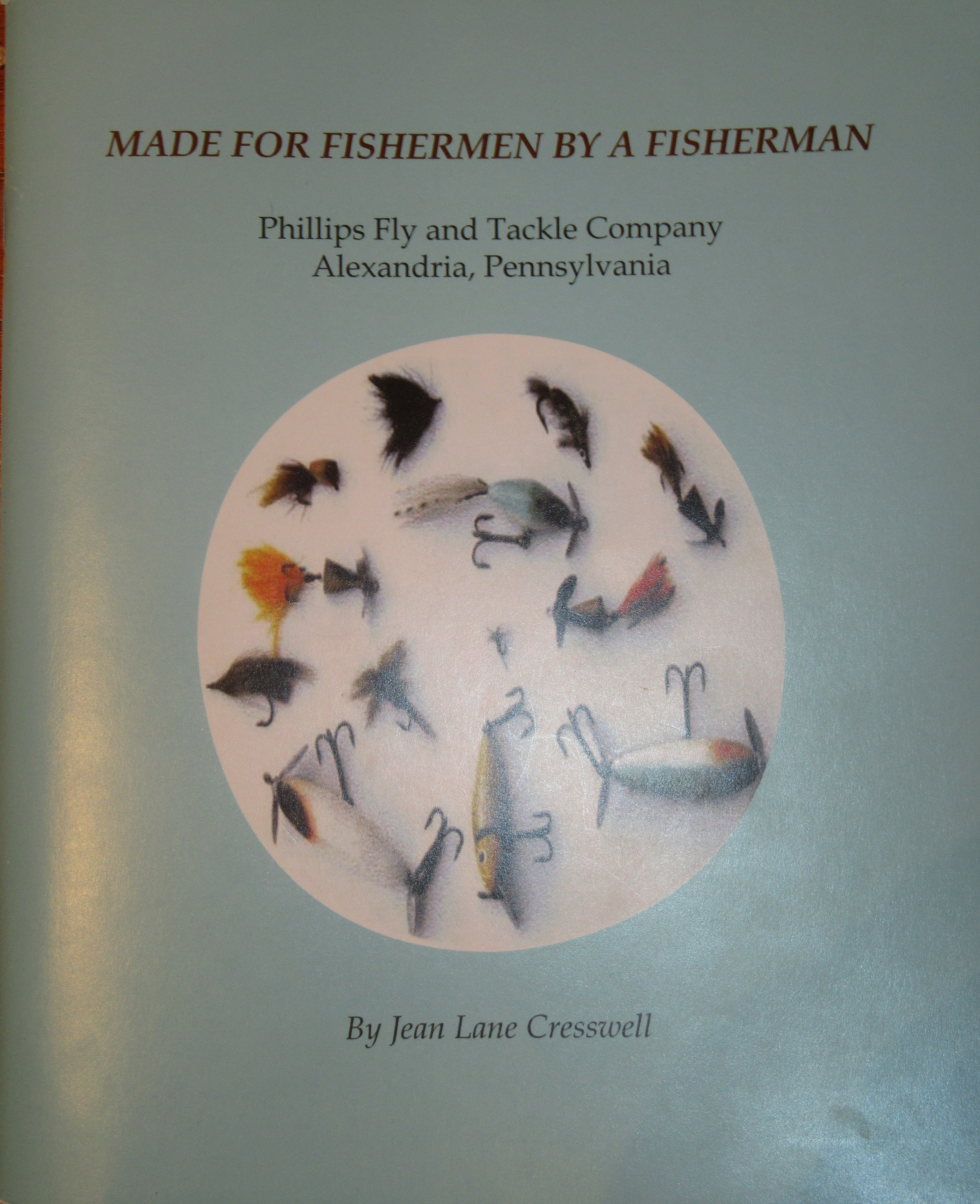 The Phillips Fly and Tackle Company employed over 100 employees, and a majority of them tied flies. Many workers tied flies in their own homes. The company had over 3,600 different kinds of flies. The company also started selling wooden lures. When plastics became available, the company started making plastic lures as well, while continuing to tie flies. Phillips lures have fairly distinct eyes, and most have a metal blade or a metal lip.
At the height of production, the company made 200,000 lures per year. One of their most popular lures was the "Crippled Killer." It was designed to imitate a crippled minnow that was on top of the water trying to swim away. The "Crippled Killer" has a distinct look with a hook that hangs straight down from the stomach and hangs much lower than a normal hook.
In doing my research for this article, I noticed a lure that looked very familiar. So I looked in my tackle box, and little did I know, but I had been fishing with two Phillips "Rainbow Runner Jr." lures! As I looked through my lures, I found 11 more lures from the Philips Fly and Tackle Company that had belonged to my late grandfather, Paul Fisher (1932-2019), and my great-grandfather, Eldon Kinch (1915-1968 ).
I think it is pretty cool that very high quality fishing lures were made in Huntingdon County! I'm even more excited to find out that I own my own share of local history. If you would like to learn more, you can get a copy of the book from the Huntingdon County Historical Society, or read more about Phillips Fly and Tackle Company from Dr. Todd Larson's blog.  If you have information on any of the lures posted above, have photos of your own Phillips lures or flies, have a favorite fishing story with a Phillips, or have relatives who worked for the company, please comment!

So, I'm sure some of you are probably wondering if I am still alive - the answer to that question is:  "Yes, I am!"  
The winter was quite rough for me.  First, my desktop computer crashed where I housed all of my genealogy and family photos.  Thanks to an external hard drive, I only lost a handful of names from my family tree database.  The computer experts were able to salvage my hard drive and encase it, so that I can use it as an external drive on my laptop to access my photos.  Unfortunately, I did lose all of my genealogy e-mail contacts.  
Then, this spring, my long time e-mail address provider, pennswoods.net shut down, forcing me to get a new e-mail.  Unfortunately, I couldn't even contact everyone to let them know I had a new e-mail address due to the computer crash!  So, anyone trying to contact me at [email protected] - please use the contact me button to the left for my new e-mail address.  
Given all of my technology issues, I just haven't been doing a lot of genealogy work lately.  I have been collecting items to share, but just haven't found the time to put them up.  I have been working almost every weekend to top things off.  
I finally had a Saturday off today, and my son and I hightailed it for a nearby auction!  The auction was for the estate of the late Bonnie Brumbaugh Frijters.  I first met Bonnie when I did my student teaching in the Juniata Valley School District.  I was drawn to her estate sale by a family history book.  Traveling to auctions with my 6 year old son in tow is never easy, but if you arm him with enough snacks, I can usually get a few good hours out of him.
Today's haul secured two new history books for my personal collection.  The first book was Genealogy of the Descendants of Theobald Fouse (Fauss) Including Many Other Connected Families by Gaius Marcus Brumbaugh and John Garner Fouse, published in 1914.
The second book I purchased was Recollections of Bygone Days in the Cove, Volumes 1-11 by Ella M. Snowberger published from 1933-1943.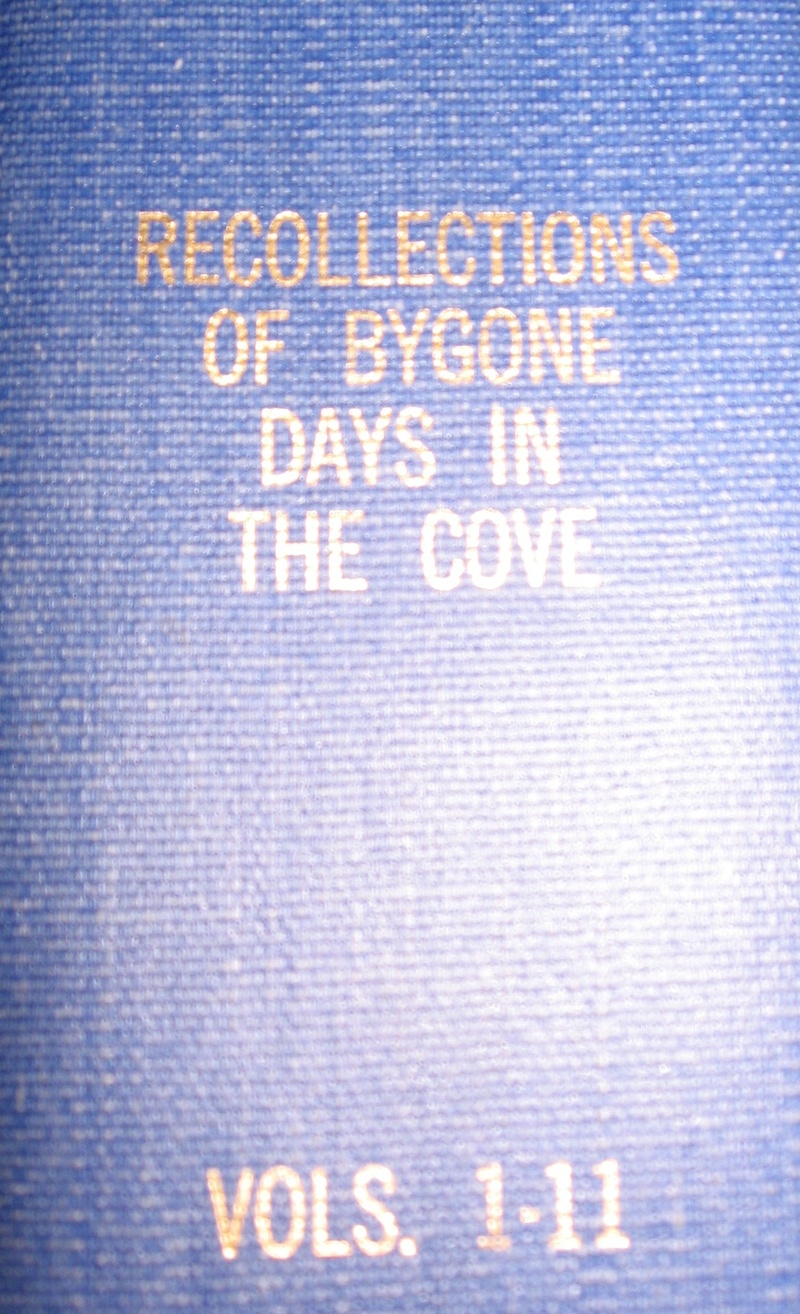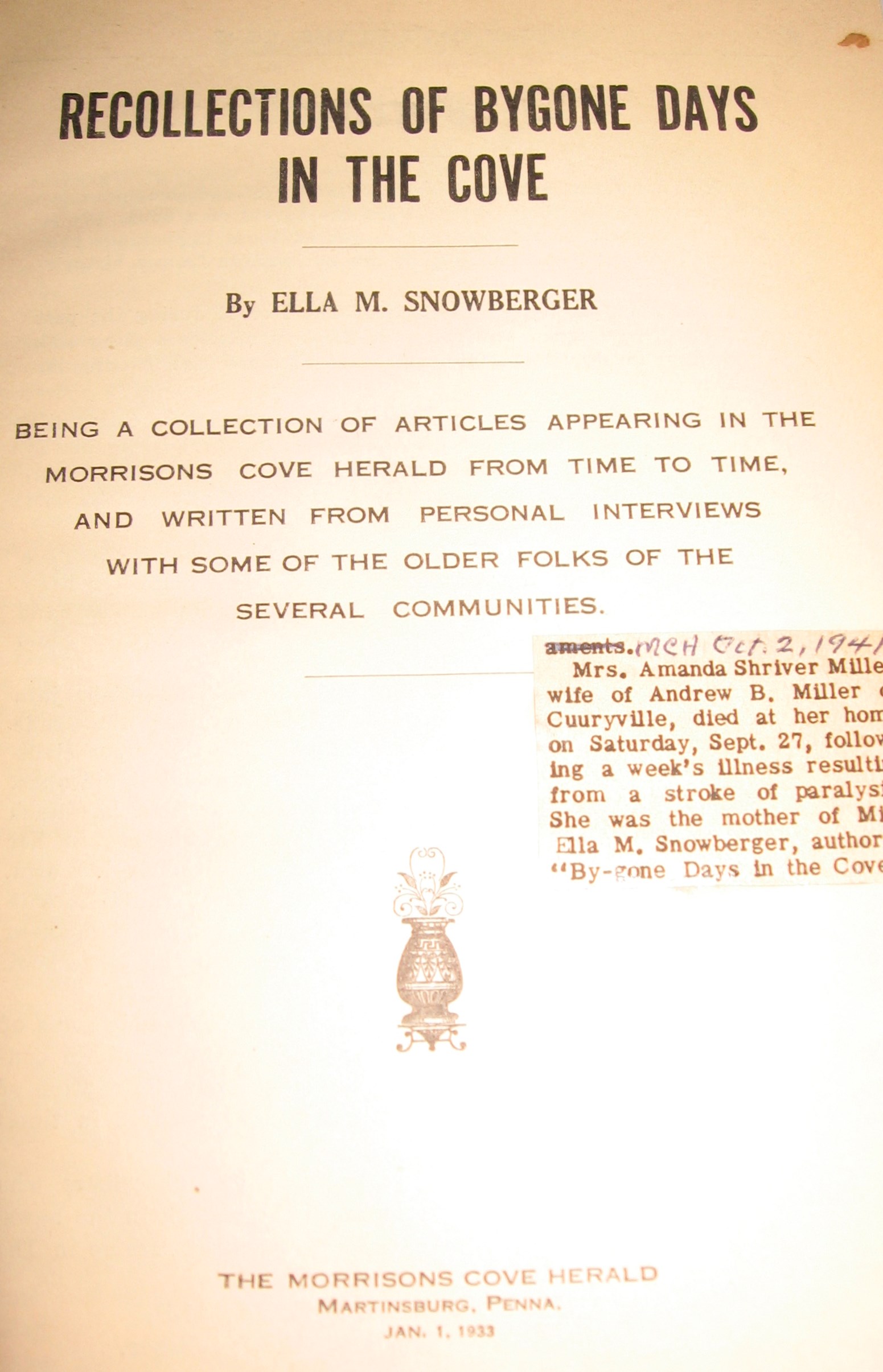 Both of the books are valuable research tools for anyone with family ties to the Woodcock Valley.  The Fouse and Brumbaugh families both had ties to the Morrison's Cove area before moving into the Woodcock Valley.
And, I couldn't leave the auction without one of Bonnie's paintings.  Bonnie was quite an artist and musician.  She loved all of the arts.  Being a cat lover, this was the perfect piece of artwork for me to bring home.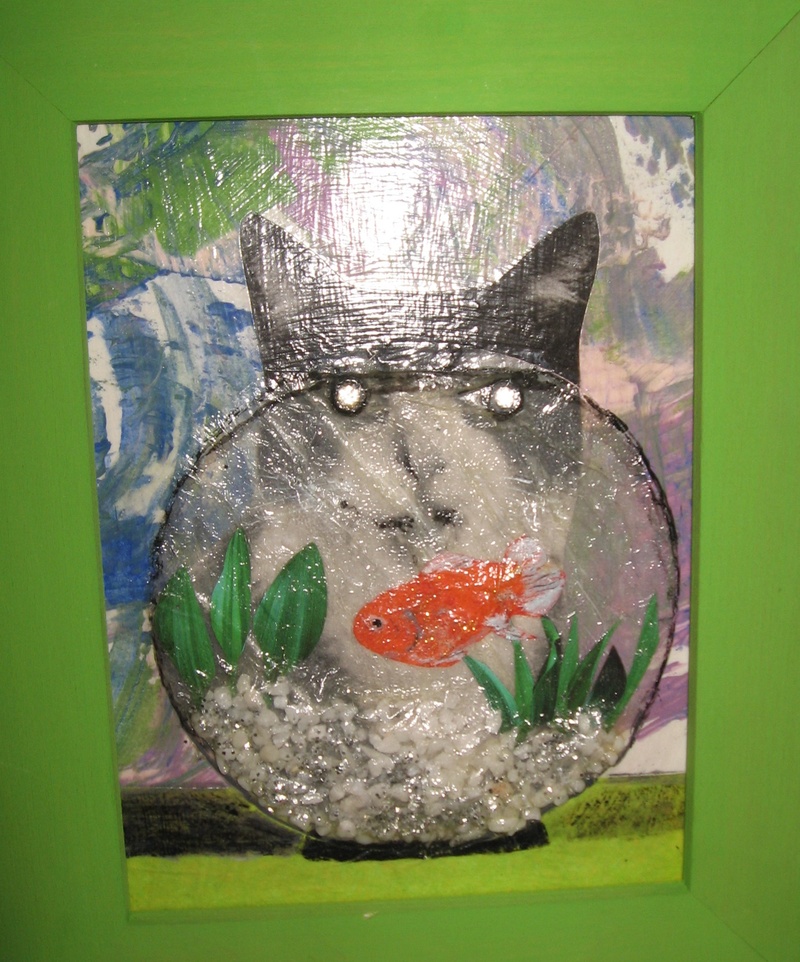 It has been a while since I've blogged; I never meant for it to be so long!  I'm still alive and well.  2014 was a rough year for me personally, but it was also a year of wonderful new beginnings. 
After teaching for 15 years in public education, I decided I would never last for 15 more years.  It was a promise that I had always made to myself - that if it ever stopped being fun that I would get out.  It was time to get out!  I found myself no longer liking the direction public education was taking me, I was being bullied by a supervisor who personally hated me, and I had a son about to enter the public school system, so it was time for me to make my exit.  On June 13, 2014, I made my resignation official and spent a few days enjoying life and pondering my future.
As I job searched, I had been envisioning myself in an office setting doing computer work.  However, by the end of June, I had secured employment in a surprising turn of events with just a letter on a whim.  Knowing my love of local history, I decided to send a letter to Isett Heritage Museum to let them know of my availability, thinking perhaps I could get a job for the summer until I found a position in an office setting.  However, little did I know, but Isett Heritage Museum was looking for a full time person to work beisde their office manager!  It was a match made in Heaven!  I started my new career on July 3, 2014.  I am now surrounded by local history and history in general on a daily basis.  It is just a dream come true!  I never thought I would get paid to do something I love so much!!!
On Thursday, January 8, 2015, I was working at Isett Heritage Museum, and waiting with much anticipation on some new items to arrive at the museum.  You see, it is not at all unusual for new donations to come in.  However, I knew about these items in advance and it was like Christmas day as I waited for them to arrive from Montana.  If you have followed my blog posts, you know how much I love to research the Isett family.  So, it was with such eagerness that I anxiously awaited the arrival of a Civil War sword that had been passed down through the Isett family!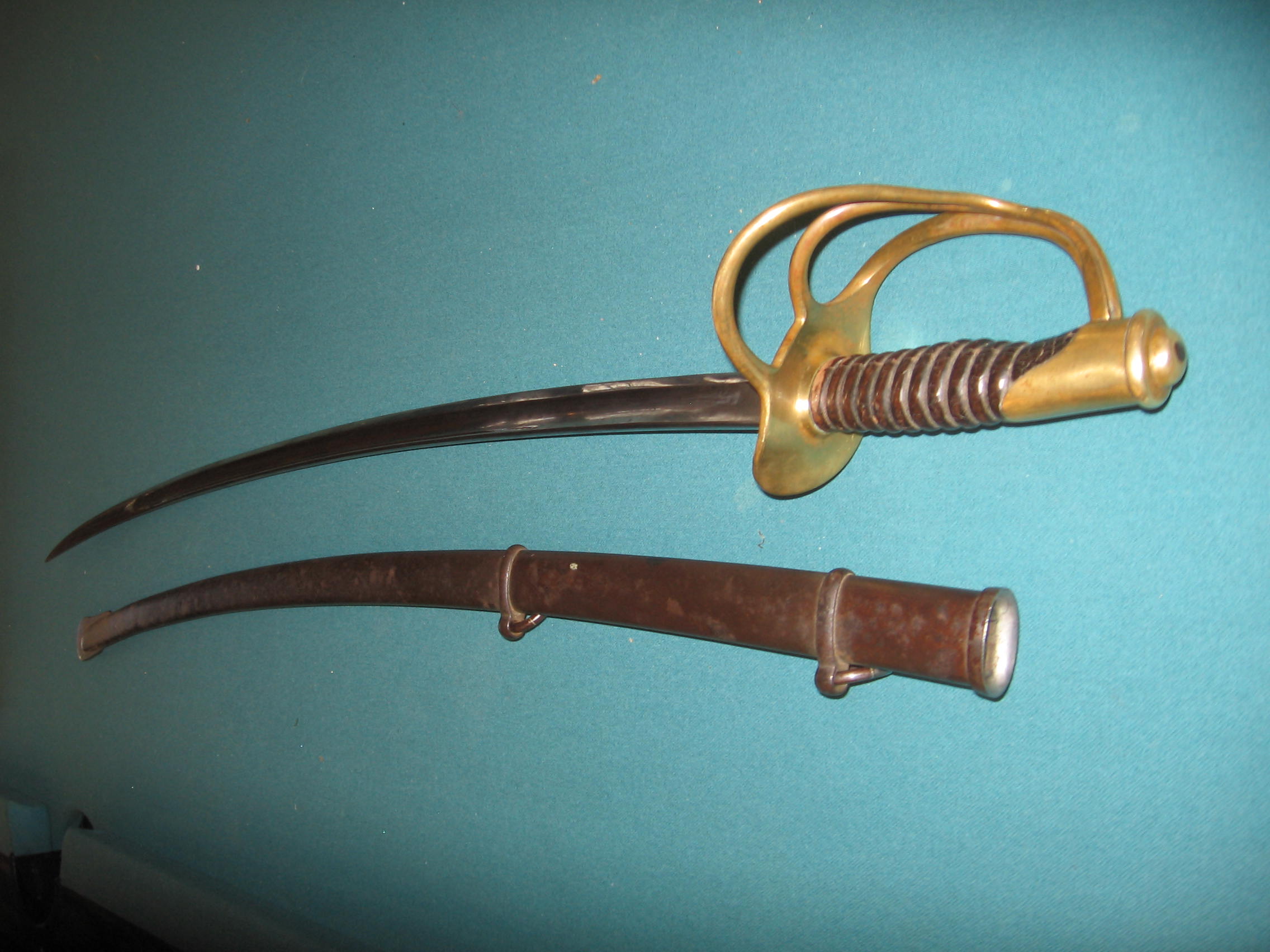 The sword was made in 1862 by Mansfield & Lamb of Forestdale, Rhode Island.  The sword was most likely carried by Matthew G. Isett (1838-1863), who served as a 1st Sergeant with Co. C of the 53rd Pennsylvania Infantry.  He was killed in the Wheatfield during the Battle of Gettysburg.  We know from a letter written by local survivors that they removed his body from the battlefield, and most likely took his sword with them at that time.  Matthew's brother, George Washington Isett (1844-1915), was also wounded in the Wheatfield that same fateful day.  It is quite possible George brought the sword back home with him when he was discharged due to his injuries.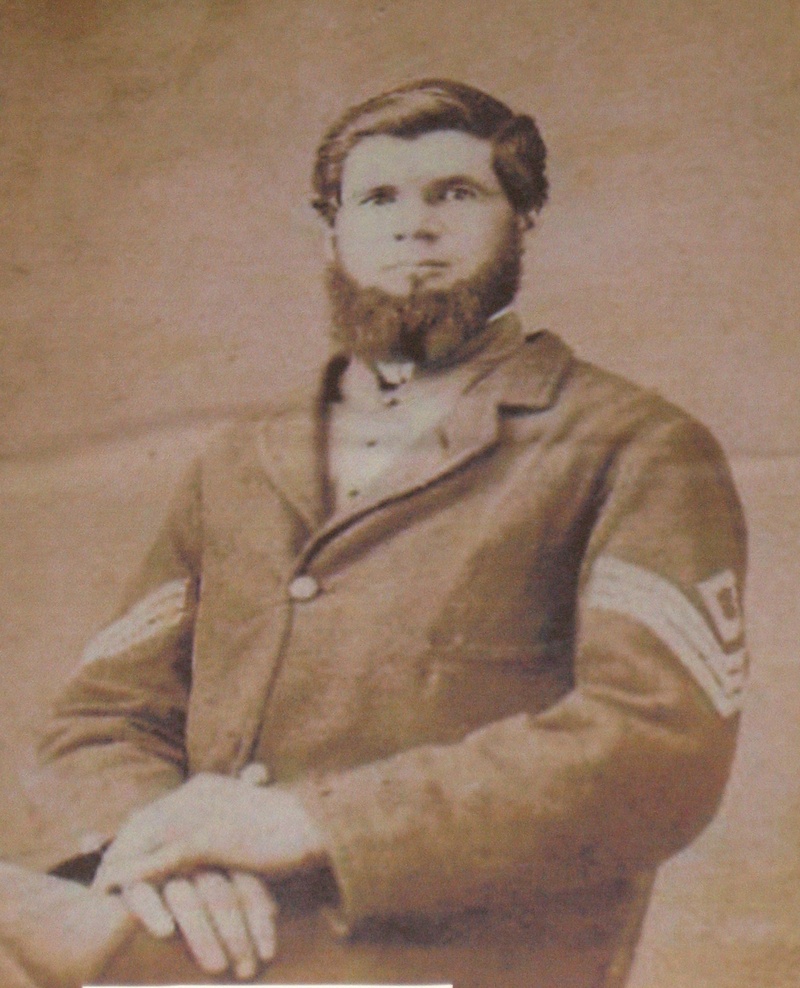 Matthew G. Isett
Along with the Civil War sword, the family members also brought an antique Isett family photo to put on display along with the sword.  The photo is of Matthew Isett's younger brother, John A. Isett (1851-1919) and his wife, Rachel (Walb) Isett (1851-1935).  John and Rachel had two children:  Gertrude and James Guy.  It is from James Guy Isett that the founder of Isett Heritage Museum decends.
John A. and Rachel (Walb) Isett
It is amazing to me that a Civil War sword can survive the test of time and remain within a family such as this one has done.  We can only assume that it was Matthew Isett's since he was a first sergeant and his brother George was only a private.  However, there is no markings on the sword other than the manufacturer's mark to prove the theory.  The oral history has not survived either other than it has been passed down through the family.  Legend has it that a uniform also exists, but it has not surfaced so far.  Regardless, it is a cherished piece of American history that will soon be on display at Isett Heritage Museum - a place where I am now proud to call home!

The Huntingdon County Historical Society held their first Civil War Living History Weekend on June 7 and 8, 2014 at the Huntingdon County Fairgrounds.   The event hosted various reenactment groups including members of Company C of the 53rd Pennsylvania Volunteer Infantry, Company C of the 125th Pennsylvania Volunteer Infantry, Battery B Artillery from Boalsburg, Dr. Hayden portraying a Civil War surgeon, the Aughwick Civil War Roundtable, and Irvin Myers the auther of "We Might as Well Die Here."  
I have visited Gettysburg countless times, but have never really been to a living history event or even any sort of reenactment before.  So, this was all new to me.  My son was eager to visit with just the mention of guns.  It was hard to explain to an almost five year old what the Civil War was all about.  He wanted to know who the bad guys were.  I just explained it as there were no bad guys; just men with a difference of opinion trying to work everything out.  It was a sad time for everyone.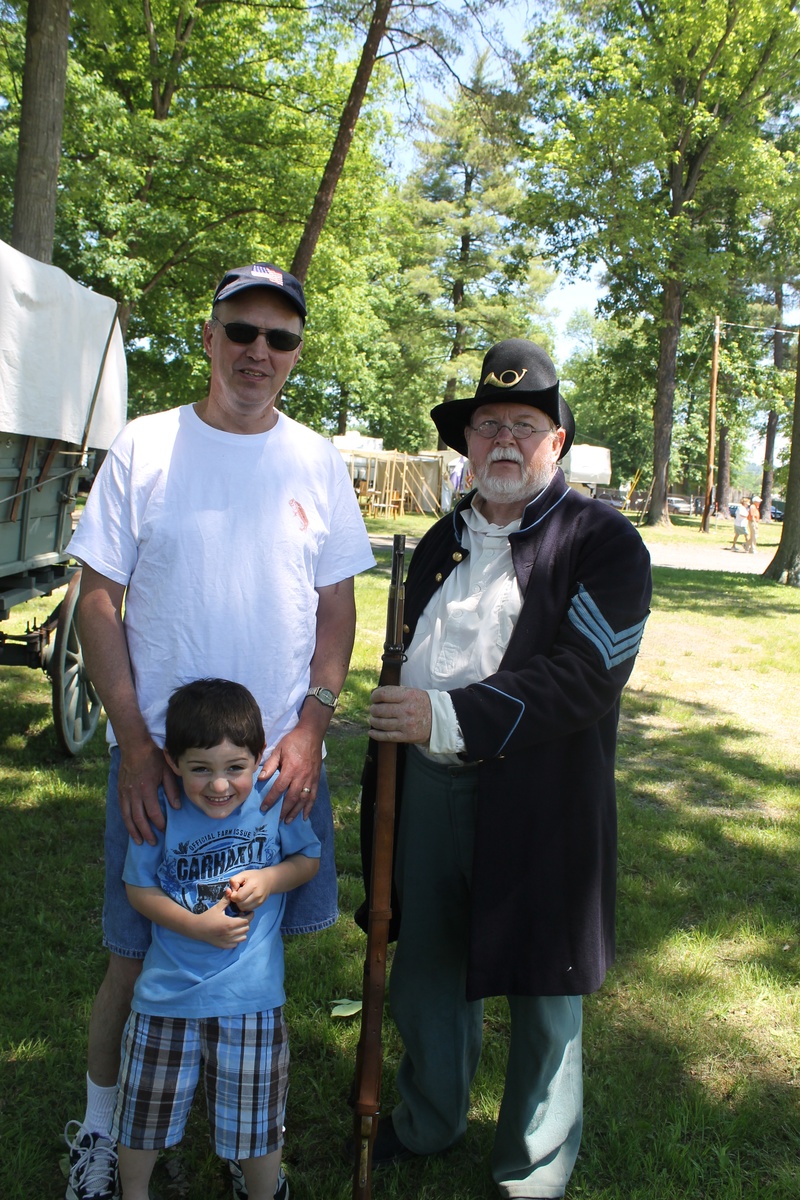 Here is a photo of my husband, son, and local reenactor, Bob Stewart.  
I was most excited to see men in uniform representing Company C of the 53rd P. V. I.  Many of my ancestors fought in this company, as did many others representing the Woodcock Valley.  You can learn more about this company by visiting my Company C of the 53rd Pennsylvania Volunteer Infantry page.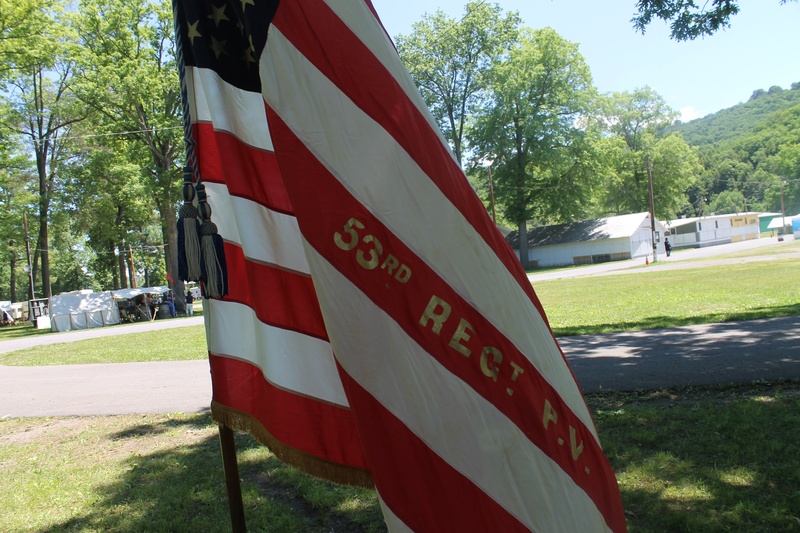 The flag for the 53rd at their encampment.
Mike Espenshade with Company C of the 53rd Pennsylvania Volunteer Infantry spent many hours at the Historical Society trying to learn more about the men from Huntingdon and Blair Counties who joined Co. C of the 53rd back in 1863.  He and his men have a genuine interest in learning more about the men they portray.  Their encampment was a popular spot for visitors who stopped to talk to the men and share information about their family members who had served with Co. C of the 53rd.  For me, two immediate names come to mind:  Samuel Wilson Norris and Matthew G. Isett.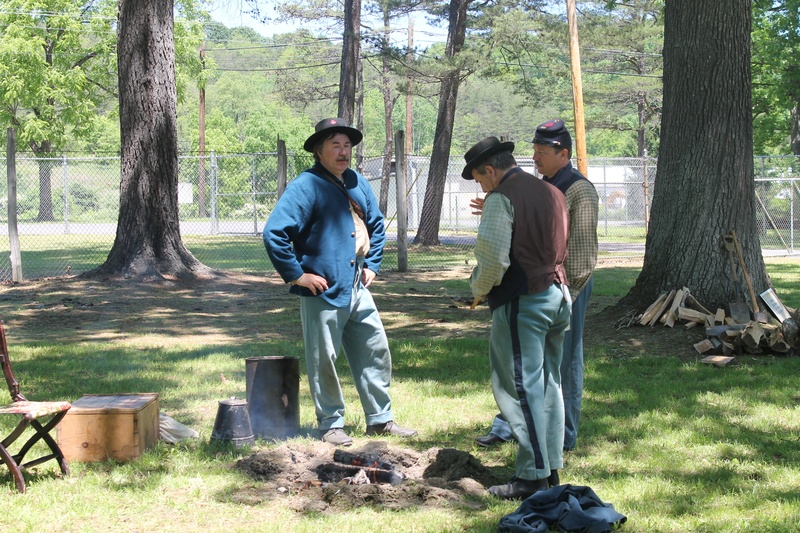 Members of Co. C of the 53rd P. V. I. enjoying a moment of camp life at lunch time.
One piece of history on display from the Huntingdon County Historical Society was the GAR roster from Co. C of the 125th Pennsylvania Volunteer Infantry, often referred to as the "Bible Company."  I never realized how deeply rooted in Huntingdon County history this company was prior to the Living History weekend.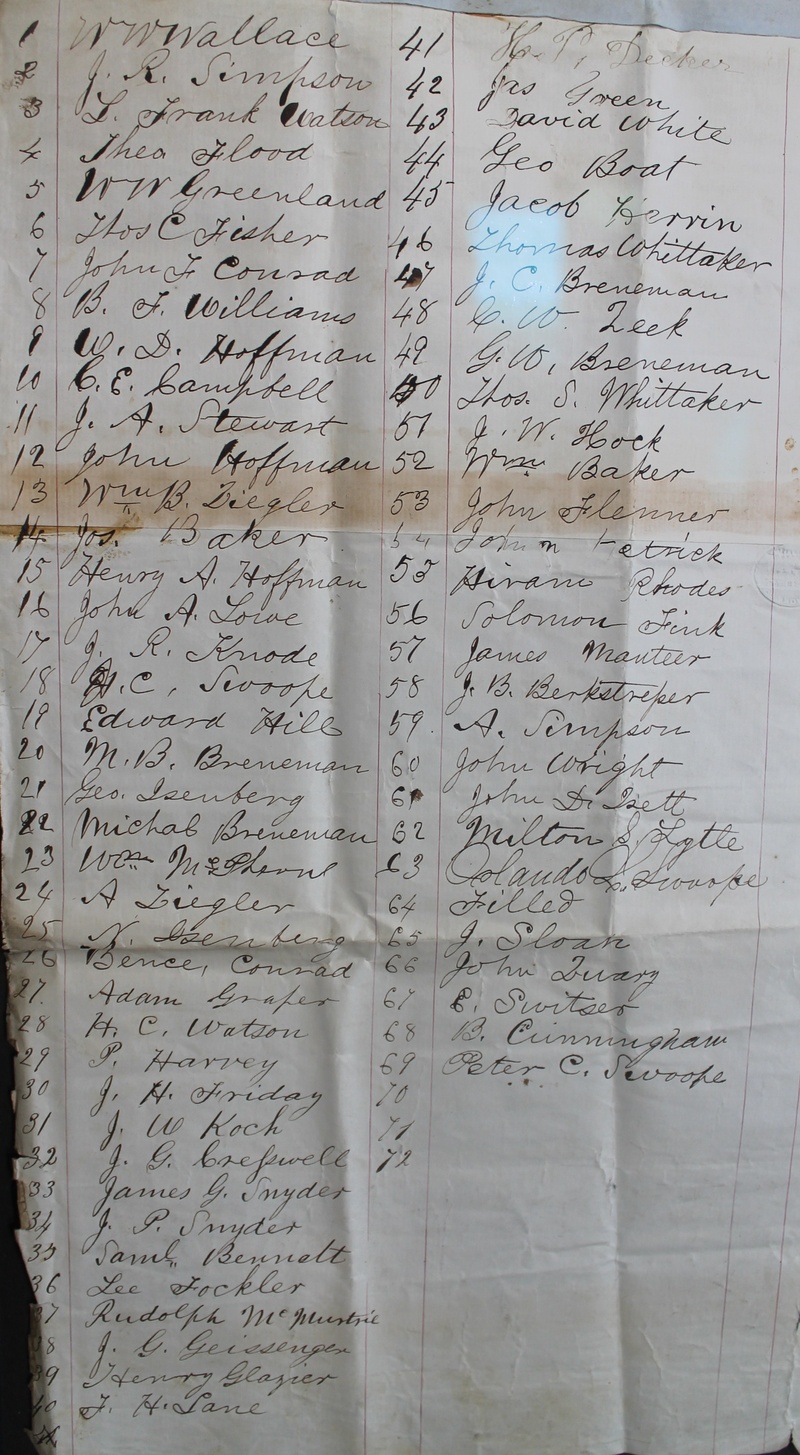 The sign-up roster for Co. C of the 125th was on display during the Living History Weekend compliments of Karl Lang.  The roster shows the local names.
After seeing the public interest in the local names of those who served in "The Bible Company," I have started a page dedicated to Company C of the 125th Pennsylvania Volunteer Infantry.  The page will chronicle the company's formation, movement, and battles, as well as list those who served in the company with some personal information on as many as possible.  As always, photographs are welcomed.  The photos can be linked to the individual names and group photos can be included on the page.  If you have photos to contribute or additional  information, please complete a Roll Call form for Co. C of the 125th.  I also created a new photo album titled Faces of the 125th PVI that contains photos and letters of the men from the 125th.
Finally, no Civil War Living History Weekend would be complete without the sound of cannons filling the air.  I think this was probably one of my son's most favorite parts of the event.  The men of Battery B did such a great job of answering his 50+ strange and completely random questions.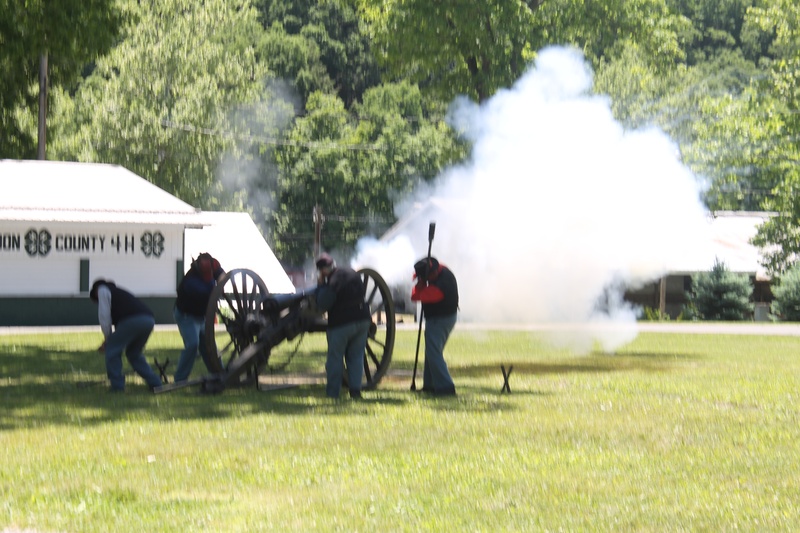 Overall, the Civil War Living History Weekend was very successful.  There is already another one in the planning for 2015 that will hopefully be bigger and better with calvalry and more hands-on activities and exhibits.  The goal is to then make this a biennial event.
Recently, I put an e-mail out to all of my fellow Isett researchers when Family Tree DNA announced that they were lowering the cost of their Family Finder DNA test.  Valene Woolridge and I have communicated over the years about her husband's connections to the Isett family, and she decided to do testing on several members of her family, including her husband.
I was ecstatic when I realized that Valene's husband was submitting a Family Finder test.  He descends through Charlotte "Lottie" Regina Young, a daughter of David and Mary J. (Isett) Young and a granddaughter of Simon and Caroline (Beamer) Isett.  Simon Isett (1806-1877) was a son of Jacob and Sarah Isett.  Jacob Isett was born in 1780 and died in 1853.  Jacob Isett's parents are unknown.  Jacob resided in the Sinking Valley and Frankstown areas of Blair County.  
I was hoping so hard that Robert Woolridge's Family Finder test results would either connect him to my husband, a descendant of James K. Isett (1813-1863), or to a fellow researcher who descends from the immigrant son, Jacob Isett (abt. 1725-bef. 1790).  Sadly, Robert's test results did not show a connection to either Isett line.  However, Family Finder test reults are very "hit or miss" once you get past third cousin status.  So, there could still be a connection, but it just was not picked up due to genetic distance.
HOWEVER, even though I am DNA cursed, all was not lost!!!  Robert Woolridge also did a y-DNA test.  Interestingly, just like in my own testing experiences, he had no y-DNA Woolridge matches.  His Woolridge line dead ends with Stephen Woolridge (b. abt. 1800), who lived in Franklin County, PA.  Members of his family eventually moved to Blair County, PA.  Robert's y-DNA did match some Ginter family members.  Here is where it gets interesting!
I know one Ginter, who attends my church.  So, I asked him for some family information, and he was able to give me enough to get me started.  On a whim, I started researching his line and the Ginter family in Huntingdon and Blair Counties in PA.  In Huntingdon County, I quickly found myself in a geographic area that I am familiar with that relates to my mother's family.  As I continued my research on the Ginter family, all of a sudden, the light bulb went off in my blonde head!  My third great-grandmother's name was Angeline Ginther (1839-1920), who married John Kinch (1831-1894).  Here I was in the same geographical area, and I just knew her name was Ginter, with Ginther as a variation!!!  Sure enough, I researched her line, which I had somehow avoided up until this point, and found that her father was John Conrad Ginter (1791-1865), who connects to the man from my church and the people Robert Woolridge is matching from the Ginter family.
To make a long story short, it turns out Robert Woolridge and I are related (somehow) through Ginter blood!  Here I was hoping for a connection to my husband or my long time research friend, and it turns out I am the one related!  Not only am I related to Robert, but I am also related to the man in my church with the last name of Ginter!  Through this process, I have came in contact with other Ginter researchers who have ties to Huntingdon and Blair Counties, and also to Bath County, Kentucky.  The Ginter family is large and complex.  We still do not know Robert Woolridge's exact spot in the Ginter family, but we will continue to research and look for clues.  I greatly appeciate receiving Valene Woolridge's permission to share her husband's test results and how they took me full circle with DNA testing.  We are all in amazement by this turn of events.
Is the Isett family still my nemesis?  Yes!  Do I still consider myself to be DNA cursed?  Yes!  However, this is has been one amazing DNA journey, and it is rather awesome how this one turned out!
We just finished up another week of the "Bigger and Better" Huntingdon County Fair.  The Huntingdon County Fair is an annual tradition for many local families.  It is one of the oldest, most continuous county fairs in the state, having started in 1831.
One of my favorite features is the Farm Museum that is housed at the Huntingdon County Fairgrounds.   The board members and community members attend public auctions and scour antique stores and stands to find new items for the collection.  The museum also accepts items on loan for display purposes.  You never know what you will discover at the Farm Museum.
This year, I found a history of the James Creek Mill and some sacks that showed the names of the millers.  
After I did my initial blog post, site member Dale Norris contacted me and shared this photo of an original bag when Joseph Grubb was the miller.  The photo was shared with Dale by George and Anna Mary Grove.  
The above history is included with this sack below for the next miller:
Here is the next sack in the history, also on display at the farm museum:
There was also a poster for the Marklesburg and Woodcock Valley Picnic:
The poster is dated September 3, 1921.  I apologize for the reflections.  I tried so hard to block out the fluorescent light to no avail.  
A new tradition my son and I started last year was attending the tractor parade on Wednesday afternoon.  This year, he was another year older and enjoyed it even more.  This year, the parade started with Clair Grove driving his 1928 Model A Ford.  He drove the fair queen and royalty as grand martial of the parade.  The tractors followed and it was concluded with a vintage fire truck.
The Model A, tractors, and fire truck are all on display at the Farm Museum during the fair and/or throughout the year.
The Huntingdon County Fair is finished for another year, but if you have the opportunity to visit in 2014, please be sure to check out the Farm Museum for more pieces of Woodcock Valley history.
Elizabeth (Unknown) Isett Matthews (????-????)...that is a lot of unknowns, isn't it?  I don't know her maiden name, when she was born, where she lived, who she married, when she died, or where she is buried.  So, why do I even care about her?  Because she is a vital missing part of my family tree!  Well, not even my family tree, but that of my husband and son.  I've been researching her and her son and husbands for so long now that she feels like she is my own.
The only thing I know about Elizabeth is that she had a son named James K. Isett who was born in 1813.  In 1820, her name appears in Orphan's Court recrods in Huntingdon County, PA.  A transcription of the record is as follows:
Huntingdon County Orphans Court C, File K, No. 34, pg. 80
"The petition of Elizabeth Matthew late Elizabeth Isett humbly sheweth that your petitioner has a son named James Isett who is a minor under the age of fourteen years whose father your petitioners late husband has absconded his family and gone to parts unknown to your petitioner, and left his said son without any person to provide for the care of his person or property. Wherefore, your petitioner prays the court to appoint some suitable person to be guardian of the said minor and she was in duty bound will pray (some kind of mark) Whereupon it is considered by the court and ordered that Thomas Lloyd be and he hereby is appointed guardian of the said minor." April 1820
So, this tells me that Elizabeth was supposedly married to a man named Isett who abandoned his family and to my knowledge was never heard from again leaving a wife and presumably one young son.  There are no other orphan's court records pertaining to any other children bearing the Isett or Matthew surnames.  In 1820, James Isett was seven years old, and his mother was already remarried to a man with the last name of Matthew.
Now the records were filed in Huntingdon County in 1820, but at that time, Blair County was also included as part of Huntingdon.  So, did James K. Isett's mother live in Huntingdon County or what would later become Blair County?  I don't know.  Thomas Lloyd became the legal guardian of James, and he bound him out to a farmer named Moore in Walker Township.  James Lloyd definitely lived in Huntingdon County, and Walker Township is in Huntingdon County.  James Isett lived all the rest of his life and died in Huntingdon County.
I have often assumed Elizabeth lived in Huntingdon County too, but I can find no further trace of her beyond the 1820 court record.  She is not buried in any local cemetery unless it is in an unmarked grave.  She is not buried near her son or young grandchildren.
Presumably, Elizabeth was probably young enough to have more children in her second marriage.  So, James K. Isett might have some half siblings.  The name Mathew/Matthew/Mathews/Matthews is not that common in this area.  However, that has not made my search any easier.
I was searching Find-a-Grave the other day and found an Elizabeth Matthews buried in the Geeseytown Cemetery in Frankstown Township, Blair County.  She died November 8, 1877 at 79 years and 1 month.  I immediately got excited because there is a Jacob Isett buried in that cemetery (1780-1853) also.  I wondered if he could be a brother to her husband or even her "husband."  It is unknown who Jacob Isett's father was.  Jacob was first married to a Sarah and then later to Catherine (Cunningham) Jones.  But, the bad news is that when I checked the Geeseytown Cemetery records at the Blair County Genealogical Society, I could find no mention of an Elizabeth Matthews being buried in the Geeseytown Cemetery!  Just my luck...
I did find a will in Blair County for James S. Mathews who died between 1864-1866 in Logan Township, who named his wife Elizabeth.  He left his estate to her, but at the time of her death it was to go to his first wife's children, no strike that, to his son, James M. McCloud.  In the will, the first wife's children was literally crossed out and James M. McCloud was written in.  How does a man named Mathews have a son named McCloud?  Anything to make this more complicated and confusing!
Is this the same Elizabeth above, second wife of James S. Mathews, who is supposedly buried in Geeseytown Cemetery?  If so, where is her husband buried?  Why can't I find James M. McCloud in any census record?  Are any of these Elizabeths the mother of my James K. Isett?
Why can't I get a break on this family????  I am begging...if you read this information and can help in any way, please use the Contact Me button at the left or comment on the blog post below.
My family and I took advantage of the first program of the summer season at Greenwood Furnace State Park.  The program was conducted by Paul Fagley, their historian and educational interpreter.  The program, which he titled "Three Squares and a Cot" was a virtual tour of five local Civilian Conservation Corps camps that were local to Greenwood Furnace State Park and conducted work within the park.  I took notes and photographs during his presentation and would like to share his hard work with you here.
This year, 2013, marks the 80th anniversary of the creation of the CCC.  The program was started by Franklin D. Roosevelt, when America was in the grip of the Great Depression.  Roosevelt was inaugurated on March 4, 1933.  Two weeks later, he presented the idea to Congress.  Congress passed the bill on March 27, 1933, and the first CCC camp was opened on April 17, 1933.  In only 42 days, the President created a program that would transform the country.
The CCC gave the men "Three Squares and a Cot" or three meals a day and a bed to sleep in as part of the new work program.  With the nickname "Roosevelt's Tree Army" and the motto "We can take it!," 3,463.776 men enrolled over the course of the program.  They could work for 6 months and/or up to two years.  The men were predominantly between the ages of 18 and 25, unemployed, unmarried, and were from a family on relief.  There were also veterans of the Spanish American War and World War I who could serve with no restrictions.  The men were paid $30 a month, or $1 a day, and were required to send $25 home and could keep $5 as spending money.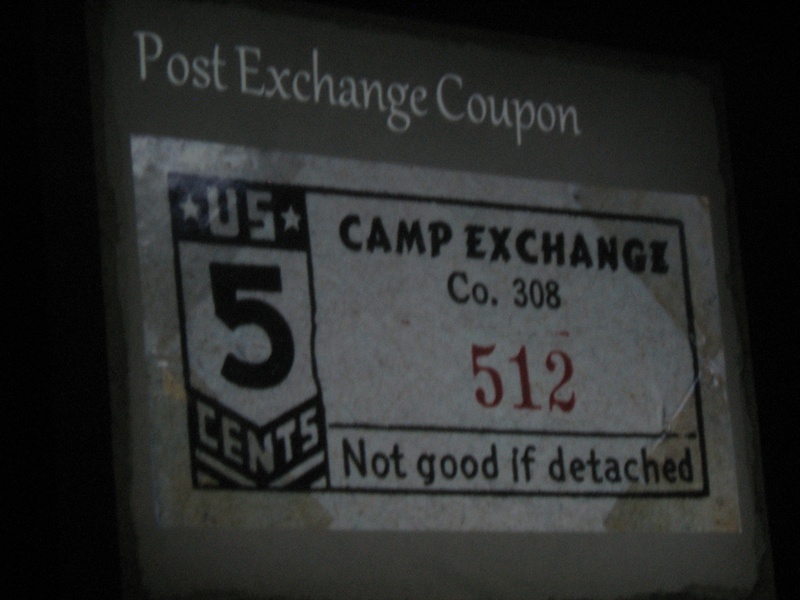 This photo was taken during Paul Fagley's presentation.
Over the course of the Civilian Conservation Corps, 40,000 men learned to read and write.  They planted over 3 billion trees, and built 800 state parks.  Many of the enrollees went on to become soldiers in World War II.  The program was de-funded by Congress on June 30, 1942, but was never officially terminated.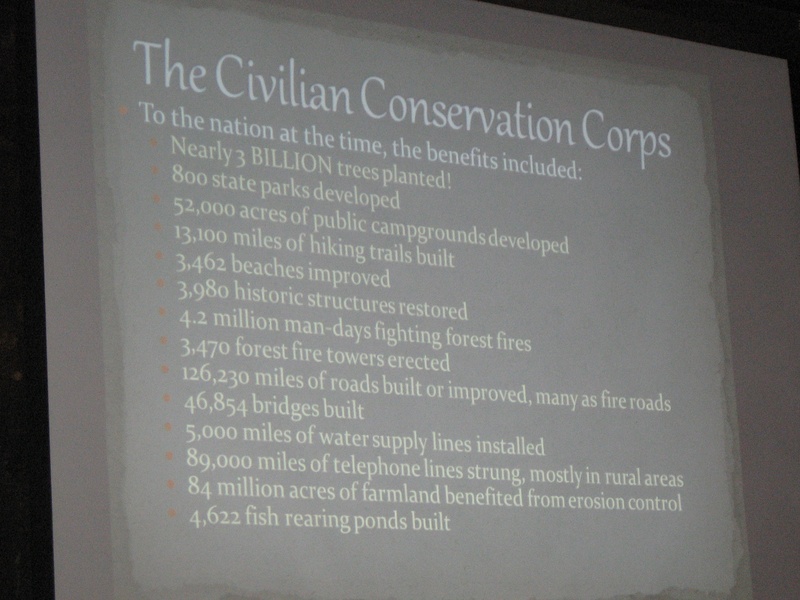 This photo was taken during Paul Fagley's presentation.
The CCC did over $400 billion worth of work in Pennsylvania alone on the value of money in the 1930s.  Pennsylvania had the second highest number of CCC camps behind California.  The first camp opened in Pennsylvania in May 1933.  
Some famous CCC alumni include:  Robert Mitchum, Aldo Leopold, Stan Musial, Walter Matthau, Chuck Yeager, Dave Akeman, and Raymond Burr.  
There were different kinds of Civilian Conservation Corps camps.  Most of the ones around Huntingdon County were state forest camps and are designated by an "S" for state forest.  There was one soil conservation service camp that went by "SCS."  Other designations across the United States include ANF, MP, NP, P, SP, and A or AF.  These stood for Allegheny National Forest, Military Park, National Park, etc.
Most companies had no designation, but there were some that did.  There were colored companies (C), veterans companies (V), American Indian companies (I), womens companies (W), and mixed race companies (X).  Paul Fagley said the womens companies were often referred to as the "She-She-She."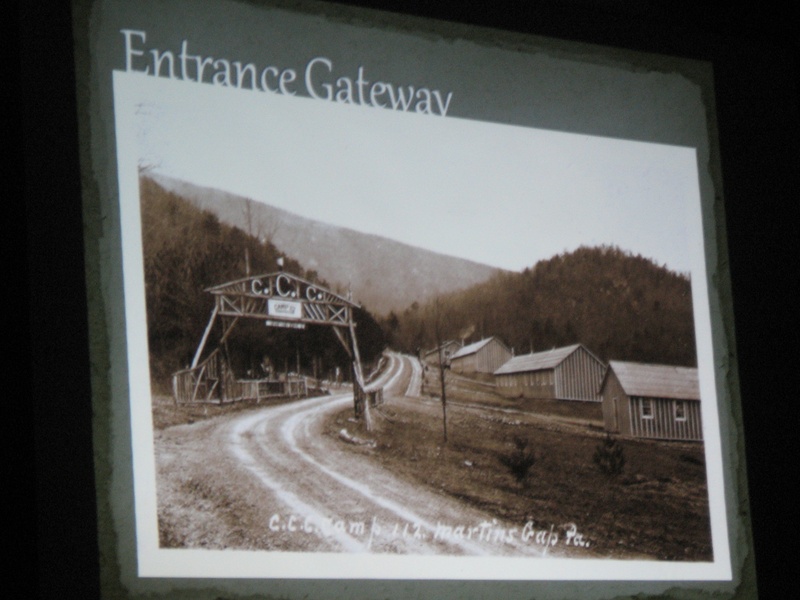 This photo was taken during Paul Fagley's presentation, and is from Camp S-112.
Each camp consisted of 4-5 barracks, a mess hall, recreation hall, administrative building with a hospital, educational building, bathroom and shower facilities, sheds, power house, officers quarters, and other necessary buildings.  Most buildings followed the same construction templates.  When camps were first formed, enrollees lived in tents or "tent cities" until they could construct the permanent buildings.  Remnants of the camps still exist if you know where to look.  When the buildings were torn down, the workers planted spruce trees.  So, if you find the grove of spruce trees you can find chimneys, fireplaces, flag pole bases, and even some existing buildings.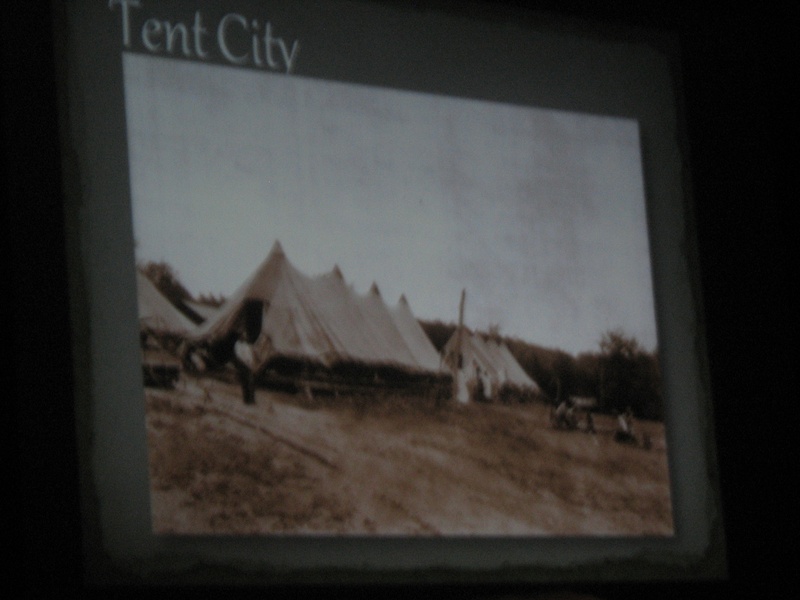 This photo was taken during Paul Fagley's presentation, and is from Camp S-59.
Over the course of the evening, Paul Fagley gave a virtual tour of camp S-59, S-60, S-61, S-62, and S-112 using aerial and close-up photographs of the buildings and men who worked at each camp.  To learn more about each camp, please click on my Civilian Conservation Corps home page.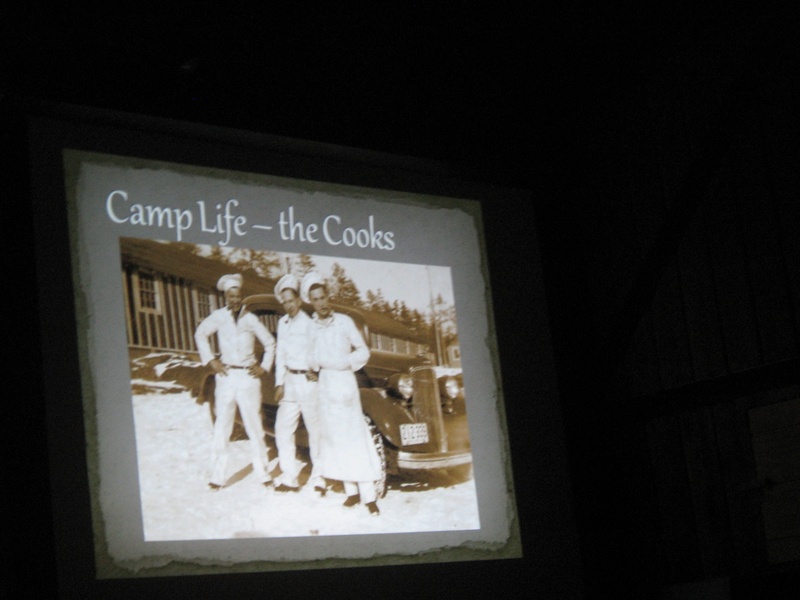 This photo was taken during Paul Fagley's presentation, and is from Camp S-61.

It was quite fitting that I was able to attend Paul Fagley's presentation this evening to gather and share information.  I have been corresponding this past week with Keith Kenawell, whose father George Kenawell, served at Camp S-60.  George was from Hollidaysburg, PA, which is in neighboring Blair County.  George was there from 1940-1941 and Keith has an extensive collection of photos and artifacts.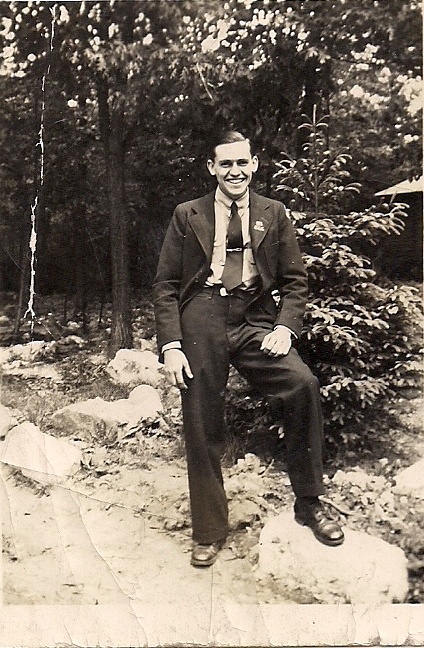 The photo above is of George Kenawell in his dress uniform at the Owl's Gap camp.  
Keith's treasures include a 1940 Thanksgiving Menu and Roster that lists all of the names of the men who were present at the camp.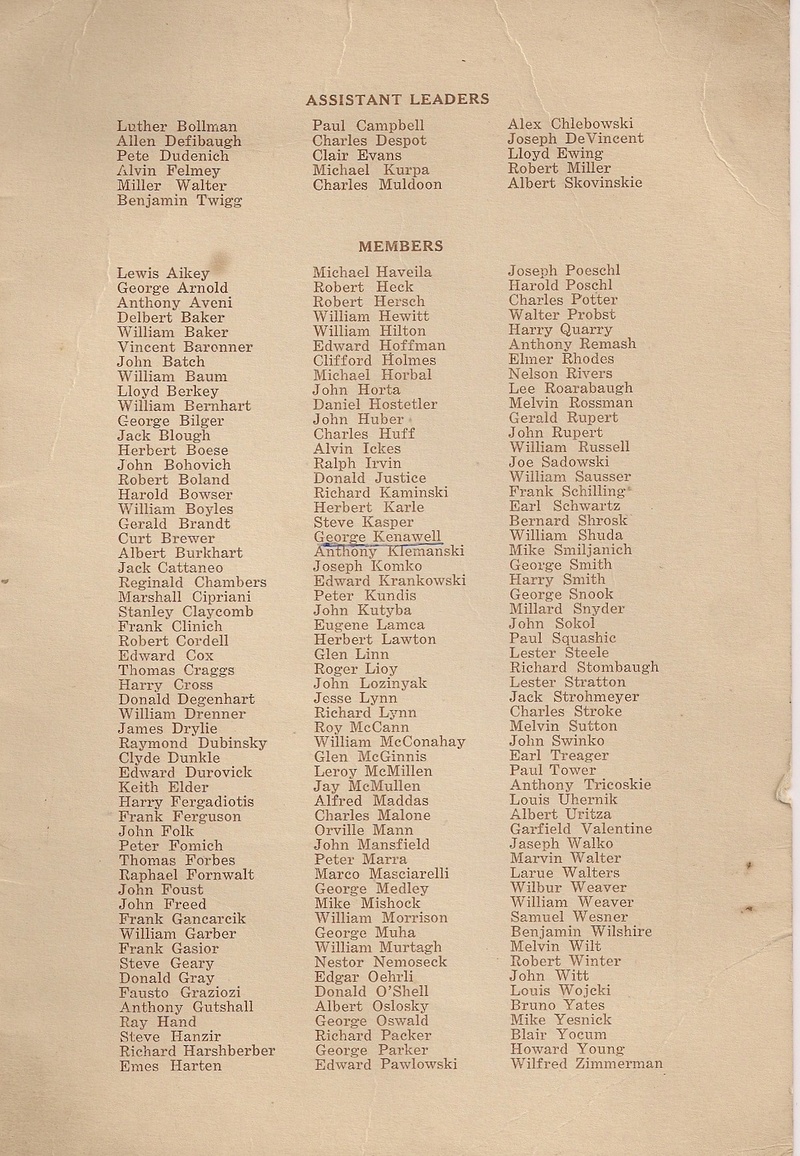 This is the second page of the roster that shows most of the names.  The officers were listed on the preceeding page.  All of the names from S-60 in 1940 have been included in my Civilian Conservation Corps Workers database.  Thanks to Keith, I added over 200 more names to the list.  I have also included all of Keith's scans in the Civilian Conservation Corps photo album.  
There will be another program on the Civilian Conservation Corps this summer at Greenwood Furnace State Park on July 20 entitled "We Can Take It!" the motto of the CCC.  The program will be conducted by historian John Eastlake.  For more information, you can see this event on the calendar.
As Paul Fagley said tonight, it is so important that we celebrate the 80th anniversary of the CCC, because this is probably the last anniversary that we will have living survivors with us who worked for the Civilian Conservation Corps.  The youngest members are now in their 90s.  Most will probably not live to see the 90th reunion.
As always, I welcome information on any CCC member as well as photographs and documents.  While I especially love information on those from Huntingdon County and the surrounding areas, I will include information on any CCC veteran from around the United States as a way to honor them and the special work they did for our country during a difficult time in American history.  If you know of someone who worked for the CCC, please send me his information.
The Riley family has been putting flags on seven of the Woodcock Valley cemeteries for many generations.  We finished putting flags on for Memorial Day 2013 this evening.  My husband and I usually do the flags, but we had to add some extra help this year since my husband broke his leg!  My father-in-law was glad to help; and I enjoyed his help, because it was like a walking history lesson.
I was contacted by Dale Norris this past year, who found another veteran in the Old Stone Church Cemetery that has never had a marker or flag to decorate his tombstone.  It turns out after some research that the Reverand Matthew G. Boyer was another Civil War representative from the Woodcock Valley.
Matthew G. Boyer was born March 10, 1839, a son of Henry Boyer and Susannah Brumbaugh (Garner) Boyer.  In 1863, Matthew G. Boyer was a student at Gettysburg College and Seminary.  In the midst of the Civil War, with troops approaching Gettysburg, Matthew G. Boyer, along with 56 of his classmates, joined Company A of the 26th Pennsylvania Emergency Militia Infantry.  The unit was organized at Harrisburg on June 22, 1863 for the protection of Pennsylvania against Lee's invasion, and was mustered out on July 31, 1863.  Mattew G. Boyer was a private.  More information about his regiment can be found by clicking on the link above.  You can also view his name on the Pennsylvania Monument at Gettysburg by clicking on the link.
Matthew G. Boyer was not a long-term veteran, but he helped to do his part at Gettysburg:
26th Pennsylvania Emergency Infantry o

rganized at Harrisburg and volunteered for the emergency

Mustered into United States service June 22, 1863
Mustered out July 31, 1863
Co. A recruited from Pennsylvania College and Gettysburg
Total enrollment 743
Captured and missing in Gettysburg campaign - 

176 officers and men

The First Union Regiment to engage the Confederates 

at Gettysburg and delaying their advance one day.
So, this Memorial Day, we are proud to place a flag and Civil War marker on the grave of Matthew G. Boyer.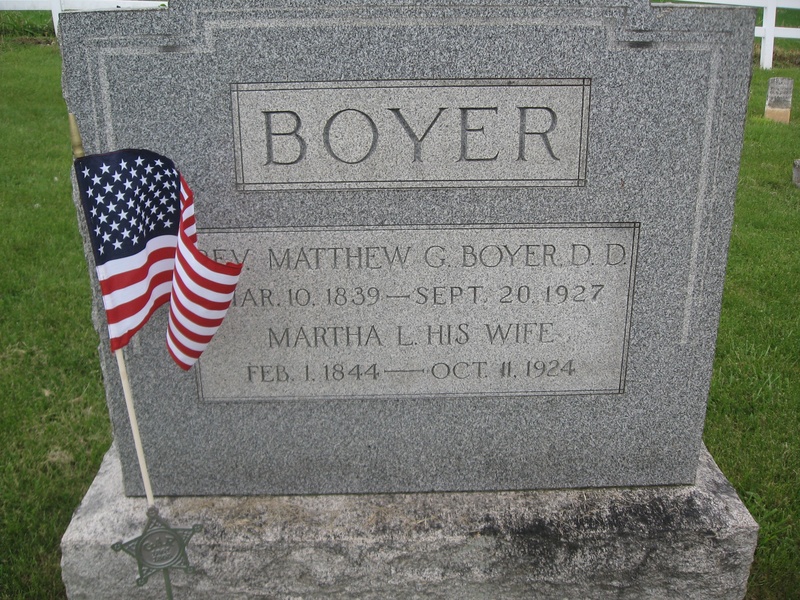 Matthew G. Boyer earned his doctorate at the University of Pennsylvania.  He married Martha L. Stauffer.  They were the parents of at least three sons and one daughter.  Matthew G. Boyer died on September 20, 1927, and is buried in the Old Stone Church Cemetery in Penn Township, Huntingdon County, Pennsylvania.
There was one other stone I photographed this year too.  I've been putting a flag on the stone of Gerald I. Grubb since I started helping my future husband in 2002.  However, I had no personal connection to Gerald until this year.  Earlier in 2012, I did a blog post on Gerald Isaac Grubb after I was contacted by Nancy, who had found his World War II journal.  Gerald paid the ultimate sacrafice while serving his country in the Aleutian Island area.  
I was recently contacted by Gerald's niece, Karla, and his sister-in-law, Ruth.  They read my blog post and were eager to be in touch with Nancy.  It turns out that the family knew about Gerald's journal, but were unsure what had ever happened to it. Gerald's mother received his belongings when he was killed, but the journal contained privileged information and could not be returned until after the end of the war.  Unfortunately, it never made it's way back home to the family. Nancy found the journal in a Goodwill Store in Maryland.  Karla has been in contact with Nancy and is hopeful that she can someday add her Uncle Gerald's journal to his foot locker.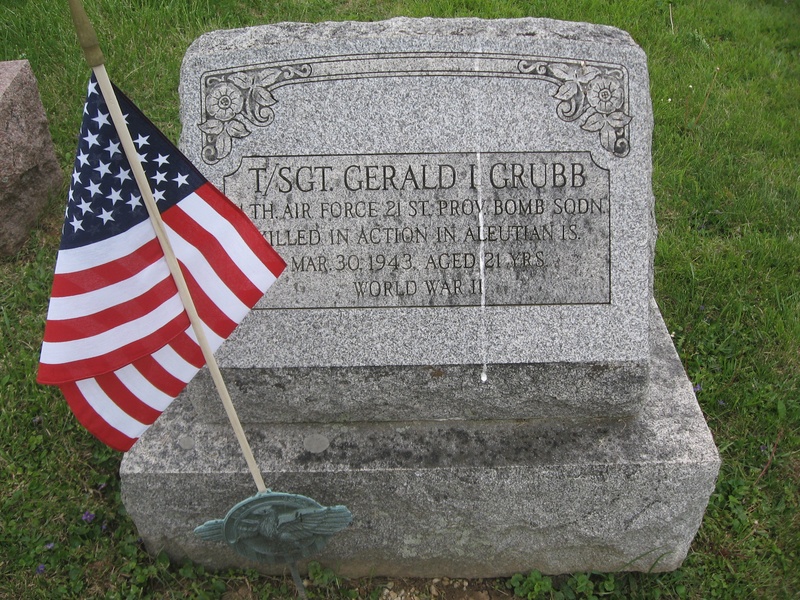 We remember all of the Woodcock Valley veteran's who defended our country this Memorial Day including Matthew G. Boyer and Gerald Isaac Grubb, as well as those who are still bravely defending our country!
And, I guess we are just going to have to say I am DNA cursed!!!
In the summer of 2012, I had my husband do the Family Finder DNA test through Family Tree DNA.  I had one purpose in mind...to once and for all solve the mystery of his James K. Isett (1813-1863)  family tree.  Well, he had 190 distant "cousin" matches, and a few closer matches, but all we did was prove he had no close matches to any other Isett names that have already been tested.  This more or less proves that he does not belong to any of the well established Isett lines through Frederick and Barbara Isett, the immigrants, and their two known sons Jacob Isett (b. abt. 1725 and died before 1790) and Frederick Isett (1730-1803).  However, interestingly, he did match a person who has ties to these Isett lines through marriage.  
In my heart, I still suspect my husband's ancestor was adopted, or was the product of a "non-paternal" event of some sort.  It will be interesting to see what happens as more people are eventually tested.  For anyone with an interest, my husband's kit number is 250393.  
In the spring of 2013, I tested my father's DNA using the Y-DNA 37 test in hopes of taking my Fisher line further back in time than my 3X great grandfather, Henry Fisher (abt. 1796 - 1876).  I started off believing he would test into a Berks County, PA line, but with further research and while waiting on the results, I suspected this would not be the case.  I did not disappoint myself...my dad did not match any other tested line!
At 12 markers, he matched 2,513 people.  Of those, 24 of his matches still bore the last name of Fisher or Fischer.  At 25 markers, he had 44 matches.  None of these matces still carry the last name of Fisher/Fischer.  Most of his matches at the 25 marker level bear the name Vance or Bowman.  At 37 markers, he had 0 matches!  
So, what does this mean?  Either no one else from his direct line has been tested yet, or else there was an adoption or another "non-paternal" event that took place back when.  If you would like to look at his results, he is kit number 281525.
In both cases with my husband and my dad, it is like James K. Isett and Henry Fisher were just dropped from the sky into the Woodcock Valley area of Huntingdon and Bedford Counties respectively.  No one in the world wants to seem to claim them other than me.  I think the DNA is trying to tell me just that...these are lost souls who were outcasts from whatever family they supposedly belonged to.  
My hope is that as DNA testing continues to evolve that more and more people will be tested and that perhaps some day there will be a match to my husband and my father.  
Please understand that even though I feel I am DNA cursed, I still support DNA testing.  I have one genealogy friend who has broken down many brick walls through DNA testing in her family research.  I believe DNA testing is a valuable genealogical tool.  At the same time, I do want to warn others to be ready for the unexpected and be prepared to accept it if it does happen.  It is what it is.  They are still your family members no matter what the past reveals.
Family Tree DNA has lowered the price of their entry level Y-DNA 12 kit to just $49.  The recommended minimum level of testing is Y-DNA 37, but you can start with the lower priced kit and upgrade at any time as your finances allow and as sales are posted.  The Family Finder test is also a wonderful way to go if you want to look at all of your maternal and paternal lines and find other cousins who are also researching their families.  Family Tree DNA just announced that they are going to offer sale prices more frequently as their lab gets caught up on processing results in order to encourage more testing and make the prices more affordable to genealogists.
There are other DNA testing companies and opportunities available too.  I have only used Family Tree DNA.  If you have already tested through another company or choose to use a different testing facility, you can share your results at ysearch, which allows a platform for everyone to post their results and compare them to others who have been tested through any company.  You can only post Y-DNA test results.  My dad is listed as user 65YXD.
DNA testing is a whole other aspect to genealogical research.  I may feel cursed at the moment, but I am still optimistic that answers will be revealed in time and with patience and continued research.
You can also visit my personal family database at
/