Shopping Cart
Your Cart is Empty
There was an error with PayPal
Click here to try again
Thank you for your business!
You should be receiving an order confirmation from Paypal shortly.
Exit Shopping Cart
Genealogy of the Woodcock Valley
Huntingdon County, Pennsylvania
I often go to eBay and just type in a specific search relating to local history to see what comes up.  Some days are just luckier than others.  In mid-February, I found a photo that was eerily familiar to me.  At the time, I couldn't explain why, but the price was right and I bought it.  I took a look at what else the seller had for sale and found some other old photos that had great subject matter and I bought several more.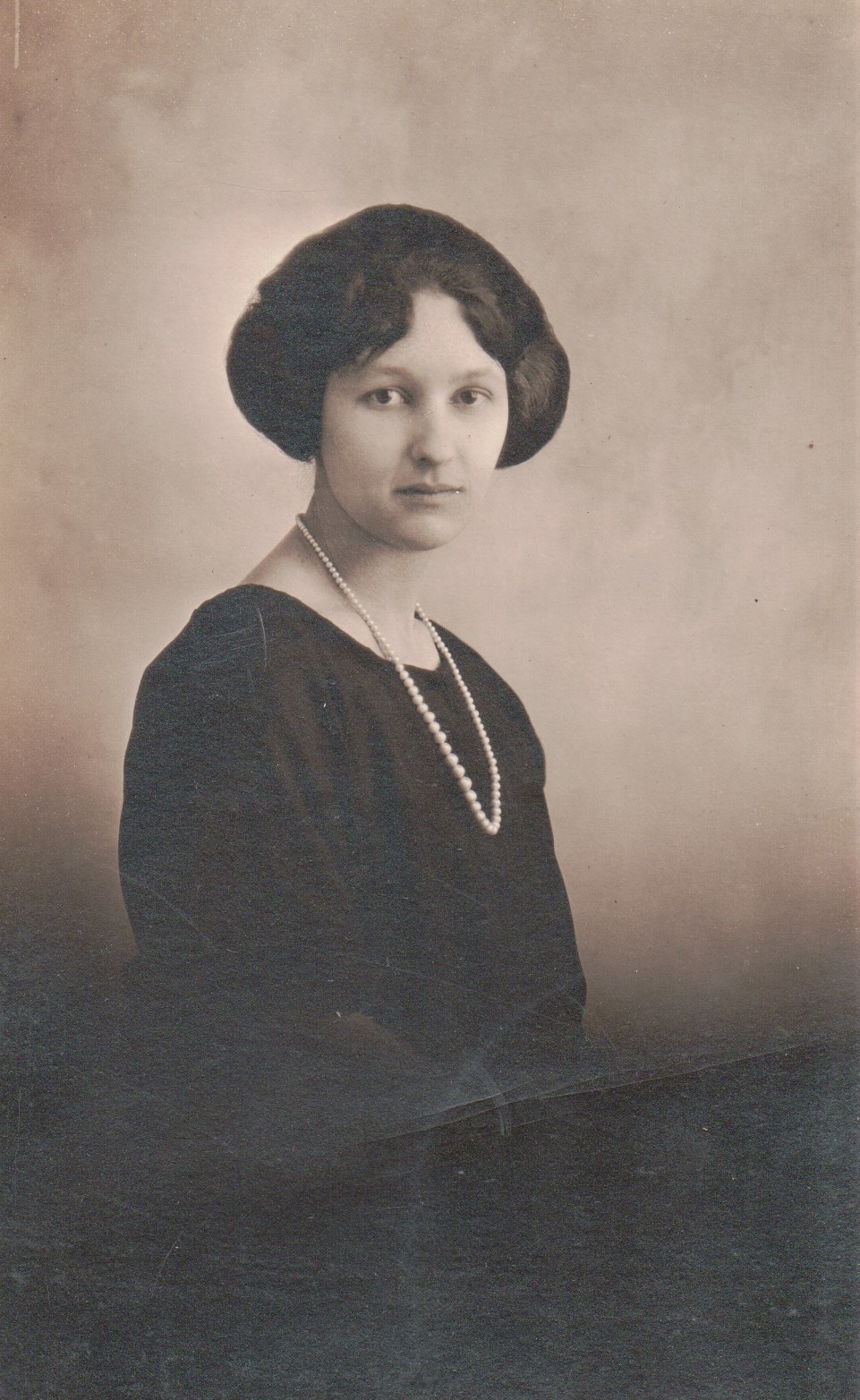 The photo that eerily caught my eye, Mary (Anderson) Snively
I continued to wait anxiously for my purchase over the next several days and continued to reflect on why the photo seemed so familiar to me.  After several days of not receiving any shipment confirmation, I contacted the eBay seller.  It turns out she had sent me an e-mail, which I had not received, telling me she had more photos from the same estate to post.  Through e-mail, I found out that the previous owners of the photos had moved to Florida, and she put me in contact with them.
After a reply e-mail from the previous owners of the photos, it became quite clear why the photo was eerily familiar to me...because she was a member of my family!  Meet Mary (Anderson) Snively, whose photo was already on my website!  No wonder she seemed so familiar!!!  Through e-mail correspondence, I found out that all of the photos posted on eBay were most likely related to the Anderson family.  So, I contacted the seller and purchased all of the remaining photos to share here in hopes that they can all be identified some day.
The photos belonged to Eva Margaretta (Stone) Thompson (1904-1996).  She was the daughter of an unknown Stone father and Anna Eleanor Anderson (1879-1968].  Her mother then married Raymond Orland Rinker (1885-1968].  Together, they had four more children.  Eva married William C. Thompson (1901-1984), and they had ten children.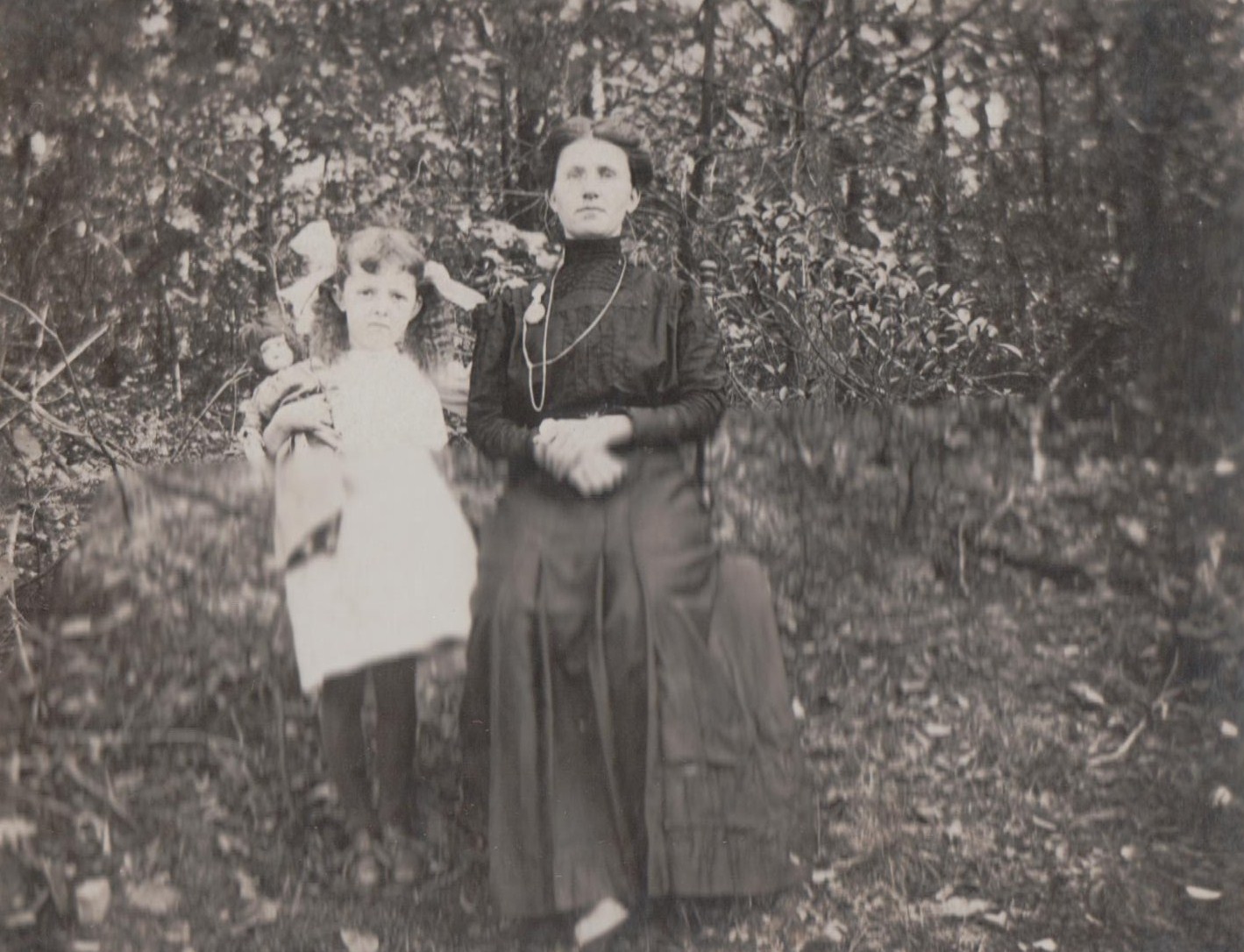 Eva Margaretta (Stone) Thompson and her mother, Anna Eleanor (Anderson) Rinker
The lineage starts with the oldest portrait of Henry Anderson (1842-1910) and his wfie, Mary Jane (Grubb) Anderson (1841-1918].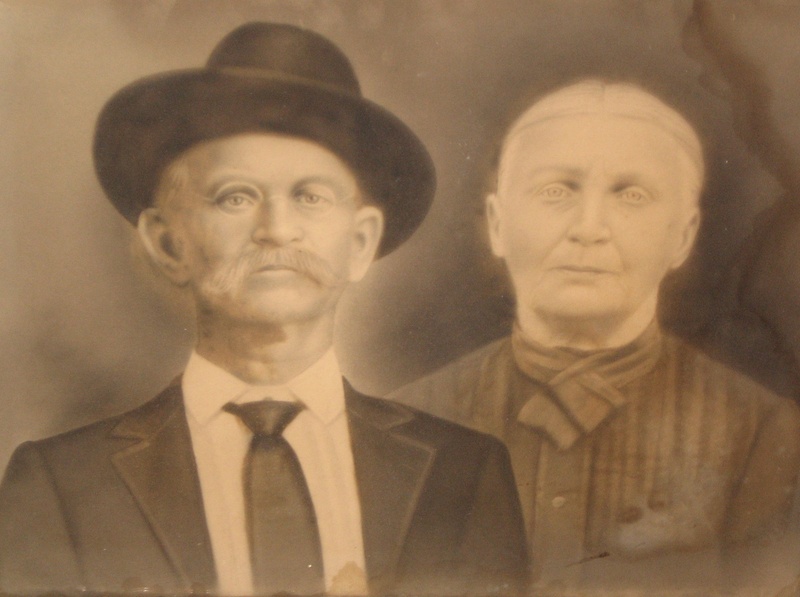 Henry and Mary Jane (Grubb) Anderson
Eva's mother, Anna Eleanor, was the youngest daughter of Henry and Mary Jane.  It is believed that most of the photos in the Eva (Stone) Thompson Family album are most likely from the Anderson side of the family.  Only a few of the photos were labeled or known, and indications are that they are probably related to the Anderson side of the family.
So, what is my connection to these people?  My great, great grandmother, Ruhama A. (Anderson) Norris (1846-19194) was the sister of Henry Anderson above.  AND, my great aunt, Sarah Blanche (Fisher) Rinker (1889-1975) married Leslie Frank Rinker, a brother of Raymond Orlando Rinker.  See why I love genealogy so much - especially in the Woodcock Valley?  I am connected to this group of photos on both my father's maternal and paternal sides.
What makes this find even more interesting is that Ruby (Shirk) Keller shared some of these exact same photos with me in her album, Ruby Shirk Keller Collection, including this photo of the Anderson Family.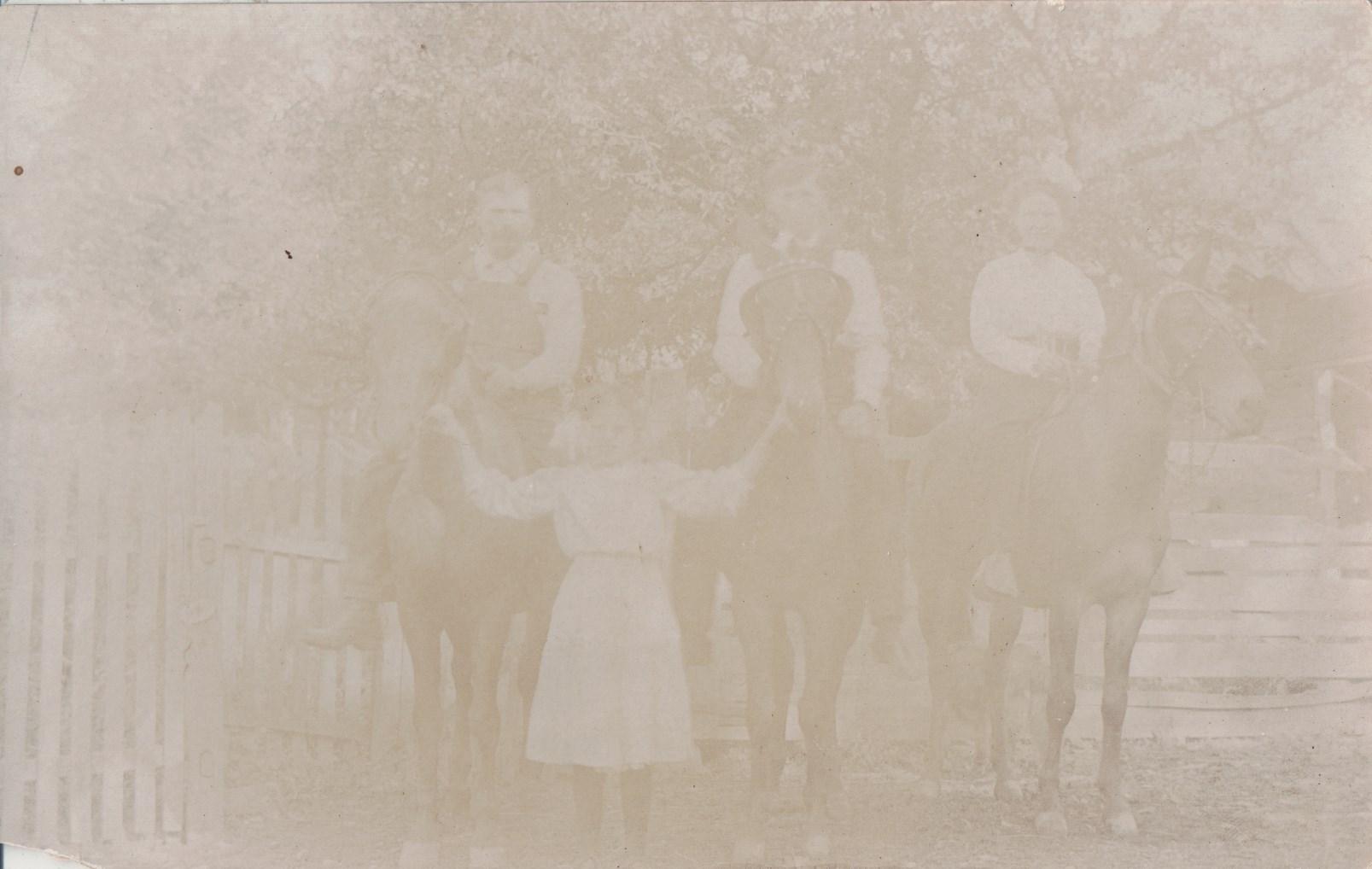 The Anderson Family
Also included in some of Ruby's photos were a photo of Anna Eleanor (Anderson) Rinker and a Stone family.  The original owner of the family would love to learn more about who Eva Margaretta Stone's father might have been.  Could he be in one of Ruby's photos?
I am thrilled to take possession of these photos, but would be ecstatic if others could help me identify some of the unknown photos.  At least two of the photos appear to be sisters with their spouses and children.  If you have information, please comment or contact me.
The Huntingdon County Historical Society held their first Civil War Living History Weekend on June 7 and 8, 2014 at the Huntingdon County Fairgrounds.   The event hosted various reenactment groups including members of Company C of the 53rd Pennsylvania Volunteer Infantry, Company C of the 125th Pennsylvania Volunteer Infantry, Battery B Artillery from Boalsburg, Dr. Hayden portraying a Civil War surgeon, the Aughwick Civil War Roundtable, and Irvin Myers the auther of "We Might as Well Die Here."  
I have visited Gettysburg countless times, but have never really been to a living history event or even any sort of reenactment before.  So, this was all new to me.  My son was eager to visit with just the mention of guns.  It was hard to explain to an almost five year old what the Civil War was all about.  He wanted to know who the bad guys were.  I just explained it as there were no bad guys; just men with a difference of opinion trying to work everything out.  It was a sad time for everyone.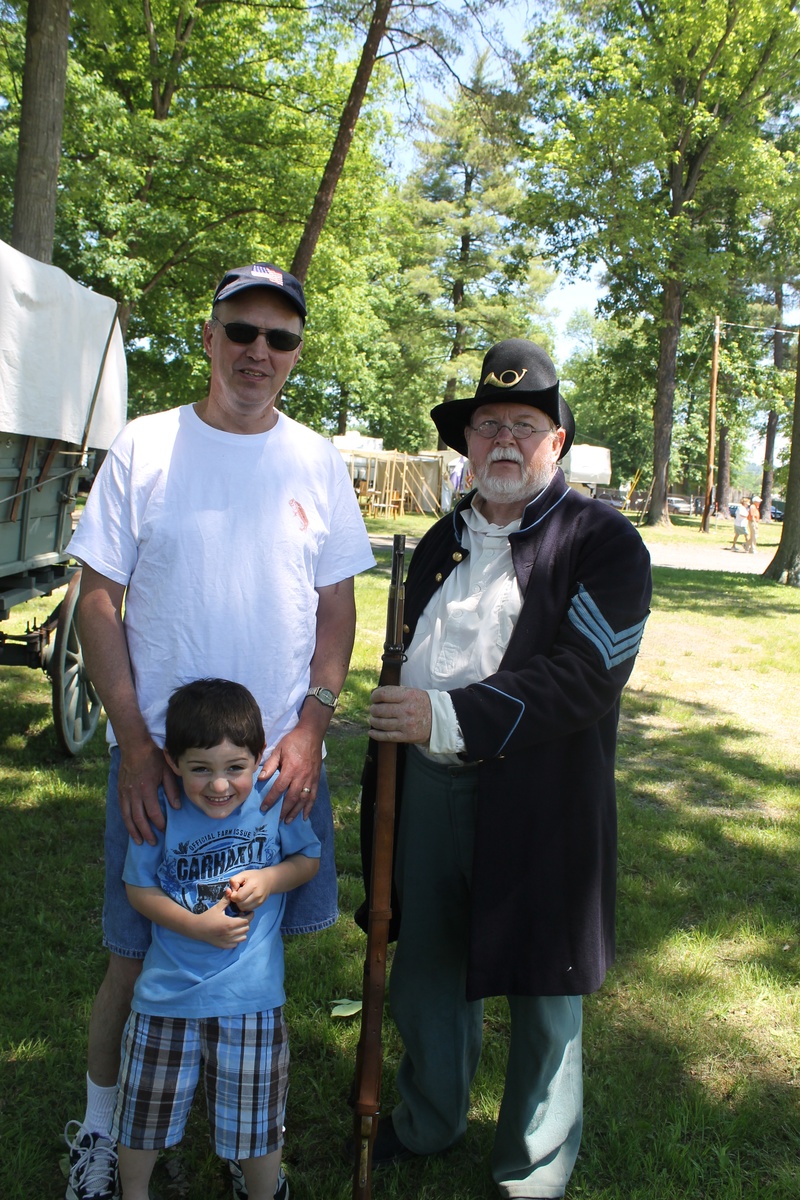 Here is a photo of my husband, son, and local reenactor, Bob Stewart.  
I was most excited to see men in uniform representing Company C of the 53rd P. V. I.  Many of my ancestors fought in this company, as did many others representing the Woodcock Valley.  You can learn more about this company by visiting my Company C of the 53rd Pennsylvania Volunteer Infantry page.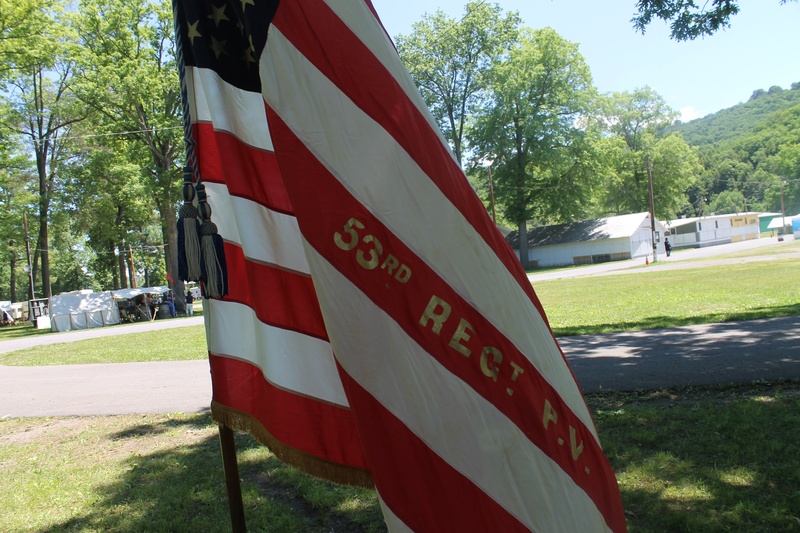 The flag for the 53rd at their encampment.
Mike Espenshade with Company C of the 53rd Pennsylvania Volunteer Infantry spent many hours at the Historical Society trying to learn more about the men from Huntingdon and Blair Counties who joined Co. C of the 53rd back in 1863.  He and his men have a genuine interest in learning more about the men they portray.  Their encampment was a popular spot for visitors who stopped to talk to the men and share information about their family members who had served with Co. C of the 53rd.  For me, two immediate names come to mind:  Samuel Wilson Norris and Matthew G. Isett.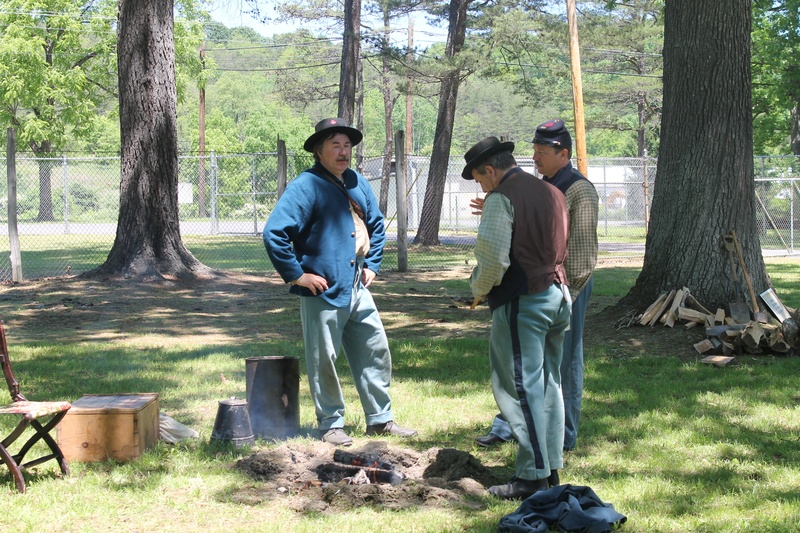 Members of Co. C of the 53rd P. V. I. enjoying a moment of camp life at lunch time.
One piece of history on display from the Huntingdon County Historical Society was the GAR roster from Co. C of the 125th Pennsylvania Volunteer Infantry, often referred to as the "Bible Company."  I never realized how deeply rooted in Huntingdon County history this company was prior to the Living History weekend.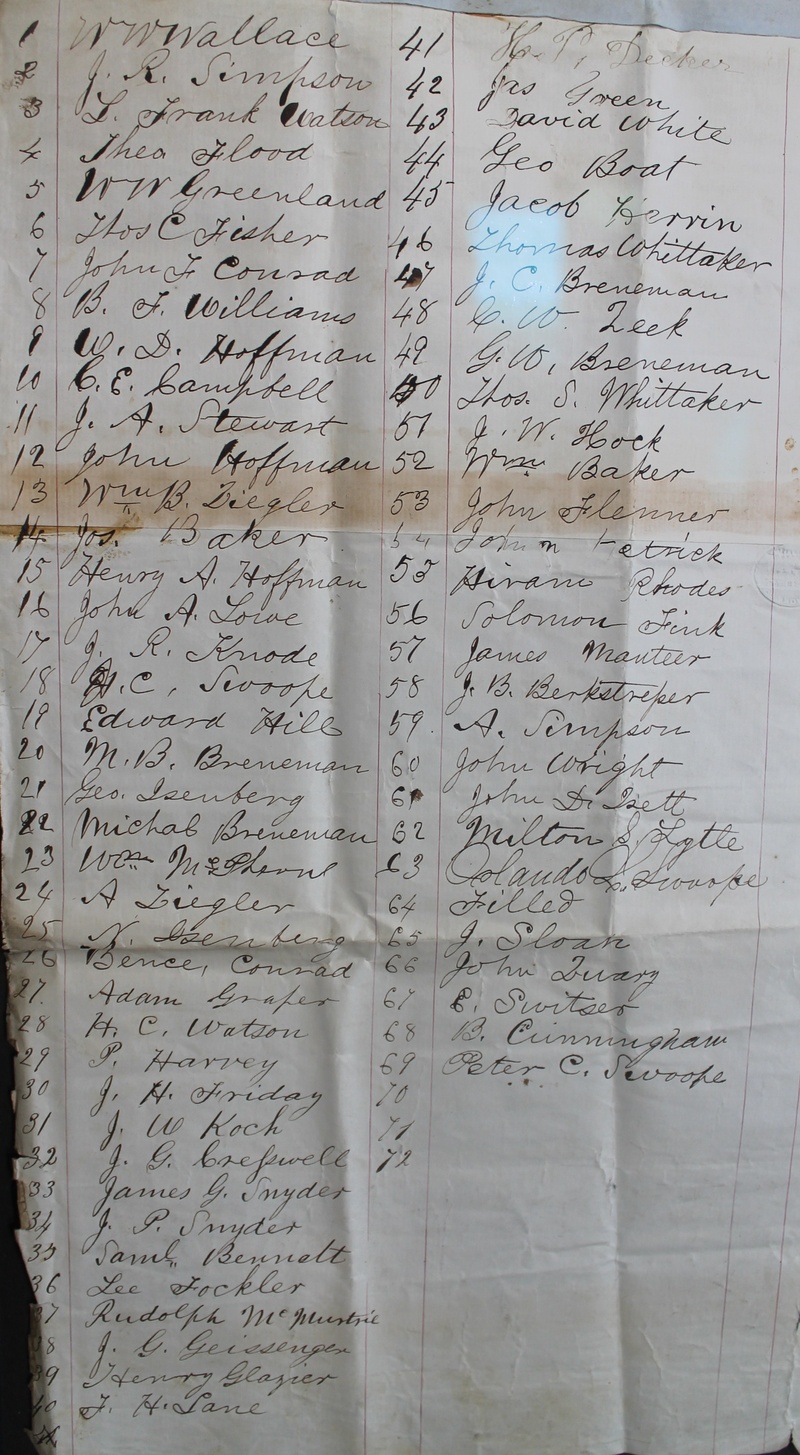 The sign-up roster for Co. C of the 125th was on display during the Living History Weekend compliments of Karl Lang.  The roster shows the local names.
After seeing the public interest in the local names of those who served in "The Bible Company," I have started a page dedicated to Company C of the 125th Pennsylvania Volunteer Infantry.  The page will chronicle the company's formation, movement, and battles, as well as list those who served in the company with some personal information on as many as possible.  As always, photographs are welcomed.  The photos can be linked to the individual names and group photos can be included on the page.  If you have photos to contribute or additional  information, please complete a Roll Call form for Co. C of the 125th.  I also created a new photo album titled Faces of the 125th PVI that contains photos and letters of the men from the 125th.
Finally, no Civil War Living History Weekend would be complete without the sound of cannons filling the air.  I think this was probably one of my son's most favorite parts of the event.  The men of Battery B did such a great job of answering his 50+ strange and completely random questions.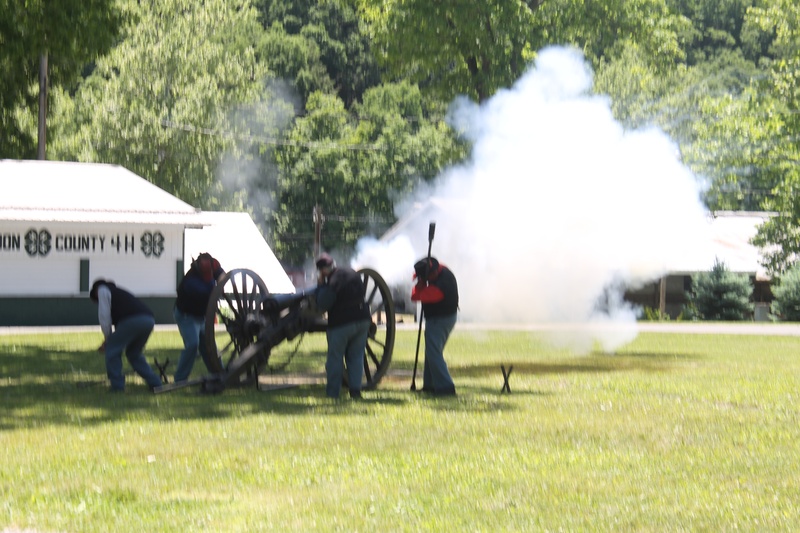 Overall, the Civil War Living History Weekend was very successful.  There is already another one in the planning for 2015 that will hopefully be bigger and better with calvalry and more hands-on activities and exhibits.  The goal is to then make this a biennial event.
On Saturday, May 17, 2014, I took my son to his first public auction.  I knew I would be on borrowed time with an almost five year-old in tow, but I was drawn to the local history books on the sale bill.  To my surprise, he did incrediby well entertaining himself with his iPad, a new little friend he made in the auctioneer's grandson, and amusing the crowd around him.  He quickly got into the swing of things and even tried to buy some things he wanted!
Thankfully, the local history books went up for sale very quickly, and I was able to get the book I really wanted by Albert Rung, which was volume I of Rung's Chronicles of Pennsylvania History.  Next up, I bought my son a Tonka toy grader, which bought me a little more time.
As we were previewing the auction items, there were two other items that I knew I could not leave without.  One was box K of photos and the other was photo album T.  We waited and waited for them to be sold, and my son's ADHD was starting to kick in.  I knew I was on thin ice, so I went and asked the owner to move them up to be sold quickly before those around me staged a revolt.  
You see, in June 2010, I attended the estate auction of Charles Johnson in Entriken, where I purchased his obituary collection.  However, there were many boxes of photos sold that I did not get.  I earlier told my tale of woe and regret at losing out on the photos before I started this website.  Well, guess what...the box of photos I had really wanted resurfaced, alive and well, and still intact!  It had to be mine!!!  One of the photos in the box was labeled with my maiden name of Fisher, which is still a mystery work in progress.  This time, I got the box of photos, and while most are unknown, they will eventually be scanned and shared here.
The other item I knew I had to have was the one photo album that was almost completely labeled.  I immediately recognized all of the names in the album as belonging to the Woodcock Valley.  I paid a premium price, but I had to get this album to share with everyone.  After purchasing it, I asked the owner how he had come by it.  He said someone had brought it into his shop wanting to sell it; presumably a family member.
The photo album is a black album with black pages most likely dating from the 1920s or 1930s.  It contains photos of the David S. Johnston family.  David S. Johnston was born in 1839, a son of William and Elizabeth (Shultz) Johnston.  He married Hannah Mentzer.  Hannah was born in 1851.  David died in 1925 and Hannah in 1939.  They were the parents and grandparents of the following:
1.  David Elliott Johnston was born in March 1871 and died in 1947 in Huntingdon.  He married Bessie Woods, 1880-1960.  They were the parents of:
 Harold S.
Marjorie W.
Edwin Ned
Jean
2.  Myrtle B. "Mertie" Johnston was born in 1873 and died in 1916 in Clearfield Co., PA.  She married Charles G. Gill, Sr., 1871-1951.  They were the parents of:
Marion
Frances
Dorothy
Kathryn
Charles G., Jr.
3.  Lydia Elizabeth Johnston was born June 19, 1874 and died March 5, 1943 in Altoona, Blair Co., PA. She married Frederick J. Shollar, 1873-1960. They were the parents of:
 Gerald William
Marjorie
4.  Carlton Vance Johnston was born in May 1877 and lived in Huntingdon.  He married Emma Erwin.  They were the parents of:
Helen C.
Carlton R.
Frederick C.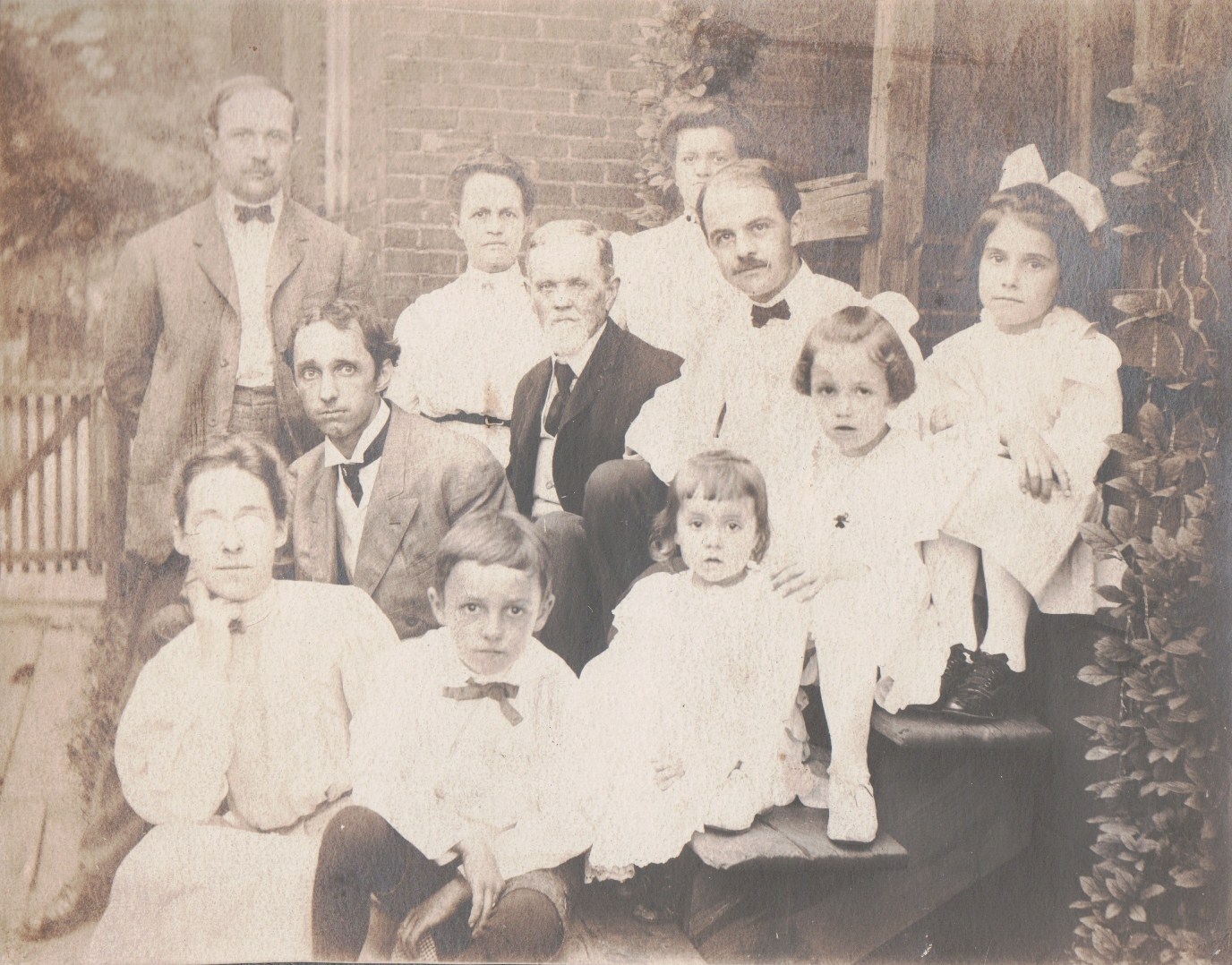 David S. Johnston and Hannah (Mentzer) Johnston, Mr. and Mrs. David Elliott Johnston, Mr. and Mrs. Carlton Vance Johnston, Fred Shollar, Gerald Shollar, Marjorie Shollar, Pauline Woods, Helen Johnston
It is not exactly known who organized the scrapbook, but it is suspected that perhaps it passed between two different individuals; both more than likely female members of the family.  The first section of the album is organized with older members of the family, and everyone is referred to as "Aunt," "Uncle," "Grandma," or "Grandpa."  No one is referred to as "Mother" or "Father"  The only real clue is that "Grandma Shollar" is referred to in one photo with "Grandma Johnston" so is it one of Lydia (Johnston) and Frederick Shollar's children that started the book?  Perhaps Marjorie (Shollar) Lewis Pratt?  If so, why does she refer to certain photos as "Uncle Fred" and "Aunt Lydia?" when these were her parents?  Later in the book, the handwriting is similar, but different.  There is a photo of a young lady who is actually referred to as "Me."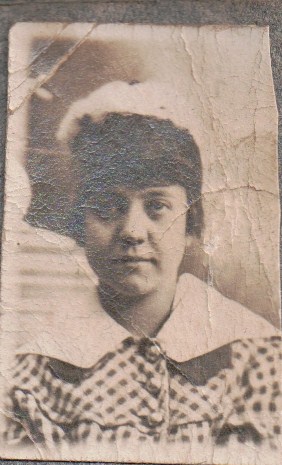 "Me"
In this section of the book, there are a lot of photos that appear to be friends and acquaintenances of the family.  Many of the names appear to be living in Altoona in the census records, where the Shollar family lived.  In Lydia (Johnston) Shollar's obituary, it lists 5 grandchildren, presumably all belonging to her daughter Marjorie as son Gerald's obituary did not list a wife or children.  Could "Me" above be one of Marjorie's daughters and Lydia's granddaughter?  There are a lot of unknowns about who the album belonged to.
Here is a family home that appeared in the album.  It is believed to be the Altoona home of Lydia Elizabeth (Johnston) Shollar and her husband Frederick J. Shollar.  It looks like Fred, Marjorie, and Gerald on the front porch.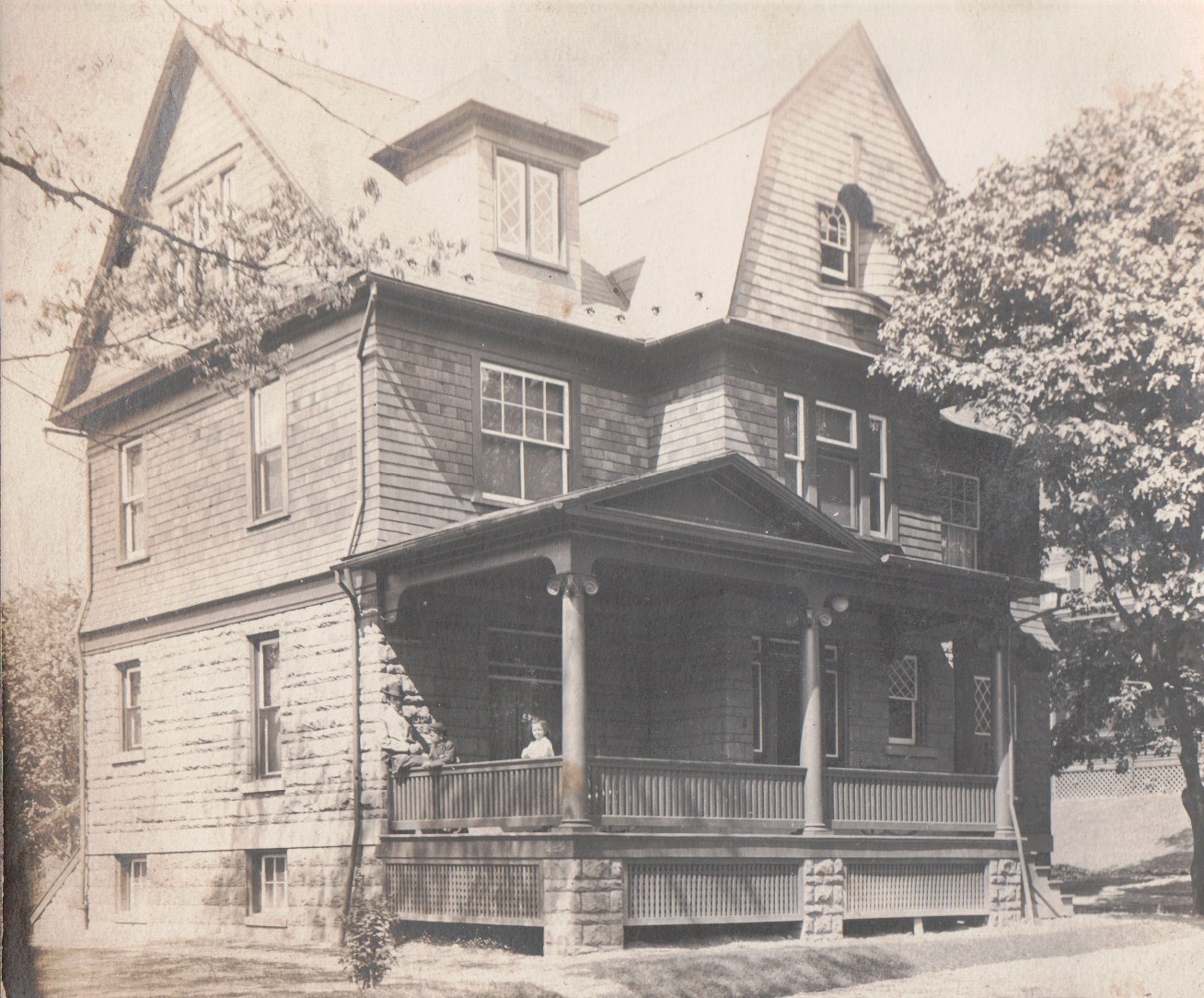 The family lived at either 2725 Broad Avenue where Lydia died in 1943 or 2000 Maple Avenue where Gerald died in 1951 and where Frederick lived until moving to California to reside with daughter Marjorie until his own death in 1960.  Frederick and Gerald were partners in an architectural firm, Shollar and Shollar.  There are also photos of the interior of the home in the photo album too.
There are many other interesting photos in the photo album too including this photo that shows what appears to be another family home with the family imposed over the home.
It is uncertain which family or home this might be.  The house is very large, and the children's ages do not quite work out correctly to be any of the Johnston children we know of.  Perhaps there are more children or grandchildren than I know about.
Here was another interesting photo, where the images were imposed over what appeared to be a newspaper article.  
Marjorie (Shollar) Lewis Pratt and Helen C. Johnston, cousins
To see the entire Johnston Photo Album collection, click on the link.  Every photo in the album is included except for a few photos of the interior view of the house above and some landscape views that were not labeled.  If a photo is not identified, then it was not labeled in the book and the person is not known.  As always, if you have additional information on the family or can identify a photo, please feel free to comment on this blog post or on an individual photo!
Riverview Cemetery is a large cemetery located in Huntingdon Borough.  The cemetery is maintained by borough employees.  If you are lucky enough to find the caretaker, you can sometimes luck out and be allowed to visit the office, where you can view the origianl burial cards.  The cemetery sits atop a hill over looing Stone Creek and is the resting place for some of Huntingdon's most notorious families.
The cemetery is a maze of gravestones that covers several city blocks. The roadways are narrow, steep, and confusing.  The tombstones sometimes are just as confusing to newcomers, because at first glace, they appear to be turned every which way!  Due to the size of the cemetery, no one has ever really taken on the monumentous task of transcribing the entire cemetery.  One student did a portion of the cemetery for part of his Eagle Scout project a number of years ago.
It has always been a goal of mine to transcribe the cemetery, but it is an undaunting task.  It would be much more realistic to be given access to the records and to type those up rather than trying to read the tombstones.  Fortunately, so many records are now available on-line through the generous donations of others and sites such as Find-a-Grave and Billion Graves.  
This week, Larry Wilson, shared two Excel spreadsheets with me that list over 8,000 burials in Riverview Cemetery.  I am not quite sure where he acquired this list, but he granted permission for me to share this information with others.  So, I created a Riverview Cemetery transcription page on the website to share his information.
Several weeks ago, I was contacted by Anita Palmer.  Her father, Albert F. Breitweiser, worked for the Civilian Conservation Corps at Camp S-61 Diamond Valley in Huntingdon County.  
Albert joined the Civilian Conservation Corps in September 1933 and worked three terms of six months each before leaving the CCC.  At first, he worked as a laborer at Diamond Valley.  However, when the camp leader found out he had been an Eagle Scout and was well versed in first aid, he was put in charge of the camp hospital!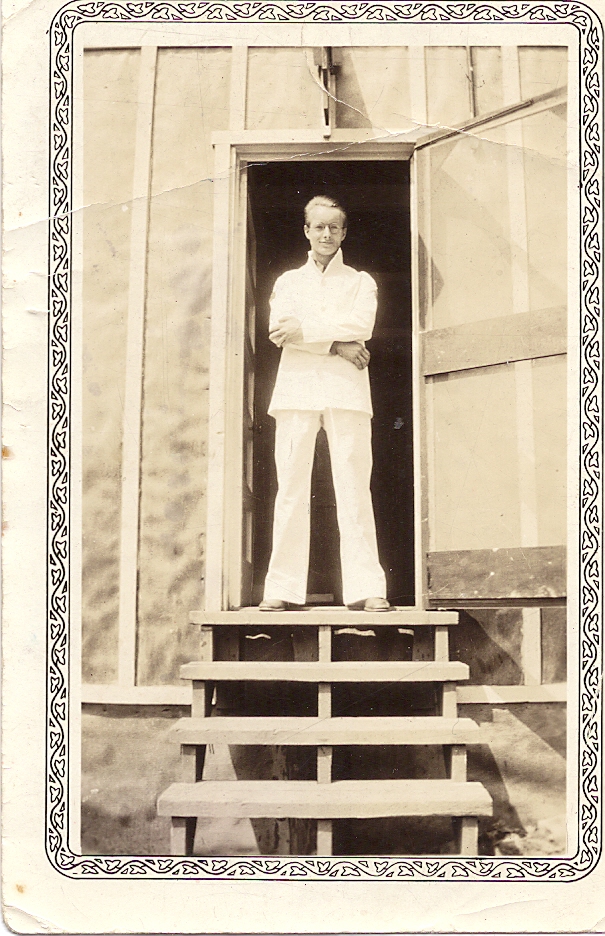 Albert Breitweiser is shown in the photo above in his hospital uniform, on the stairs of the camp hospital.
Albert kept a note book full of names and addresses of those who he worked with, or who visited the camp hospital.  Many of the names on the list include enrollees from Erie and Pittsburgh.  There are also some local names.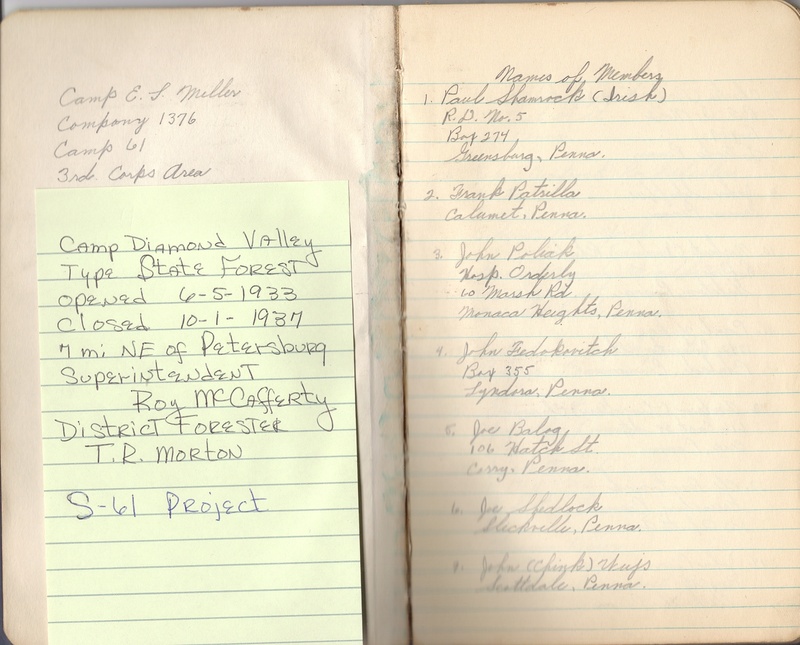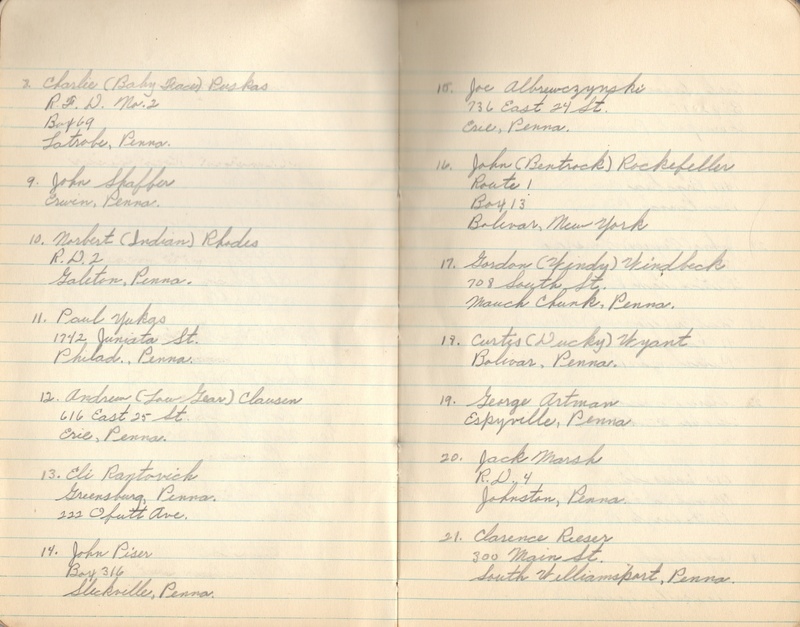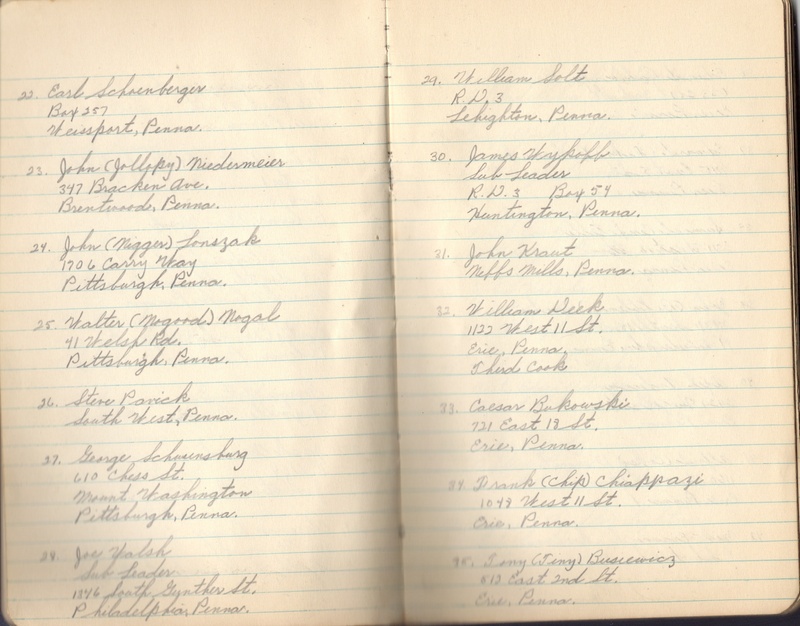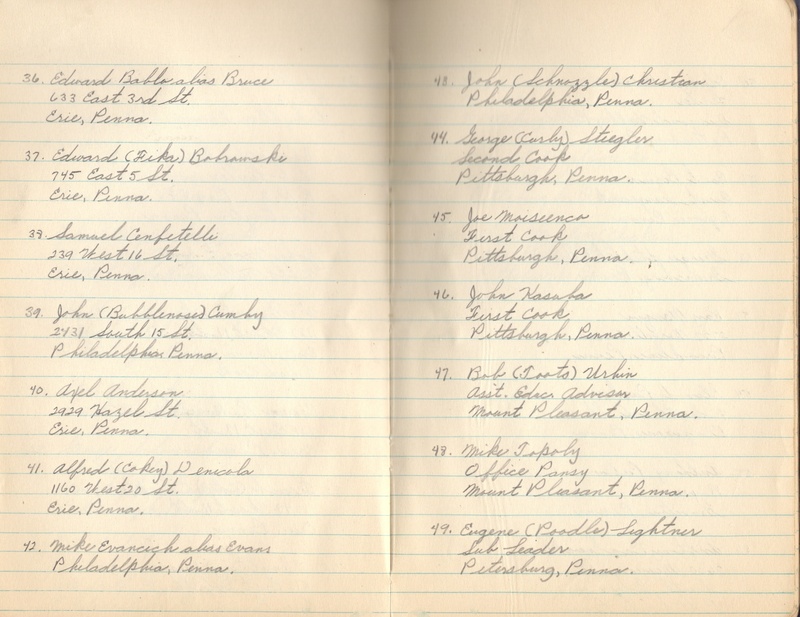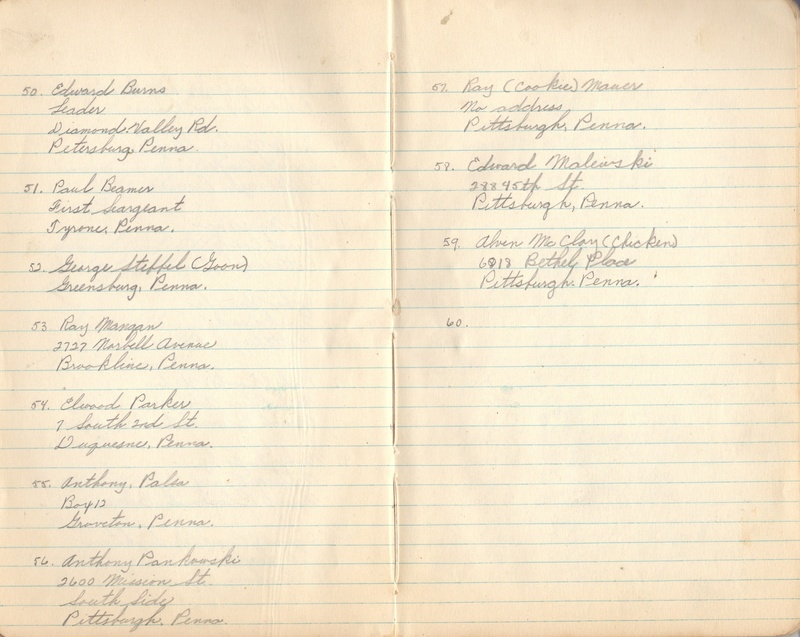 I have added the names from Albert's journal to the list of Civilian Conservation Corps Workers.  
In 1983, Albert was interviewed by the Erie Times newspaper about his experiences working for the Civilian Conservation Corps.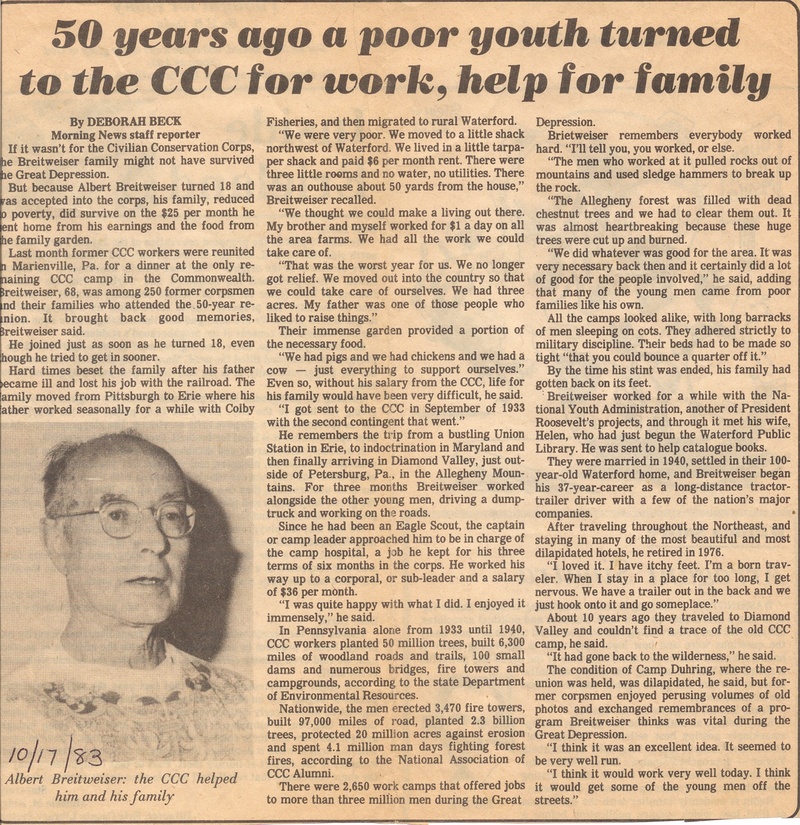 Anita also shared other photos that were in her father's collection from his days at Camp S-61 Diamond Valley.  You can see the photos in the Civilian Conservation Corps Photo Album, along with other submitted photos from the various camps in Huntingdon County.  
In closing, much appreciation goes out to Anita for sharing her father's photos, memories, journal, and history.  If you know someone who worked for the Civilian Conservation Corps, anywhere in the US, please share his name using the CCC Roll Call form.  I am always happy to add new names and photos!
It's no secret that the family I have enjoyed researching the most, but which is also my nemesis, is the Isett family.  This week, I had the opportunity to visit the Isett Heritage Museum.  I knew they had a photo of Matthew G. Isett in his Civil War uniform.  So after dropping my son off at preschool on Tuesday, I made my way to the top of Stone Creek Ridge armed with my camera.  I explained to the guide that I simply wanted to take a photo of Matthew G. Isett's photo.  He took me to building two, where all of these vintages photos were enlarged, and positioned around the ceiling of the building.  As he led me to Matthew G. Isett's photo, I got goosebumps!  It was so awesome to finally put a face to the Civil War hero.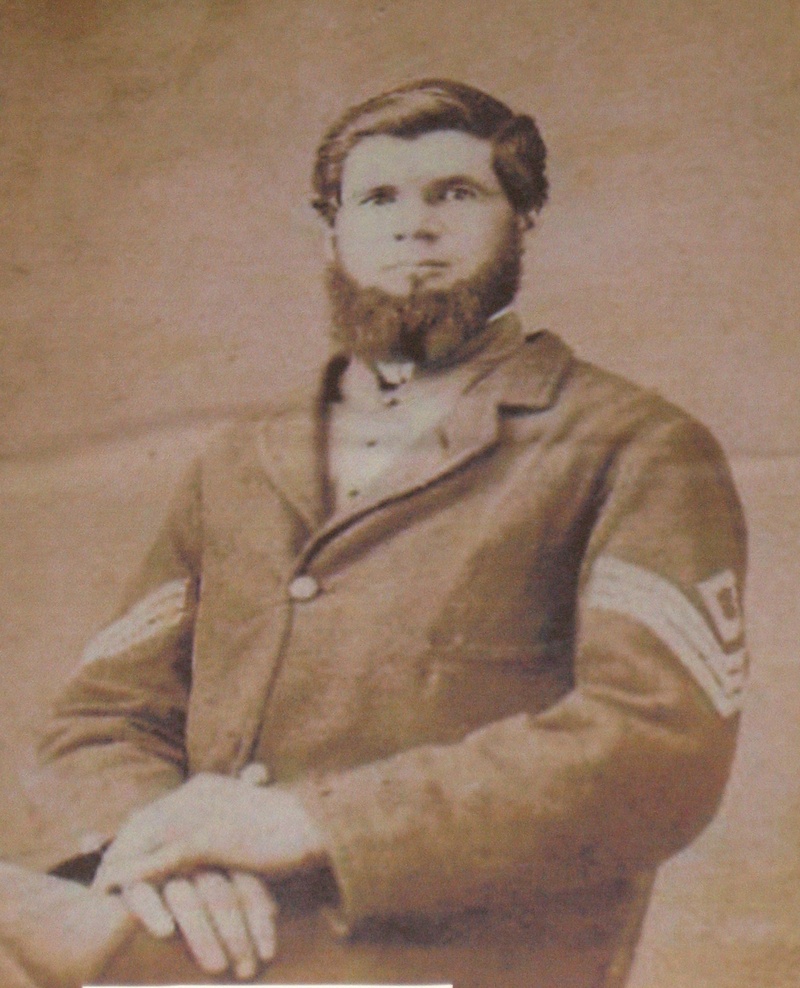 Matthew G. Isett (1838-1963) was born in the Woodcock Valley area of Huntingdon County, a son of James K. Isett and Elizabeth (Garner) Isett.  He was their second son, but oldest surviving child.  The first born, and his older brother, John G. B. Isett, died at 3 months of age.  Matthew G. Isett enlisted in Co. C of the 53rd Pennsylvania Volunteer Infantry on September 16, 1861 as part of a company from Huntingdon County.  He was elected sergeant and promoted to 1st sergeant.  He was wounded in the leg at the Battle of Fredericksburg.  Matthew G. Isett was killed in battle at Gettysburg on July 2, 1863.  He was killed in the Wheatfield area.  You can read about his death in the Civil War letter written by Anthony J. Beaver.  Matthew G. Isett is buried in the National Cemetery, Section C, grave 64, in Gettysburg.  Matthew G. Isett was never married, and if he left a sweetheart at home, that name has been lost with time.  His father, James K. Isett, visited the Gettysburg Battlefield after his son's death, contracted lead poisoning, and died shortly after his visit on August 11, 1863.  
I was stunned by Matthew G. Isett's Civil War photo.  I did not expect to see a big, burly man with such a beard.  Have you ever created an image of what someone might have looked like in your mind?  Well, I just pictured him as a skinny, little, bald faced young man.  So, I was shocked by the image that greeted me to say the least.  I was even more shocked by the image I found next to Matthew G. Isett!
There, beside Matthew G. Isett, was another Isett photo.  It was a photo of George J. Isett in his Civil War uniform too.  At first, I was thinking it was Matthew's younger brother, George Washington Isett, but I knew the middle initial was not right.  So, I took a photo of George J. Isett too, and couldn't wait to get home and place him.  Before I left, I asked my guide if all of the photos were family members or local families.  He explained to me that just the Isett photos were related, and that there was one other photo of a Huntingdon family.  The rest of the photos were donated in an old photo album, and none of them are identified.
Here is the photo of George J. Isett (1833-1865):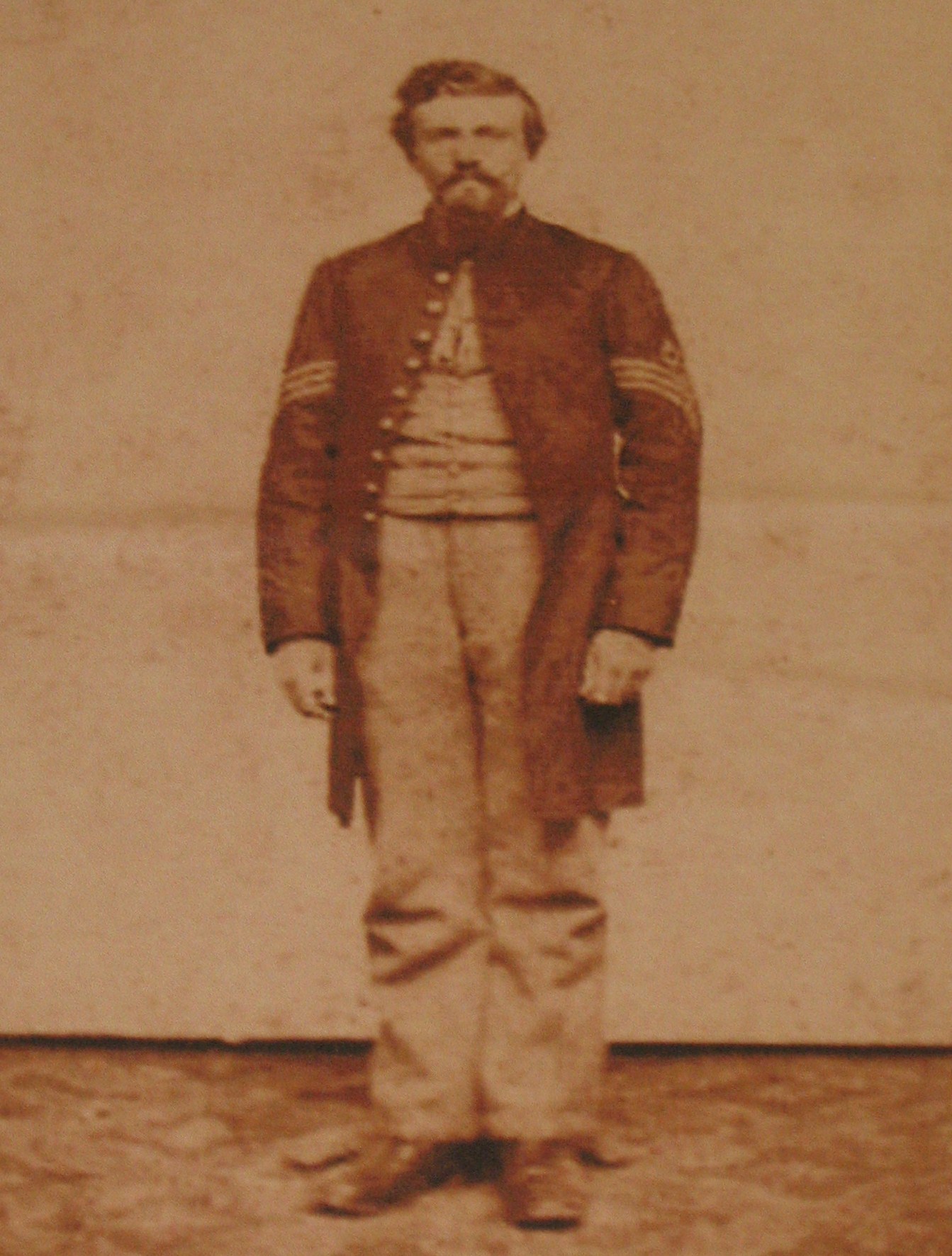 George J. Isett was the son of Joseph Isett, Sr. and Susannah (Weaver) Isett.  George J. Isett was the grandson of Jacob Isett and his first wife Sarah.  George J. Isett enlisted in Co. A of the 110th Pennsylvania Volunteer Infantry.  George was wounded in battle on May 16, 1864 and died from his injuries in 1865.  George J. Isett was married to an Emeline Price and/or Clark.
No Isett family line can just be straightforward and simple where my Isett family is concerned!  It would seem that there was possibly two George Isett men born about the same time in the same area, who both married a woman named Emeline and had a son named George. One George, born about 1835, married Emeline Price, and had a son named George Washington Isett in 1860, who moved to Ohio.
Then, there is the George J. Isett pictured above, who was possibly the second husband of his wife Emeline.  The census records are so confusing for this Emeline.  It appears she was Emeline Price, the daughter of Thomas Price in the 1850 census.  It appears that she might have first been married to a Clark who had died by 1860, when she was living with potentially her mother-in-law in the 1860 census with some young children, Cerentha, Millard, Joseph, and George.  Also living in the household was George Isett, who was presumably a laborer, whom Emeline would eventually marry between 1860 and 1865.  In 1870, Emeline has married possibly a third time to William Yon.  She now has children named Sarah and Harry too.  In 1880, Emeline is still married to William Yon, and the family has grown to include Louis, Virginia, Mary, and William.  Throughout the 1860-1880 census years, the children take on the last name of whomever Emeline is married to or living with.  They are somtimes Clark, Isett, and/or Yon children.  It is believed that George W. and Sarah A. are both Isett children of George J. Isett.  His son George W. was born about 1858.  It is unknown who he married.  It is also unclear if the son George W. is Emeline's son, or possibly to a prvious marriage of George J.
So goes the Isett, Price, Clark saga.  Was there really one George married to an Emeline with a son George W., or were there two sets in Blair County?  But, wait...I'm not done yet!  Did you notice the similarities between the photos of Matthew G. Isett and George J. Isett?  And, what are the chances of the their two photos being side by side in the Isett Heritage Museum?  The coincidence was not lost on me!  
Matthew G. Isett's grandfather's name is not known.  I do not know who the father of James K. Isett (1813-1863) was.  I only know that his mother's name was Elizabeth and that she remarried before 1820 to a man with the last name of Matthews.  Supposedly, James K. Isett's father "absconded" to parts unknown leaving his family.
Interestingly, George J. Isett's family line deadends with his grandfather, Jacob Isett (1780-1853).  No one knows who Jacob's father was either.  I have always found it interesting that there was a Simon Isett (born between 1775-1784) who disappeared from Huntingdon County owing a large amount of debt.  Could this be James K. Isett's father?  Well interestingly, Jacob Isett named one of his sons Simon Isett (1806-1877).  So, after seeing two Civil War portraits side by side in the Isett Heritage Museum from two different Isett lines that no one feels are related, I suddenly had to ask myself AGAIN - "Was Jacob Isett (1780-1853) James K. Isett's father, or did Jacob have a brother named Simon (b. bet. 1775-1784) who was James K.'s father and after whom he named one of his sons?"  Why else would these two photographs be side by side when all of the other photographs around them are not even known?
Regardless, it was wonderful to finally see a photo of Matthew G. Isett, who bravely served his country, and gave his life for our freedom.  I will also welcome the image of George J. Isett to the family, even if I'm not quite sure yet how he connects to his fellow soldier, Matthew G. Isett.
As always, if you can help with this mystery, please use the Contact Me button to e-mail me or leave a comment below on this blog post!
Last week, I had the opportunity to visit two Weller siblings and scan some of their family photos, special memories, and local treasures.  
First, I visited with Ruth and Eugene Garner.  Ruth is the daughter of the late William Ralph and Grace Elizabeth (Riley) Weller.  Eugene is the son of the late Homer and Della May (Brumbaugh) Garner.
They each had a photo album dedicated to their individual families.  Ruth's mother was a sister to my husband's grandfather, so I was able to scan a lot of Riley family photos as well as her Weller line.  Eugene is a member of the Garner and Brumbaugh families.  He had a lot of photos of the Brumbaugh Mansion where his family lived, and where he and Ruth started out when they were first married.
The next day, I visited with Ruth's older brother, John Weller.  John is also a son of the late William Ralph and Grace Elizabeth (Riley) Weller.  John was married to Janet Louise (Boyer) Weller.  John is well known in the Marklesburg area, where he was the James Creek post master for many years prior to retirement.  He also worked at the Brumbaugh Store in Marklesburg as a young man.  
John shared his love of local history with me during our visit.  I not only scanned his family photos, but I also learned the story behind each family and photo.  He shared photos from the Weller, Riley, Boyer, Speck, Kyler, and Hetrick families.  
To see the new photos that I added from my visit with Ruth, Eugene, and John, please click on the "Recently Added" button on the Photos and Obits page.  
I want to send out a special thank you to the Weller families who shared their family photos, as well as the Weller family who watched my son while I visited so I could do what I love!
On the days my son goes to preschool this summer, I've been making some time for myself and have been hanging out in the Huntingdon County Court House and the Huntingdon County Historical Society.  It has been super hot here in central Pennsylvania this summer, and while neither are air-conditioned facilities, they are still cool places to hang out!
I have been researching various family lines incuding my Fisher, Shriner, Matthew(s), and Woomer families.  This week, I found an interesting discovery in the Fisher family name file at the Huntingdon County Historical Society that I wanted to share with everyone.
I scanned a Civil War letter written by Thomas C. Fisher of Huntingdon to his brother.  The letter is dated February 15, 1863 and was written near the Stafford Court House in Virginia.  
Thomas C. Fisher, who died, June 24, 1883 near Philadelphia (presumably in a hospital there since he still lived in Huntingdon) was the son of Thomas Fisher (1802-1883) and Rachel (Jackson) Fisher.  From my research, he was one of at least ten children born to the couple.  His siblings included Horatio Gates Fisher, Belle Fisher, Frances J. (Fisher) Andrew, Rebecca D. Fisher, John A. Fisher, Mary (Fisher) Miller, Willemina Fisher, Letitia B. (Fisher) Bailey, Katherine (Fisher) Blair, and Willie Fisher.  Willemina and Willie may be one in the same.  I found an obit for both - one saying daughter of and one saying son of and both dying in the same year, 1854.  If they are not the same, then they most likely were twins.
Thomas C. Fisher enlisted on August 15, 1862 in Co. C of the 125th Pennsylvania Volunteer Infantry and served until May 1863.  The 125th consisted of many men from Huntingdon and Blair Counties.  A virtual cemetery for the men of the 125th was created on Find A Grave by Donald Coho.  
Thomas C. Fisher married Isabella "Belle" (Creigh) Miles on March 12, 1867.  She was the widow of John Blanchard Miles, who served with the 49th Pennsylvania Volunteer Infantry and was killed at Spottsylvania Court House.
The letter was of particular interest to me, because it mentions Isett and Watson not being chosen as the second lieutenant.  Thomas was obviously not happy with the appointment made.  
There were two Isett men in his unit, Aaron B. Isett (1837-1914) and John Dysart Isett.  There is a lot of speculation as to whether Aaron Isett even served in the Civil War or whether he paid someone to serve for him, so it is highly unlikely the Isett reference in the letter is to Aaron.  It more than likely refers to John Dysart Isett (1838-1881), the son of John Stockdale Isett and Mary Ann (Bell) Isett.  This particular Isett family was from the Sinking Valley area of Blair County, PA.
The Watson reference was most likely to L. Frank Watson.  I have researched many Watson lines in both Huntingdon and Blair Counties, but can not find any more information about L. Frank Watson.  There is a Frank Watson in the 1870 census for Huntingdon County, who was born in Delaware, living with his wife Sarah and son James.  If this is indeed the same Frank Watson and he was from Delaware, then he is most likely not related to any of the local Watson families.
I do not immediately have family ties between Thomas C. Fisher and my own Fisher line.  Thomas C. Fisher's grandparents were Samuel Fisher and Rebecca (Dorland) Fisher.  Samuel Fisher was born about 1779 and died in 1812.  Rebecca died in 1802 after the birth of her son Thomas.  Samuel Fisher remarried to Mary Lyon in 1804 and together they had children John, Anna, Catharine, and Elizabeth.  His daughter Mary was born after his death in 1812.  
I do not know anything about Samuel Fisher's parents.  He was of an age to be a possible relation to my Henry Fisher (1796-1876).  Some have speculated that they may have been brothers, but I have no proof of this.
Regardless of my connections or lack thereof to the Civil War letter of Thomas C. Fisher, it is still quite an interesting piece of Huntingdon County history that I am glad to be able to share.
There are angels who walk among us here on Earth.  They are not the angels sent from God, but they are genealogical angels.  I was contacted by one of these angels, Tom Davis, in mid-June who found my website while searching for family information.
You see, Tom is an angel, because he rescues old family photos and albums, researches the family, and tries to return the photos to a family member.  Tom rescued a photo album that belonged to Rachel Ann (Shultz) Grubb (1875-1964) from e-Bay.  Tom thoroughly researched her and her family and found the companion album on my website, Isaac and Rachel (Shultz) Grubb Collection I, that was shared by Kathleen (Grubb) Holder in February 2011.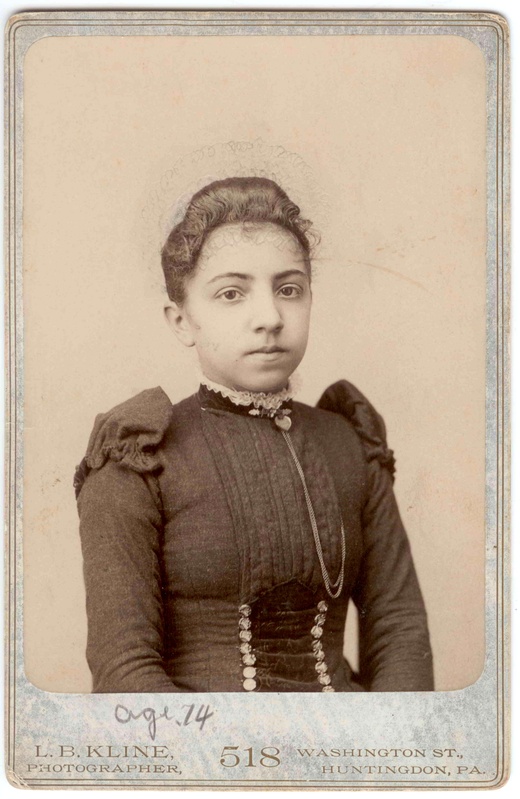 Rachel Ann (Shultz) Grubb (1875-1964) at the age of 14.
Tom lovingly and gingerly scanned each photo in the album with the original handwriting, out of the album to see the photographer's information, and did a close-up of each face in black and white.  He saved this information on a DVD, which he sent to me.  He also put each photo in an acid-free photo safe sleeve, and then into a clear sheet protector along with his research notes.  Each page was included in a hard shell three ring binder for mailing, along with the original album covers.  
Tom also researched each name included in the album and constructed a family tree based on the relationship of each individual to Rachel Ann (Shultz) Grubb.  He housed the Shultz Family Tree at Ancestry.com and included the photos that were available in the album.  The Isaac and Rachel (Shultz) Grubb Collection II includes photos of Rachel's siblings, cousins, nieces, nephews, friends, and community members.  Rachel Shultz married Isaac Bowers Grubb (1866-1946) on December 26, 1895.  There is even a photo of the preacher who married them!  The album also contains some of Isaac Grubb's family members.
There was a note inside the album that said: "Mothers old album when I was a girl"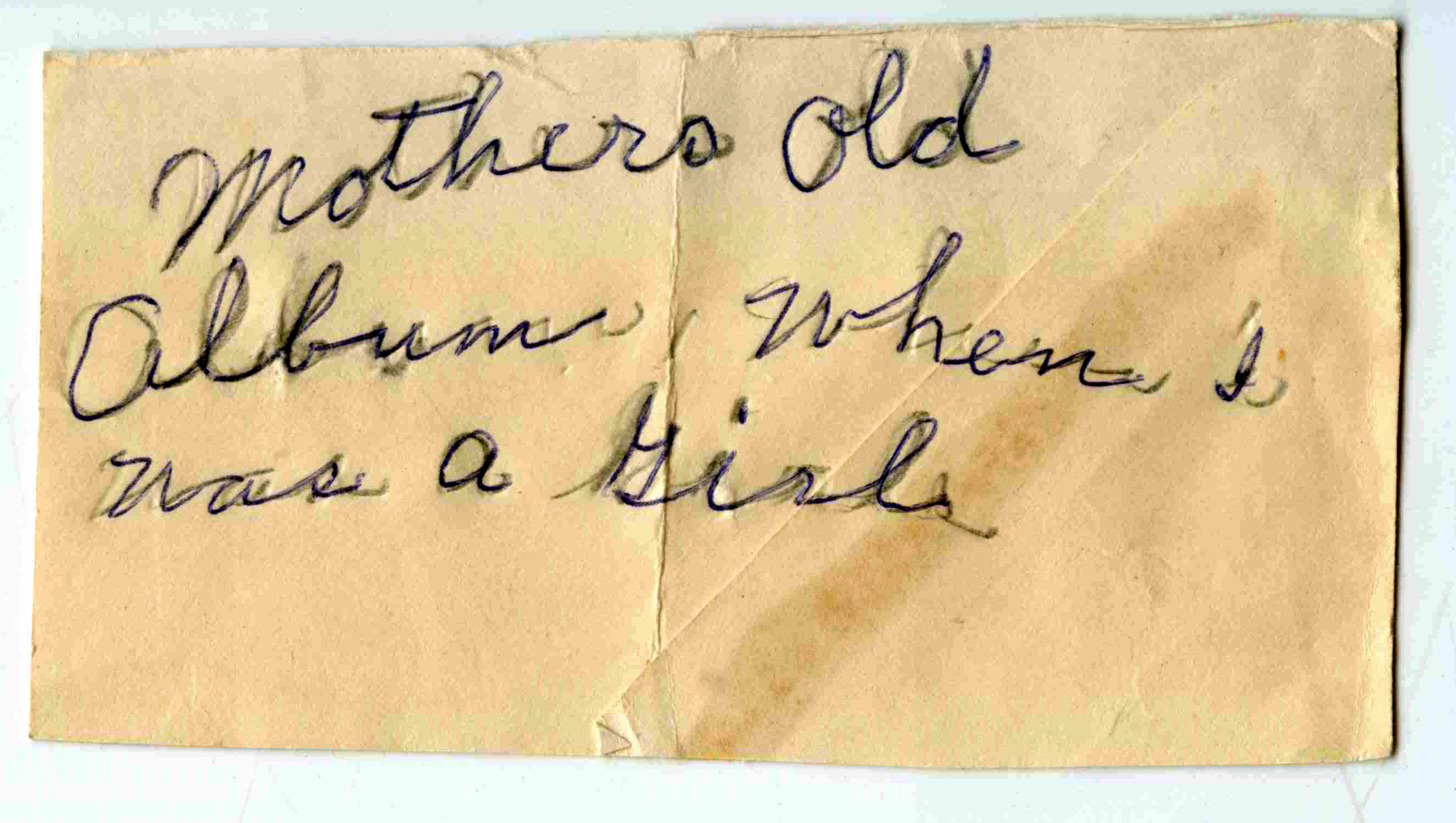 The album that Kathleen Holder shared was given to Isaac and Rachel Grubb's daughter,  Martha Lena "Martie" (Grubb) Robbins as recorded in the dedication inside the album.  The album that Tom Davis rescued also belonged to one of their daughters.  It is unknown if the second album belonged to Martie again or to one of her sisters, Katherine (Grubb) Horton or Gertrude (Grubb) Householder.  Again, the handwriting under most of the photos is believed to be that of Rachel Ann (Shultz) Grubb.  There are a few photos that do appear to have been inscribed by her daughter based on the family relationship.




Some of the names included in the new Isaac and Rachel (Shultz) Grubb Collection II photo album include:  Shultz, Keith, Glasgow, Brumbaugh, Simpson, Criswell, Grubb, Stewart, Dunmire, Garner, Norris, Crownover, Myers, Heffner, Port, Grove, Wolfe, Stone, Shontz, Parks, Hess, Smith, Cunningham, Replogle, Strock, and some unknowns.  




You can see the new photos by clicking on the link above.  You can also view all of the Genealogy of the Woodcock Valley photos and obituaries by clicking on the Photos and Obits link.




From the bottom of my heart, I want to thank Tom Davis for rescuing this precious photo album that truly belongs to the history of the Woodcock Valley.  He is such a kind and caring person to personally take care of the album, spend hours researching, scanning, labeling, and preparing the album to return to the heart of the Woodcock Valley.  He saved a piece of the Woodcock Valley and prepared it to be shared with all who have a connection to the Valley.  I hope Tom can continue to return family history to those who have been lost over time.

You can also visit my personal family database at

0

/